Day 2 | Three Matches Decided; Juan & Simon Score 12 Goals
BN Polo, FG Polo and Newage Cables/Master Paints registered victories on the second day of the Century 99 Punjab Polo Cup Tournament 2023 at the historic Lahore Polo Club. On Thursday, 9th February only one match will be played between three teams under the American system.
Day 2 – Match 1
Juan Maria Ruiz Guinazu played a hero's role in the BN Polo's convincing 10-7 triumph over HN Polo in the first match of the day. Hero Juan Maria Ruiz did the magic with mallet and pony and contributed with splendid six goals while sensational Raja Mikael Sami slammed in three goals, Roberto Iturrioz Arias struck one goal. For Team HN Polo, which had two goals handicap advantage, veteran Raja Samiullah and Haider Naseem banged in a brace each while Ibrahim Khalil converted one goal.
BN Polo dominated the match right from the beginning and fired in four fabulous goals in the first chukker to gain a 4-0 lead. BN Polo maintained their dominance in the second chukker as they added five more goals in their tally against one by HN Polo to stretch their lead to 9-1. The only goal of the third chukker was converted by HN Polo to reduce the margin to 9-2. The fourth and last chukker saw HN Polo hammering a hat-trick of goals against one by BN Polo, who won the match by 10-7, as HN Polo had two goals handicap advantage.
Day 2 – Match 2
Phenomenal Raul Laplacette steered FG Polo to an imposing 7-3½ victory over Remounts in the second match of the day. Raul Laplacette emerged as hero of the day for FG Polo as he fired in four fabulous goals while Mian Abbas Mukhtar thrashed in two goals and Saqib Khan Khakwani scored one goal. Jota Chavanne converted all the three goals for Team Remounts while they had a handicap advantage of a half goal.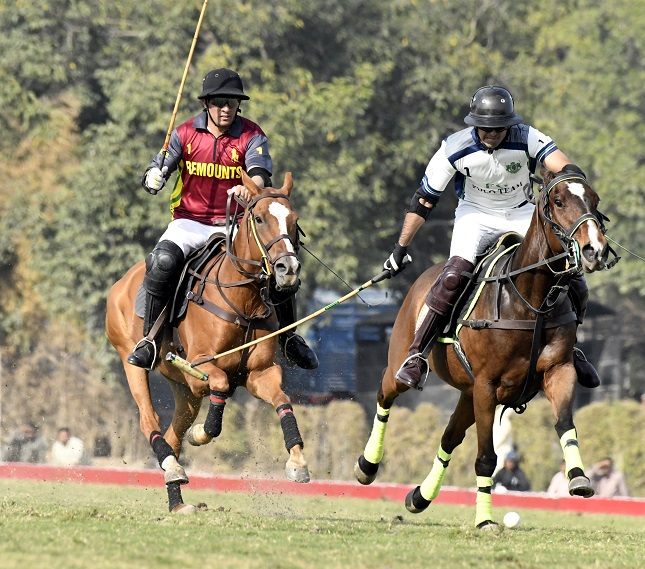 FG Polo thrashed in two field goals to earn a 2-0 lead in the first chukker. They played more aggressively in the second chukker and fired in four more goals to enhance their lead to 6-0. They added one more goal in their tally to make it 7-0 while Remounts hammered a hat-trick of goals to reduce the margin to 3-7. No more goals were scored in the third chukker, thus FG Polo winning the match by 7-3½ as Remounts had a half goal handicap advantage.
Day 2 – Match 3
Simon Prada's heroics helped Newage Cables/Master Paints to an emphatic 7-3 win over DS Polo Team in the third and final match of the day. Simon Prada was in sublime form and exhibited excellent mallet and pony work while smashing in superb six goals while Juan Cruz Greguol converted one goal for Newage Cables/Master Paints. Bautista Garcia thrashed in two goals while Javier Guerrero struck one goal for DS Polo.
DS Polo began the match with a field goal to take a 1-0 lead but Newage/Master Paints bounced back by banging in a brace to have a 2-1 lead by the end of the first chukker. The second chukker was identical to the first one as DS Polo converted one but Newage/Master Paints replied strongly and banged in another brace to gain a 4-2 lead and they further stretched it to 6-2 with another brace in the third chukker. The fourth and last chukker saw both the sides scoring one goal each, thus Newage/Master Paints winning the match by 7-3½ as DS Polo had a half goal handicap advantage.
John Fisher and Chris Hyde supervised all the three matches as field umpires.
2023 Season Of Pakistan's Oldest Trophy Commences
Punjab Polo trophy introduced in 1886 is the oldest Polo trophy being played in Pakistan at Lahore Polo Club. The 137th edition of the oldest event of Pakistan polo, commenced into action with two matches being decided.
On Day 1 of the first tournament of the high-goal season, Cables/Master Paints and Diamond Paints won the opening day matches.
Punjab Polo Cup 2018 – Day 1: Newage/BBJ Pipes win inaugural match
Day 2 Schedule – Wednesday; 8th February
Match 1 – BN Polo and HN Polo at 1:00 pm
Match 2 – FG Polo and Remounts at 2:00 pm
Match 3 – Newage Cables/Master Paints and DS Polo at 3:00 pm.