Diamond Paints and Newage Cables/Master Paints topped their respective pools to earn direct qualification in the semifinals of the 1st President of Pakistan National Open Polo Championship sponsored by MidCity at the Jinnah Polo Fields.
Master Paints, FG Polo Team, HN Polo and Remounts will vie against each against each other in the quarterfinals on Wednesday.
Diamond Paints Vs HN Polo
In the first match of the day, Diamond Paints defeated HN Polo by 11-9, thanks to phenomenal Max Charlton, who replaced injured Matias Vial Perez, emerged as hero of the day for the winning team with a contribution of excellent eights goals. His teammates Guy Gibrat, Mir Shoaib Ahmed and Matias also played well and slammed in one goal apiece.
The action-packed first match of the day began with both the sides scoring one goal each to make it 1-1. HN Polo played better polo in the second chukker by converting three goals against two by Diamond Paints to earn a slight 4-3 lead. The third chukker was evenly poised as both the teams slammed in two goals each with HN Polo still enjoying a slight 6-5 lead. The fourth chukker was identical to the third one as both the teams struck two goals each with HN Polo still having 8-7 lead. Diamond Paints dominated the fifth and last chukker by cracking four goals against one by HN Polo to win the match 11-9.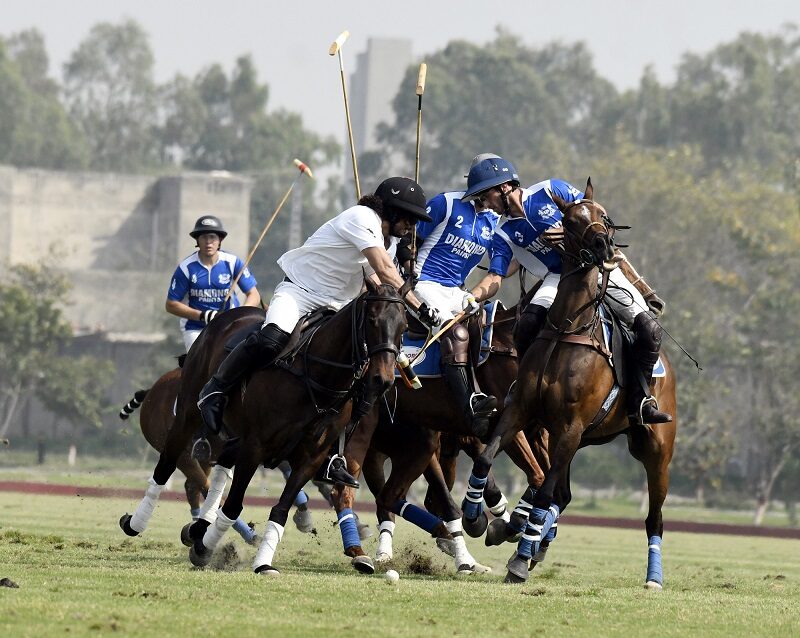 Remounts Vs DS Polo/Rizvi's
The second match of the day saw dominance of high-flying Remounts, who displayed outstanding polo skills and techniques against DS Polo/Rizvi's and outclassed them by a huge margin of 11-5. Mumtaz Abbas Niazi emerged as star of the day for Remounts as he fired in fabulous five goals while his team members Simon Prado, Nico Roberts and ALD Imran Shahid contributed with two goals each. For DS Polo/Rizvi's, Ahmed Bilal Riaz banged in a brace while Hissam Ali Hyder, Max Charlton and Daniyal Sheikh scored one goal each.
Remounts were off to a flying start as they fired in four fantastic goals in the first chukker against two by DS Polo/Rizvi's to have a 4-2 lead. Remounts dominated the second and third chukkers by thrashing in three and one goal respectively to take 8-2 lead. They added one more in their tally in the fourth chukker to make it 9-2 while DS Polo/Rizvi's pumped in two goals to reduce the margin to 9-4. The fifth and last chukker saw Remounts adding two more in their total against one by DS Polo/Rizvi's to win the encounter by 11-5.
Newage Cables/Master Paints Vs Master Paints
The third and last match of the day saw Newage Cables/Master Paints outsmarted Master Paints by 9-7. Gonzalo Deltour did the magic with his mallet and polo pony and smashed in superb eight goals while the remaining one was scored by Raja Temur Nadeem. For Master Paints, Marcos Panelo hammered a hat-trick of goals and Martin Carlos and Bilal Haye banged in a brace each.
New Cables/Master Paints hammered two back-to-back goals in the first chukker to take 2-0 lead. They added one more in their tally in the beginning of second chukker to gain a 3-0 lead before Master Paints bouncing back with three back-to-back goals to level the score at 3-3. Newage played better polo in the third chukker by firing in four goals against two by Master Paints to have a good lead of 7-5 lead. Both the teams pumped in one goal each in fourth and fifth chukkers with Newage Cables/Master Paints winning the encounter by 9-7.

جناح پولو فیلڈز کے زیراہتمام فرسٹ پریذیڈنٹ آف پاکستان نیشنل اوپن پولو چیمپئن شپ 2022ء کے آخری لیگ میچز کھیلے گئے جن میں ڈائمنڈ پینٹس، ری ماؤنٹس اور نیوایج کیبلز/ماسٹر پینٹس کی ٹیمیں فاتح رہیں۔ اس طرح لیگ میچز کے اختتام پر پول اے کی ٹاپ ٹیم ڈائمنڈ پینٹس اور پول بی کی ٹاپ ٹیم نیوایج کیبلز/ماسٹر پینٹس نے سیمی فائنلز کیلئے کوالیفائی کرلیا جبکہ پول اے کی دوسرے نمبر پر آنے والی ٹیم ایف جی پولو ٹیم کا پول بی سے تیسرے نمبر پر آنے والی ٹیم ماسٹر پینٹس سے کوارٹرفائنل جبکہ پول اے سے تیسرے نمبر پر آنے والی ایچ این پولو پول بی سے دوسرے نمبر پر آنے والی ری ماؤنٹس سے مقابلہ ہوگا۔ کواٹرفائنل ایک جیتنے والی ٹیم کا مقابلہ سیمی فائنل میں نیوایج کیبلز/ماسٹر پینٹس سے ہوگا جبکہ کوارٹرفائنل نمبر دو جیتنے والی ٹیم سیمی فائنل میں ڈائمنڈ پینٹس سے مقابلہ کرے گی۔دونوں کوارٹرفائنلز بدھ کو جبکہ سیمی فائنلز جمعتہ المبارک کو جناح پولو فیلڈز میں ہوں گے۔ تفصیلات کے مطابق گزشتہ روز آخری تین لیگ میچز کھیلے گئے۔ پہلے میچ میں ڈائمنڈ پینٹس نے انتہائی دلچسپ مقابلے کے بعد ایچ این پولو کی ٹیم کو 11-9 سے ہرا دیا۔ ڈائمنڈ پینٹس کی ٹیم میں زخمی متیاس کی جگہ انگلش کھلاڑی میکس چارلٹن کھیلے۔ ڈائمنڈ پینٹس کی طرف سے میکس چارلٹن نے آٹھ گول، میر شعیب احمد، گی گلبرٹ اور متیاس وائل پیراز نے ایک ایک گول سکور کیا۔ دوسری طرف ایچ این پولو کی طرف سے ٹی ٹو رئیوز گنزو نے تمام نو گول سکور کیے۔ دوسرے میچ میں ری ماؤنٹس کی ٹیم نے ڈی ایس پولو/رضویز کی ٹیم کو 12-5 سے ہرادیا۔ ری ماؤنٹس کی طرف سے ممتاز عباس نیازی نے چھ، صائمن پراڈو، نکو رابٹس اور عمران شاہد نے دو دو گول سکور کیے جبکہ ڈی ایس پولو رضویز کی طرف سے احمد بلال ریاض نے دو، حسام علی حیدر، میکسول اور دانیال شیخ نے ایک ایک گول سکور کیا۔ تیسرے اور آخری لیگ میچ میں نیوایج کیبلز/ماسٹر پینٹس کی ٹیم نے 9-7 سے ہرا دیا۔ نیوایج کیبلز کی طرف سے گونزالو ڈیلٹور نے آٹھ گول، راجہ تیمور ندیم نے ایک گول سکور کیا۔ ماسٹر پینٹس کی طرف سے مارکوس پنیلو نے پانچ، بلال حئی نے دو گول سکور کیے۔