The leading lady of Pakistan ladies golf scene is Parkha Ejaz of Defence Raya, who lifted the 2022 Trophy and proved her playing strengths and command over golfing skills.
Scroll Down For Reviews Of Previous Day's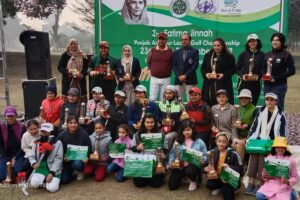 Parkha sprung up as the champion after three rounds of tussle oriented golf where she attained prominence through impressive scores. Her score in the first round was gross 72 and she backed up this accomplishment with a score of 75 in the second round and an emphatic 75 in the final round on Sunday. That way her aggregate score for the championship was 222, six over par, a score befitting for laying a claim to the championship trophy. Runners up in the gold category A was Rimsha Ijaz who put up a determined resistance, nevertheless was able to pick up the runners up gross with three rounds scores of 78, 76 and 71 and a championship total of 225 and her effort was three strokes short of the score achieved by the winner, Parkha. The final round score of 71, one under par carded by Rimsha represents a commendable effort and was the best gross score tossed up by any competing lady. Third gross position was secured by Suneya Osama (Lahore Garriison). Her aggregate score for three rounds was 243.
Net segment top performer in Category A was Zeb un Nisa and she won the first net prize with a net score of 220. A very young one Amina Tiwana showed her talent by winning the 2nd net. Her score was net 222. Ana James Gill picked up the third net. These three net section winners are all from Royal Palm.
Results Of Other Categories
Category B for Handicap Range 15-24
Rabia Tiwana, first net; Shehnaz Moin, 2nd net; Samia Javed Ali, 3rd net; Momina Tarrar, first gross; Hadiya Osama, 2nd gross; Uzma Khurshid, 3rd gross.
Category C for Handicap Range 25-36
Samina Ishtiaq ,first net; Saqiba Batool, 2nd net; Salbia Murtaza, 3rd net; Minaa Zainab, first gross; Rabia Rashid, 2nd gross; Noor Sabah, 3rd gross;
Seniors Section
Ayesha Hamid, winner net; Shahzadi Gulfam, winner gross.
Nearest to the pin was hit by Suneya Osama on hole 4 and Laiba Shah on hole 11.
Longest Drive was hit by Ana James Gill.
Young Ladies
Aleeha Amjad, first; Yasmin Zaman, 2nd; Aleesa Almas, 3rd.
At the conclusion of the 2nd Fatima Jinnah PGA Ladies Amateur Golf Championship the prizes were awarded to the performers by Zulqarnain Chatta, CEO, Gourmet alongwith Minaa Zainab, Tournament Director.
Day & Round 2 | Parkha; Rabia & Minaa Leaders
The golfing contest for prominence in the 2nd Fatima Jinnah PGA Ladies Golf Championship enters the final stage to conclude on Sunday, 25th December at the Royal Palm Golf Course .
As the leaderboard position stands at the end of second round, the merited lady of our national golf circuit, Parkha Ijaz has dwarfed her adversaries with a consistency of shot making and all round application of golfing skills. Helped by her determination to perform outstandingly, has a two rounds aggregate score of 147, three over par, compiled through a first round score of par 72 and a second round gross 75. Competitively she now has an advantage of seven strokes over her nearest rival Rimsha who is placed at an aggregate score of 154. Rimsha's scores in the two rounds were 78 and an improved 76 in the second round.
1st Fatima Jinnah Amateur Ladies Golf 2022: Round 2; In Form Ana James Takes…
Out of the other prime contenders, Suneya Osama is placed further back at an aggregate score of 166, followed by Ghazala Yasmin and Ana James Gill at 169. Others are too far behind to pose any threat to the winning chances of Parkha and Rimsha in the Category A aspirants playing to handicaps falling in the range zero to 14.
Ladies categorized in the handicap range 15-24 appear to be full of fervor and eager to outdo each other. Rabia Tiwana is all animated about doing well and her score for 18 holes on Saturday was net 74. Her rivals appear completely overshadowed by her performance and came up with modest scores .
As for the competition in C category where handicap range is 25-36, the lady who showed flair was Minaa Zainab with a score of net 72. At the same score is placed Saqiba Batool .
Day 1 | Parkha Ijaz Formidable
Parkha Ijaz of Lahore Defence Raya Golf Club, playing to a handicap of zero emerged as front runner, which is a reflection of her golfing prowess in the first round of the 2nd Fatima Jinnah PGA Ladies Golf Championship which commenced at Royal Palm Golf Course, Lahore.
Minaa Zainab, the Lady Captain of Royal Palm and Tournament Director of this ongoing exclusive ladies golf event shared that there are two significant features of this encounter. One, it is being held in remembrance of the mother of the Nation, Fatima Jinnah who was a role model for women and secondly it is a championship recognized by the WAGR-World Amateur Golf Ranking. She further shared that there are three more segments of this championship for ladies and these are players who have a handicap in the range 15-24, 25 -36, young ladies 14 years and below and seniors 55 years and above. and junior girls below 13 years. Those who fall in range 14-24 and 25-36,they will compete over two rounds on Saturday and Sunday. Junior Girls who are aged 13 and below will compete only on Sunday over nine holes.
Round 1 Review
The first round activity was reserved for ladies who compete on golf handicaps ranging from zero to fourteen and seen in action were national level ladies contenders like Rimsha Ijaz (handicap one), Hamna Amjad (handicap zero), Suneya Osama (handicap 3), Iman Ali Shah (handicap 7) and former national ladies champion Ghazala Yasmin and other single handicappers Ana James, Ami Qin and Laiba Shah.
The most intimidating one in the first was Parkha Ijaz who exhibited powerful drives on all par fours and par fives and was an image of perfection on the greens. She putted capably and when a competitor shows flawlessness on the greens the score for the day carries a touch of excellence. And that is what Parkha achieved in the first round of 18 holes. Her score of par 72 places her way ahead of her adversaries .
Placed at a score of gross 78 is her closest rival Rimsha Ijaz followed by Hamna Amjad at a score of gross 81 who was not too tuneful during the round on Friday.
Others placed further behind are Ghazala Yasmin at 83, Suneya Osama at 84 and Zenun Nisa at 85.