The 4th Hi Tech Couples Golf Match – Couples Golf Tournament was contested over 18 holes at the Royal Palm Golf Course.
Scroll Down For Reviews Of The Previous Day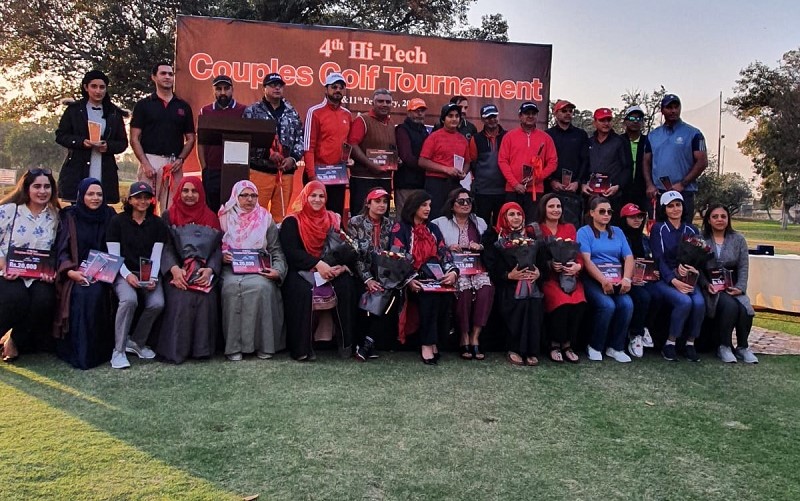 While there was competitive effort by the competing couples, however, the unvanquished couple turned out to be Ahmed Zafar Hayat who plays to a noteworthy handicap of three and his artful wife Tehmina Ahmed, who is a eleven handicap national level golf player. These two were flamboyant throughout the 18 holes stroke play competition and got noticed for excellent drives and perfect looking all round game.
Their nearest rivals were Asim Tiwana and Rabia Tiwana, both possessing remarkable golf playing skills. The couple of Asim and Rabia ended the competition as runners up in gross category. Third gross position was achieved by Shahid Nawaz and Fauzia Shahid.
Pakistan-3rd Hi-Tech Ladies Golf 2021: Parkha; Shahzadi & Munnaza Win In Style
Net section performers in the Couples Match were Shahzad Azam and Saqiba Batool, first net. Abid Aziz and Minaa Zainab won the second net position while third net went to Ghulam Murtaza and Salbeeha Murtaza.
In the Men's Invitational Event the 14 years old Sher Ali surprised his senior and more seasoned adversaries by playing superbly from the blue tees. His gross score for 18 holes was 75 and net score was 65 in the handicap bracket 0-12. His display of expertise loaded golfing was the news of the day. Other winners were Shahid Abbas, net runner up and Abdul Islam Nazir, third net. As for the race in handicap bracket 13-18 the net winner was Saeed ul Hasib followed by Lt Col Taimur, second net and Ahmed Buksh Tarrar, third net.
Pakistan-1st Hitech Couples Golf '20: Ahmed Zafar & Tehmina Ahmed Attain Top Position
Outstanding performers of ladies section were Rimsha Ijaz, Bushra Fatima and Minaa Zainab.
Nearest to the pin prize went to Hamid Sharif and longest drive to Lt Col Taimur Hassan.
At the conclusion of the 4th Hi Tech Couples and Ladies Golf Championship the prizes were awarded to the winners by Dr. Muhammed Arshed of Hi Tech, Lt Gen (r) Muhammed Hilal Hussain and Lady Captain Minaa Zainab.
Rimsha Ijaz Wins In Commanding Style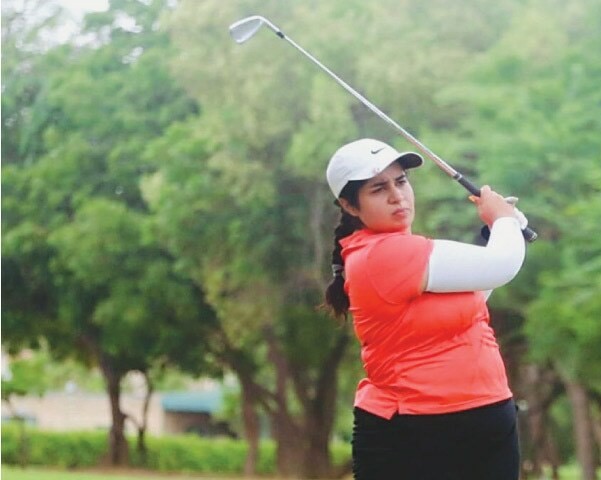 The 4th Hi Tech Golf Championship contested over 18 holes at the challenging Royal Palm Golf Arena, was commanding golfer turned out to be Rimsha Ijaz of Defence Raya. Having the distinction of playing to a handicap of one, she dominated the flow of play. Visible is her ability to hit accurate and long drives off the tees and also praiseworthy is her hitting from the fairways backed by nervous free putting expertise. Her score of gross 75 fetched her the 4th Hi Tech Ladies Golf Title and she ended up winning the first gross even though she was up against the skills of champions like Suniya Osama and Zahida Durrani.
Once again yesterday Suniya Osama had to be content with runners up slot through a good effort which enabled her to compile a score of gross 77. Zahida Durrani picked up the third gross with a score of gross 79.
Saturday is a day for the Couples match and it is expected to be a thrilling affair at the Royal Palm Golf Course.
Net section winner was the teenager Bushra Fatima. Her winning score was net 69 and there was a stimulating battle for the first position between her, Shahzadi Gulfam and Shahbana Waheed. All three competitors came up with the net score of net 69. As per rules the competitor with the better score over back nine is the triumphant one. Bushra came first in net section race, Shahzadi was second and Shahbana, third.
Pakistan-3rd Hi-Tech Ladies Golf 2021: Parkha; Shahzadi & Munnaza Win In Style
Other Results: Handicap 16-24; Minaa Zainab, first gross; Tasneem Hussain, second gross; Mehwish Hamayun, third gross; Shaheen Warraich, first net; Aliha Amjad, second net; Rabia Rashid, 3rd net.
Nearest to the pin was won by Minaa Zainab and Longest Drive by Amina Tiwana. Her hitting distance was 296 yards.
The 4th Hi-Tech Ladies Golf tournament contested over 18 holes at the Royal Palm Golf Course was an event exclusively for the lady amateurs who play in the handicap category 0-24 and those who play in handicap range 25-36. Ladies who play to a handicap that falls in the handicap range 0-24 represent the accomplished and recognized ones of the ladies golf scene. As for ladies who play to handicaps ranging between 25 and 36, they personify and embody the yearning ones of golf who are on the run for improvement in their golf playing skills.