On 3rd day of 59th National Badminton Championships, 2nd round and Pre Quarter matches were played.
Players qualified for Quarter-finals
Mahoor Shahzad (Wapda), Alja Tariq (Balochistan), Ammarah Ishtiaq (Sindh), Amal Munib (Punjab) Bushra Qayum (Wapda) Palwasha Bashir (Sindh), Sehra Akram (Wapda) and Ghazala Siddiqui (Wapda) reached in the quarter finals of women singles event.
Top seed Murad Ali (KP) Muhammad Ali Larosh (Wapda), Anjum Bashir (New Khan) Azeem Sarwar (Wapda), Raja Hasnain (New Khan), Muqeet Tahir (Wapda), Raja Zulqarnain (Wapda) and Irfan Saeed (Wapda) reached in the quarter finals of men singles.
Pre Quarter final results are as appended below: (certain matches are under still under progress at time of this weblication).
Women Singles Pre Quarter
Mahoor Shahzad (Wapda) beat Saima Waqas (Wapda) by 21-9, 21-5
Alja Tariq (Balochistan) beat Rosheen Ijaz (Sindh) by 21-9, 21-3
Ammarah Ishtiaq (Sindh) beat Aqsa Zikriya (SNGPL) by 21-8, 21-14
Amal Muneeb (PB) beat Zubaira Islam (SNGPL) by 21-19, 22-24, 21-14
Bushra Qayum (Wapda) beat Huma Javeed (Wapda) by 15-21, 21-15, 23-21
Palwasha Bashir (Sindh) beat Musfira Zahid (Sindh) by 21-4, 21-6
Sehra Akram (Wapda) beat Rubab Imtiaz (Wapda) by 21-8, 21-6
Ghazala Siddique (Wapda) beat Rida Hanif (Army) by 21-4, 21-7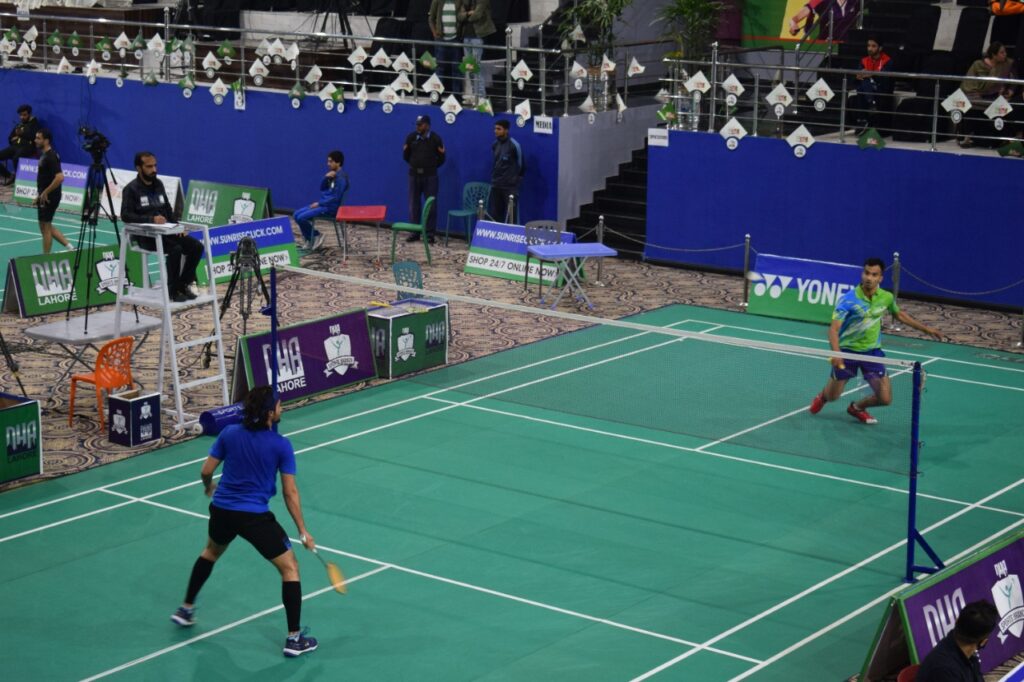 Men Singles Pre Quarter
Murad Ali (KP) beat Shahmeer Iftikhar (SNGPL) by 21-16, 21-10
M Ali Larosh (Wapda) beat Ahmer Jalal (HEC) by 21-8, 19-21, 21-2
Anjum Bashir (New Khan) beat Abdullah Latif (Army) by 21-13, 21-15
Azeem Sarwar (Wapda) beat Yasir Ali (Punjab) by 21-5, 21-13
Raja Hasnain (New Khan) beat Abdur Rehman (Wapda) by 20-22, 21-18, 21-10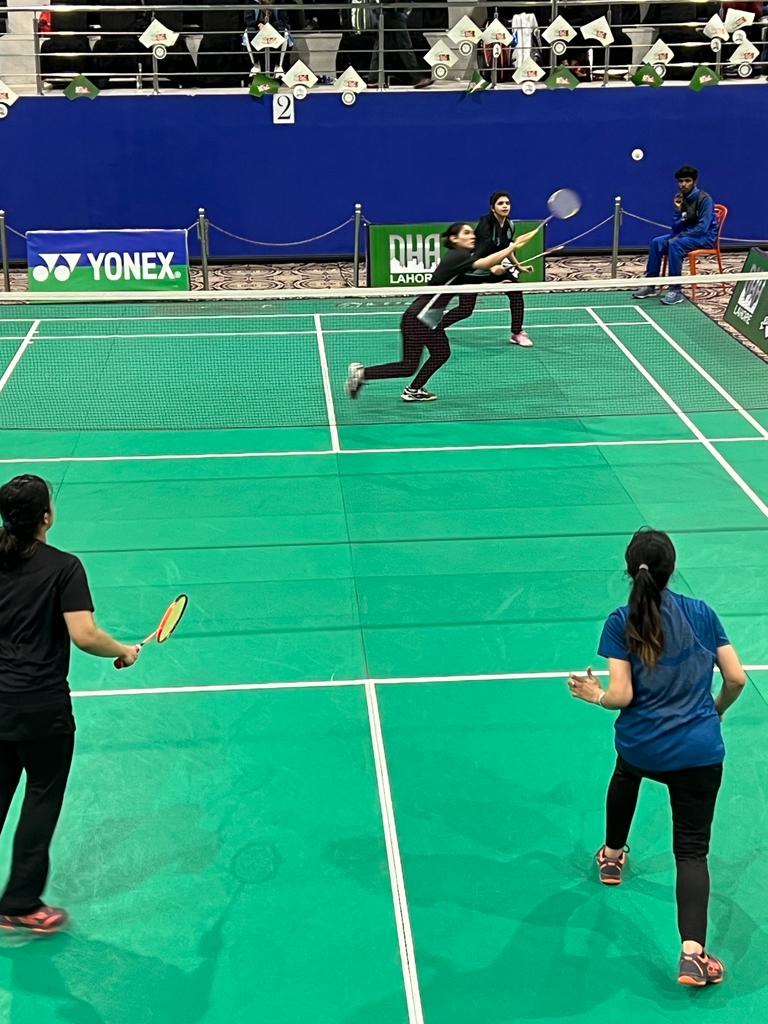 Muqeet Tahir (Wapda) beat Shoaib Riaz (Wapda) by 21-17, 21-14
Raja Zulqarnain (Wapda) beat Awais Zahid (Wapda) by 23-21, 21-11
Irfan Saeed (Wapda) beat Tahir Khan (Police) by 21-15, 21-10
Women Doubles Pre Quarter
Mahoor Shahzad & Ghazala Siddiqui (Wapda) beat Farzana Ali & Hina Insad (Wapda) by 21-17, 21-14
Aqsa Zikriya (SNGPL) & Sidra Irfan (Wapda) beat Maryam & Zainab (Army) by 21-10, 21-13
Shera Akram & Huma Javeed (Wapda) beat Maryam & Khadija (HEC) by 21-7, 21-10
Alja Tariq (Balochistan) & Sumiya Tariq (Army) beat Asna (HEC) & Sehar Majeed (PB) by 21-6, 21-7
Khira Rasheed & Mehmoona Ameer (Wapda) beat Wirda Gohar (SNGPL) & Laiba Masoud (Wapda) by 24-22, 21-6, 21-16
Ammarah Ishtiaq & Rosheen Ijaz (Sindh) beat Bushra Qayum & Zubaira Islam (SNGPL) by 21-19, 21-18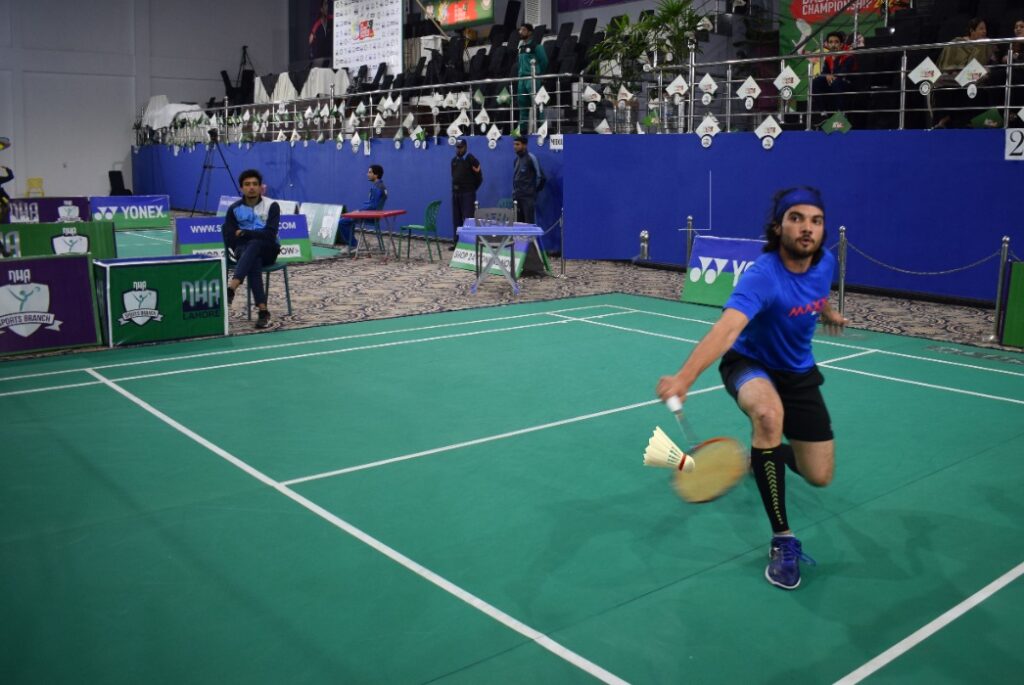 Men Singles 2nd Round
Murad Ali (KP) beat Raza Ali Adil (PB) by 18-21, 21-6, 21-10
Shahmeer Iftikhar (SNGPL) beat Shahanullah (KP) by 21-12, 21-17
Azeem Sarwar (Wapda) beat Muteeb Sohail (KRL) by 21-13, 21-19
Yasir Ali (HEC) beat Hashir Bashir (Wapda) by 21-17, 23-21
M Ali Larosh (Wapda) beat Fazal Rehman (KP) by 21-18, 21-17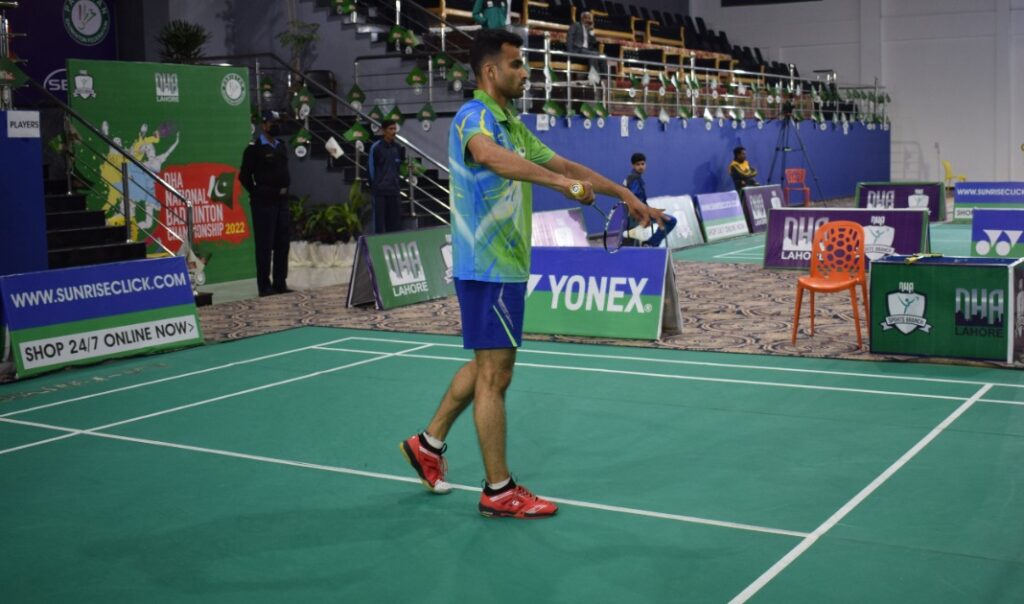 Amer Jalal (HEC) beat Amir Saeed (Wapda) by 21-16, 13-21, 21-19
Anjum Bashir (New Khan) beat Tayyab Shafiq (HEC) by 21-15, 21-9
Abdullah Latif (Army) beat Ahsan Asif (Wapda) by 28-26, 22-20
Abdur Rehman (Wapda) beat Uaakeph Khan (KRL) by 21-9, 21-12
Raja Hasnain (New Khan) beat Muhammad Adnan (Wapda) by 21-14, 21-18
Shoaib Riaz (KP) beat Ibrahim Rasheed (ISB)by 21-14, 21-18
Muqeet Tahir (Wapda) beat Zohaib Khan (Police) by 21-9, 21-16
Raja Zulqarnain Haider (Wapda) beat Abuzar Rasheed (HEC) by 21-19, 21-17
Awais Zahid (Wapda) beat Raja Hassan (New Khan) by 21-10, 21-13
Irfan Saeed (Wapda) beat Ahmed Tariq (SNGPL) by 21-11, 21-12
Tahir Khan (Police) beat Ali Mehdi (Wapda) by 21-9, 13-21, 21-18
Women Singles Pre Quarter
Mahoor Shahzad (Wapda) beat Saima Waqas (Wapda) by 21-9, 21-5
Alja Tariq (Balochistan) beat Rosheen Ijaz (Sindh) by 21-9, 21-3
Ammarah Ishtiaq (Sindh) beat Aqsa Zikriya (SNGPL) by 21-8, 21-14
Amal Muneeb (PB) beat Zubaira Islam (SNGPL) by 21-19, 22-24, 21-14
Bushra Qayum (Wapda) beat Huma Javeed (Wapda) by 15-21, 21-15, 23-21
Palwasha Bashir (Sindh) beat Musfira Zahid (Sindh) by 21-4, 21-6
Sehra Akram (Wapda) beat Rubab Imtiaz (Wapda) by 21-8, 21-6
Ghazala Siddique (Wapda) beat Rida Hanif (Army) by 21-4, 21-7
Men Singles Pre Quarter
Murad Ali (KP) beat Shahmeer Iftikhar (SNGPL) by 21-16, 21-10
M Ali Larosh (Wapda) beat Ahmer Jalal (HEC) by 21-8, 19-21, 21-2
Anjum Bashir (New Khan) beat Abdullah Latif (Army) by 21-13, 21-15
Azeem Sarwar (Wapda) beat Yasir Ali (Punjab) by 21-5, 21-13
Raja Hasnain (New Khan) beat Abdur Rehman (Wapda) by 20-22, 21-18, 21-10
Muqeet Tahir (Wapda) beat Shoaib Riaz (Wapda) by 21-17, 21-14
Raja Zulqarnain (Wapda) beat Awais Zahid (Wapda) by 23-21, 21-11
Irfan Saeed (Wapda) beat Tahir Khan (Police) by 21-15, 21-10
Women Doubles Pre Quarter
Mahoor Shahzad & Ghazala Siddiqui (Wapda) beat Farzana Ali & Hina Insad (Wapda) by 21-17, 21-14
Aqsa Zikriya (SNGPL) & Sidra Irfan (Wapda) beat Maryam & Zainab (Army) by 21-10, 21-13
Shera Akram & Huma Javeed (Wapda) beat Maryam & Khadija (HEC) by 21-7, 21-10
Alja Tariq (Balochistan) & Sumiya Tariq (Army) beat Asna (HEC) & Sehar Majeed (PB) by 21-6, 21-7
Khira Rasheed & Mehmoona Ameer (Wapda) beat Wirda Gohar (SNGPL) & Laiba Masoud (Wapda) by 24-22, 21-6, 21-16
Ammarah Ishtiaq & Rosheen Ijaz (Sindh) beat Bushra Qayum & Zubaira Islam (SNGPL) by 21-19, 21-18
Results of last night matches are as under:
Men Singles 1st Round
Zohaib Khan (Police) beat Muhammad Afnan (KP) by 18-21, 21-15, 21-19
Yasir Ali (HEC) beat Umer Jahanghir (KP) by 21-23, 24-22, 21-12
Muqeet Tahir (Wapda) beat Sheroz Jamil (Wapda) by 21-3, 21-15
Abuzar Rasheed (HEC) beat Uzair Khan (Army) by 21-17, 17-21, 21-18
Awais Zahid (Wapda) beat Abul Hassan (Army) by 21-6, 21-14
Raja Zulqarnain (Wapda) beat Tahseen Ullah (wapda) by 21-16, 21-8
Tahir Khan (Police) beat Rehman Haider Nazami (Army) by 21-10, 21-6
Raja Hassan (New Khan) beat Shabbar Hussain (Wapda) by 14-21, 21-19, 21-12
Ali Mehdi (Wapda) beat Aoun Abbas (Wapda) by 21-17, 17-21, 21-13
Irfan Saeed (Wapda) beat Jalees Konain (PB) by 21-13, 21-11
Ahmad Tariq (SNGPL) beat Saad Amir (PB) by 21-10, 19-21, 21-17
Women Doubles 1st Round
Rubab Imtiaz (Wapda) beat Maryam Amir (Wapda) by 21-13, 21-14
Rida Hanif (Wapda) beat Anila Irshad (Wapda) by 21-11, 21-13
Sehra Akram (Wapda) beat Hadia Ashfaq (HEC) by 21-7, 21-13
Ghazala Siddiqui (Wapda) beat Anmol Rasheed (Wapda) by 21-10, 21-7