Athletics: Kipyegon Bett Suspended Upon Evading Doping Test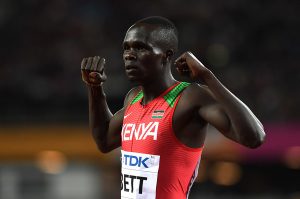 The 20 year old, who clinched a bronze medal in the 800 meters, held at the World Championships 2017 in London, has been suspended upon evading a doping test. The activity was brought to the surface by the Athletics Integrity Unit (AIU).
Kipyegon Bett is a Kenyan national and a professional runner, specializing in the 800 metres.
Another Kenyan Anti doping rule violation.
800M specialist Kipyegon Bett.
Refusing or failing to submit to Sample collection, contrary to Article 2.3
Provisionally suspended from athletics. pic.twitter.com/oQPbHG87tr

— Saddique Shaban (@SaddiqueShaban) 16 August 2018
Kenyan marathon sprinter Samuel Kalalei and comrade Lucy Kabuu, are also on the rundown for those confronting hearings, after both were tested to be positive for a denied substance.
Legacy of Usain Bolt: Candidates with Potential to Replace the Legend
The AIU has said that it will remain transparent to the public, in each phase of their process of managing doping tests, as opposed to publishing details only when procedures are finished.
#Athletics More bad news for Kenya. World 800m bronze medallist Kipyegon Bett charged with "Refusing or failing to submit to Sample collection" https://t.co/4l1xKBcuTG

— Hilary Evans (@OlympicStatman) 16 August 2018
Kenyan 800m specialist Kipyegon Bett provisionally suspended from all IAAF competitions for "refusing to submit a sample for testing." It's an anti doping violation. #TheScoreKE

— Carol Radull (@CarolRadull) 16 August 2018
Kipyegon Bett is the latest Kenyan athlete to be charged with an anti-doping violation.
He had been provisionally suspended from competitions due to failure to submit a sample for testing. @JWokabi@MichKatamihttps://t.co/ugnSe8qVQC

— Frank R (@fraudo_baggins) 16 August 2018
* Doping – Kenya's Kipyegon suspended for failing to submit to doping test: NAIROBI (Reuters) – Kipyegon Bett is the latest Kenyan athlete to be suspended for a doping-related offence, the Athletics Integrity Unit (AIU) announ.. https://t.co/pNJwbChwMB pic.twitter.com/CgfrWkcR0H

— Cracking Bets (@crackingbet) 16 August 2018
For more updates keep visiting allsportspk