Hamza Amin an endearing, personable and charismatic young one of Pakistan is now a golf professional of prominence. After attaining success as a National Amateur Champion in 2011, presently ranked number six on the Professional Golf Circuit of Pakistan, he turned professional in 2012.
Hamza comes from a golfers family with his father Taimur Hasan being a dominant figure of Pakistan Golf circuit for many years.
Educated in Austria, Hamza Amin managed to get noticed at the University level and represented his alma mater in competitions at the continent level. That experience and exposure landed him on the right path, and the feeling gained strength that he is proficient on golf courses where conditions are extremely tough. In this regard his remarks earned acceptance when he said," Tight fairways, deep rough and lightning greens do bring the best out of me". Now sports is my life and my passion is to take my golfing on a 'fast forward' route and sparkle in international golf events"
And sparkled he has at the Austrian Open Golf Championship 2022 contested at the famous Jack Nicklaus designed Altenann Golf Club Golf Course in Salzburg, the fourth biggest city of Austria. While competing against the top golf professionals of Europe Hamza Amin managed to gain ascendancy over his consummate and worthy rivals through dexterous and accomplished application of golfing skills. The resolute effort enabled him to compile four rounds scores of a steady 74 in the first round, remarkable rounds of 69 and 67 on the second and third days and finally a 71 on the final day. His aggregate for four rounds was a stirring total of 281, seven under par and that placed the professional  championship in his lap alongwith a pocket filling prize money cheque of six thousand euros. His nearest rivals were two, Uli Weinhandl and Jun Bacher who  ended up two strokes behind at 283 followed by Georg Martin Schultes and Lukas Lipold, bunched together at 285. Another one who played well was Christoph Gunther who compiled an aggregate of 286.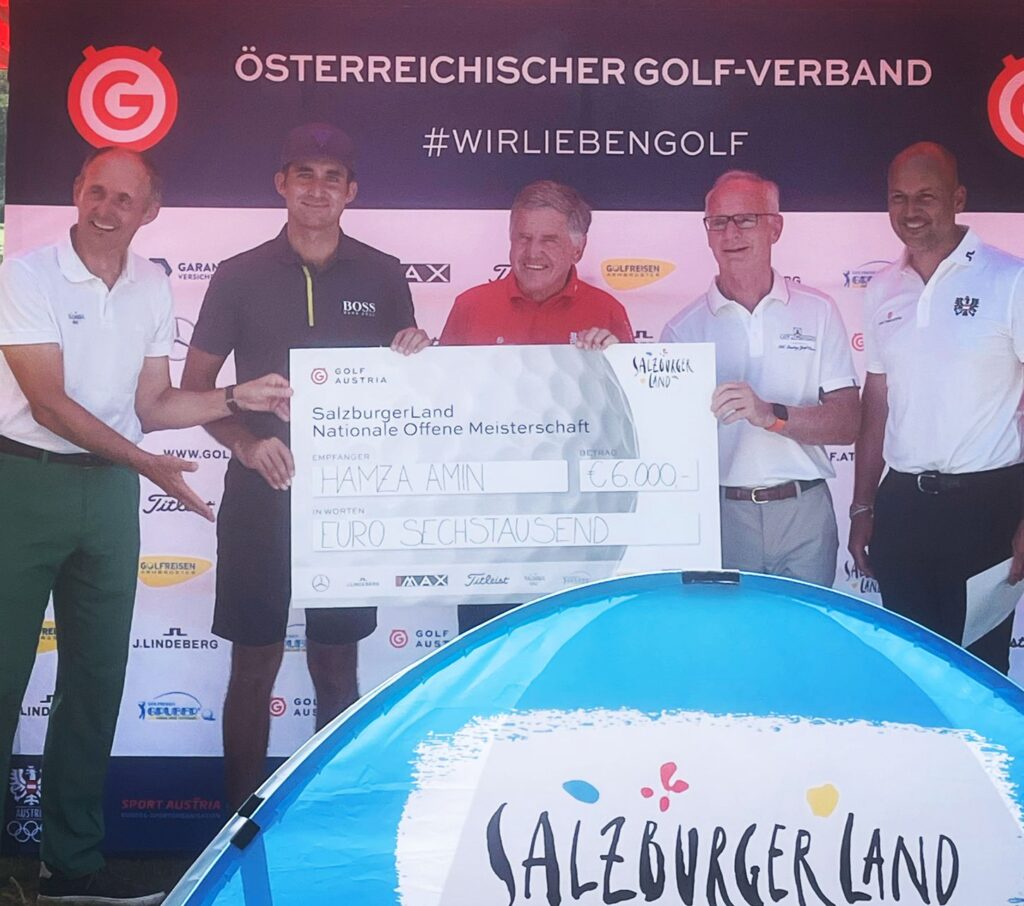 As for the other main illustrious ones, Christopher Bleier topped in the Mens Amateur Category and Hannah Mitterberger was the celebrated one in Ladies Amateur Section.
Recalling earlier years of Hamza Amin it may be shared that he was introduced to golf at age three when his mother and not his legendary father Taimur Hassan  Amin took him to the driving range. After initial set backs and the lure of studies kept him away from competitive golf outside Islamabad for many years, this talented youngster has blossomed under the tutelage of Taimur, a golfer of immense talent himself and currently Head of Asia Golf Confederation.
"My father started teaching me once he saw the talent. Mother has always been supportive and she is the reason I play golf with so much passion". After winning the national amateur golf title, I took the bold step of becoming a golf professional and now of course this is my bread and butter".
Certainly Hamza Amin is fortunate in the sense that he is the off spring of a family of golfers. His grandfather, Mr Amin was into golf and as for his father Taimur Hassan, Pakistan has yet to produce an amateur golf champion of his standing and stature.
Hamza's father, Taimur hopes that more glorious moments will continue to come.