Baroque Polo Cup 2018: Day 3; Remington Pharma In Final
LAHORE: On third day of the Baroque Polo Cup 2018, two matches were played at the Lahore Polo Club grounds.
Remington Pharma Vs Olympia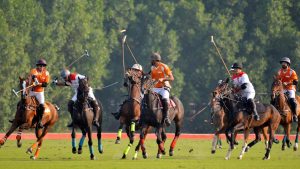 Remington Pharma overpowered Olympia to qualify for the Baroque Polo Cup 2018 final, at the Lahore Polo Club ground.
Raja Temur Nadeem emerged as hero of the day as he fired in fabulous four goals while Dr Faisal Qadeer Khokhar banged in a brace and Ahmed Bilal Riaz contributed one. From the losing side, Abdul Rehman Monno struck two goals and Ghulan Mustafa Monno one.
Remington Pharma scored the opening goal of the match through Raja Temur, who successfully converted a 30-yard penalty. Olympia then fully dominated the entire chukker as they hammered a hat-trick with Abdul Rehman Monnoo slamming in two goals and Ghulam Mustafa Monnoo one – all were field goals. It was all that Olympia could get from the match as Remington Pharama dominated rest of the three chukkers and never allowed their opponents to score even a single goal.
AllSportspk Spotlight: Pakistan National Polo From Director's Lens
The winning side thwarted two goals in the second chukker – one each by Raja Temur and Dr Faisal while they hammered three more in the third chukker to take an unassailable 6-3 lead.
In the fourth and last chukker, Remington Pharma succeeded in adding one more in their total tally, having 7-3 lead which intact till the end and they emerged as winners as well as spot in the main final.
Alman Jalil Azam and Malik Azam Hayat Noon officiated the match as fields umpires.
Bilal Steel Vs Black Horse Paints
In another match of the day, Bilal Steel outpaced Black Horse Paints by 9-6.5 to qualify for the subsidiary final.
Ahmed Zubair Butt displayed outstanding polo and played herioc role in his team's triumph. He fired in fantastic five goals for the winning side while Hashim Kamal Agha hammered a hat-trick and Ali Riaz struck one.
From the losing side, which had half goal handicap advantage, Hamza Mawaz Khan scored a quartet while Abu Bakar Siddique and Daniyal Sheikh converted one goal apiece. Ahmad Nawaz Tiwana and Taimur Ali Malik supervised the match as field umpires.
On 15th November – Friday, Guard Group will take on Newage/Diamond Paints in a crucial match at 3:00pm and the winners will qualify for the main final and the losing side will book berth in the subsidiary final.
For more updates keep visiting allsportspk