Cricket – Caribbean Premier League: Mohammad Irfan Breaks A Record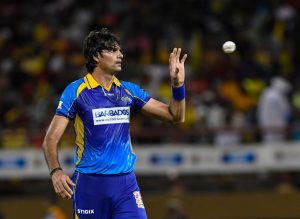 Pakistan seamer Mohammad Irfan recorded the most miserly bowlin figures in Twenty20 history – yet at the same time ended on the losing side.
In his four overs for Barbados Tridents, Irfan took two wickets for only one run with 3 maiden overs.
Mohammad Irfan says that the record is his name, it's not just mine but whole Nation….. Mohammad Irfan Says 2 years Out of the team but I will continue to give such performance and soon he ll be joined national team@M_IrfanOfficial #MuhammadIrfan #WorldRecord @TheRealPCB pic.twitter.com/TvNYw7dXjp

— Qadir Khawaja (@iamqadirkhawaja) 26 August 2018
The first of his 23 dot balls was a first-ball duck for West Indies batsman Chris Gayle. However, St Kitts and Nevis Patriots still hit 148 runs with seven balls to spare, to win by six wickets.
PCB Suspends Mohammad Irfan For Link With Bookie
The only run the 7ft 1in pace bowler surrendered came in his last delivery.
Irfan said:
I'm really happy. I would've been happier if the team won, but I am happy that I bowled one of the best spells in T20 cricket. I liked bowling on the lively wicket, and I get extra bounce because of my height. So yes, a satisfying performance.
Congratulations to Mohammad Irfan on bowling the most economical 4-over spell in T20 history. He bowled 23 consecutive dots and conceded a run off the last ball of his spell, and took two wickets too – world record – 4-3-1-2. @CPL & @BIMTridents. pic.twitter.com/0IyDvNhIQ1

— Leonine Global Sports (@LeonineGlobalSp) 26 August 2018
Mohammad Irfan Banned For One Year, Fined Rs.1 Million by PCB
A near perfect 10. 23 dot balls to top it with 2 wickets. Would take quite a taking to beat this record. As they say cricket is a funny game,just imagine after this magic spell still ends up in the losing side. What a performance!!! Hats off!!! "Mohammad Irfan"

— Developself (@Developself2) 26 August 2018
7 foot 1 who doesn't speak English and Wahab Riaz had to translate for him. When will Mohammad Irfan learn the English language

— Tyrelle Audain (@tjaudain) 26 August 2018