Cricket-Pak Vs SA U19 Tour-ODI 3: Pakistan Win By 6 Wickets; Lead 3-0 In Series
PIETERMARITZBURG: Pakistan Under 19 team continues to dominate South African U19, as they won third consecutive ODI held at Pietermaritzburg.
In a high scoring game Pakistani Youth chased down 276 in 42.1 overs after losing 4 wickets.
South African captain B Parsons opted to bat first after winning the toss, to set a high target against Pakistan U19.
Opening stand was broken for 9 as Pakistani pacer Shiraz Khan took wicket of A. Low for only 3 runs. South African batsmen built strong partnership for the second wicket by taking the total to 100 at the lost of just 1 wicket.
South Africa lost its 2nd and 3rd wicket at 125 and 130 respectively. Terblanch and Cotani put another 50 runs partnership as South Africa reached to 200 in 38.1 overs.
Opening batsman R. Terblanch was the star of the innings as he scored 100 in 125 balls with 11 fours.
South African U19 was bowled out for 276 in 49.4 overs. Abbas Afridi took 4/40 in 9 overs, pacer Shiraz Khan grabbed 3 wickets and after conceding 66 in 10 overs.
Pakistan U19 made a strong start while chasing a target. Openers put 50 runs partnership on board, as Saim Ayoub was bowled by Van Vuuren at 21.
Pakistani batsmen continued to shine, reached to 100 runs total in 17.5 overs and 150 milestone in 25.3 overs.
Pakistani opener Haider Ali played a classic inning and reached to 100 runs mark in 96 balls.
Pak U19 lost the 3rd and 4th wicket on 234 runs, but crossed the line with ease in the end.
Pakistan Under 19 chased the total in 42.1 overs with 6 wickets in hand. Fahad Munir played an aggressive inning for Pakistan as he reached to his fifty in 42 balls with 7 fours and 2 sixes.
Breaking CWC '19-Pak vs NZ: Undefeated New Zealand Defeated
T. Van Vuuren was the only pick of the bowlers from South African with 2 wickets.
This is Pakistan's third victory in South African tour as visitors has extended their lead to 3-0 in the 7 match series.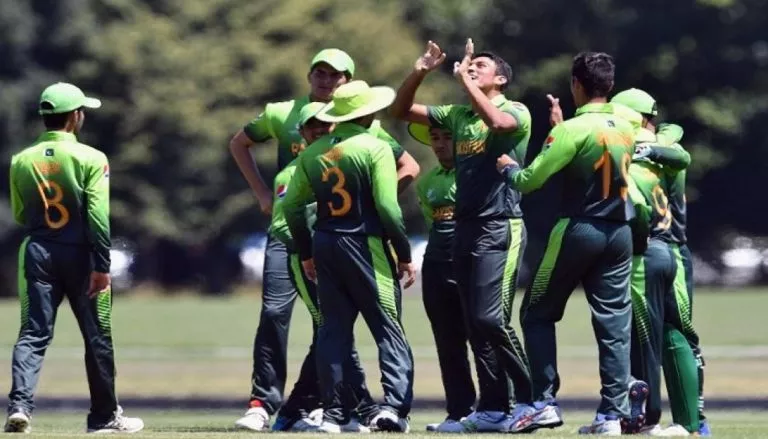 Next ODI between Pakistan U19 and South Africa U19 will be played on 30th June, as both sides will meet on 2nd July, 5th July and 7th July for the 5th, 6th and 7th fixtures.

For more updates keep visiting allsportspk