Cricket-Pak Vs SA U19 Tour-ODI 5: Pakistan Winning Streak Continues; Lead Series 5-0 Series 5-0
Pakistan Under 19 team continues to dominate South African U 19, as they won fifth consecutive Youth ODI held at Pietermaritzburg.
Pakistan U19 innings: 300-8 (50 overs)
South Africa U 19: 184 (38.4/50 overs)
Pakistan's Inning:
Pakistani captain Rohail Nazir opted to bat first after winning the toss, to set a high target against South Africa U19.
Pakistani openers started the innings with aggression, hit boundaries in consecutive overs to reach fifty in just 6 overs, though lost two wickets soon after.
Captain Rohail Nazir and Irfan Niazi partnership kept the run rate high. Rohail hit a six and four to spinner Yikha as he reached to his fifty.
Both batsmen were established. A marvelous innings from Ifran Niazi earned him a hundred in 123 balls with 13 fours, insured Pakistan could get a 300 + total.
The fall of Rohail and Irfan started to mount Pakistan's struggle. No other batsman could settle down with Pakistan U19 being able to score 300-8 in 50 overs.
South Africa's Innings:
South Africa U 19 looked to attack Pakistan U19 upfront while chasing 300.
Both the openers struggled from the start, lost their wickets at 23, courtesy brilliant bowling of Naseem Shah and Abbas Afridi.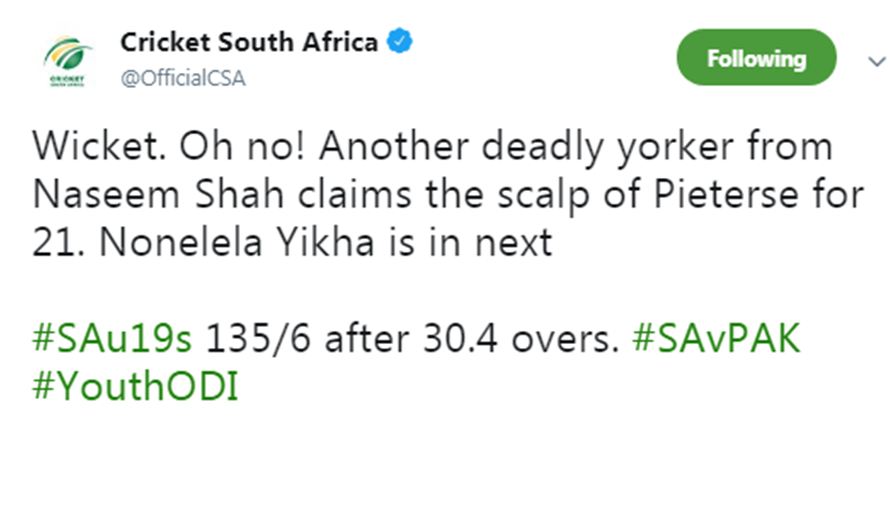 JA Bird was the only South African batsman with fluency, hit beautiful boundaries against Pakistani pacers.
Pakistani spinner were introduced, Bird hit sixes in consecutive overs to move the total further, though his partners could not stay at the crease longer and kept falling.
No other batsman from South Africa could show resistance against Pakistani bowlers, as they lost 7 wickets for 135 runs.
JA Bird smashed 3 sixes and 11 fours as he reached to his 100 run milestone. Though, South Africa was out of the game already.
for more update keep visiting Allsportspk