Cricket-Pak Vs SA U19 Tour-ODI 7: Pakistan Win; Sweep Series 7-0
Pakistan U19 crushed South Africa U19 in yet another encounter to complete the sweep in 7 match series, as Pakistan won the 7th game of the series by 7 wickets.
Scoreboard:
South Africa U19: 182 all out (48 Overs, RR: 3.79)
Pakistan U19 innings: 185/3 (37.3 Overs, RR: 4.93)
South Africa U19: 182 all out (48 Overs, RR: 3.79)
Pakistan U19 innings: 185/3 (37.3 Overs, RR: 4.93)
SA Innings – Highlights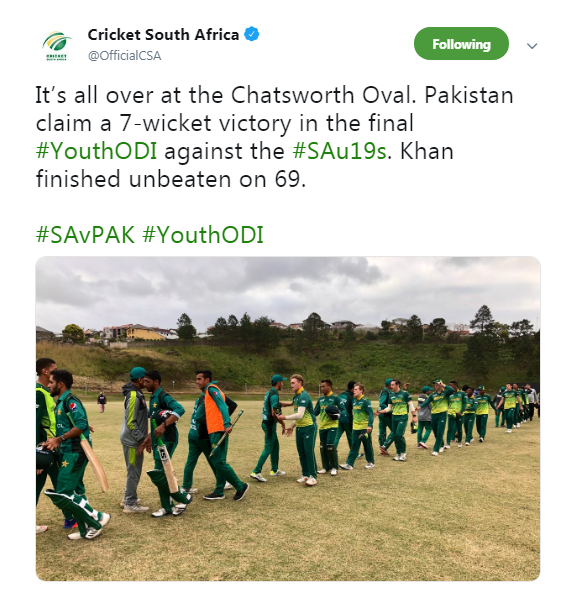 South African captain Bryce Parsons won the toss and elected to bat first, to put a good total on the board against Pakistan.
Both openers could not find momentum, dismissed early in the innings. L Manje being the first to go as he given LBW off Akhtar Shah's ball in second over of the match.
Opener R Terblanche was also dismissed off Muhammad Amir's ball after scoring 15, leaving South Africa in a difficult situation.
JA Bird and A Louw provided South Africa much needed stability as both kept rotating strike.
Jonathan Bird was dismissed 29, while A Louw could not keep his wicket either and was another victim of some lethal bowling of Muhammad Amir.
South Africa kept struggling, as batsmen failed to resist against Pakistani formidable pacers.
Wicket keeper batsman K Cotani was the only bowler who could hit couple of boundaries to Pakistani bowlers without getting out.
Pakistani bowlers kept the pressure on batsmen, resulted in wickets, as South Africa U 19 was bowled out on 182 in 48 Overs.
Muhamamd Amir was pick of the bowlers with impressive figures of 3/40 in 10 overs.
Pakistan once again was in dominant place to win yet another game, as both inform batsmen started the innings confidently.
Pakistan Innings Highlights
Openers Haider Ali and Basit Ali played some brilliant shots, hit boundaries as Pakistan was chasing a low total.
Haider struck a huge six but later got out off Imraan Philander bowling after scoring 30.
Captain Rohail Nazir joined the opener but was soon departed for just 1, leaving Pakistan in a bit of trouble.
South Africa seized an opportunity to build pressure on Pakistan youth, but another inform batsman Haris Khan took the pressure off from Pakistan with some brilliant hitting.
Haris Khan played an aggressive innings for the team while scoring on every opportunity, Pakistan was out of pressure as they reached to 100 runs total.
Fahad Munir also played few impressive shots against fast bowlers, showed his command on fast track.
Pakistan didn't lose anymore wicket, a strong partnership insured Pakistan 7 wickets victory over South Africa.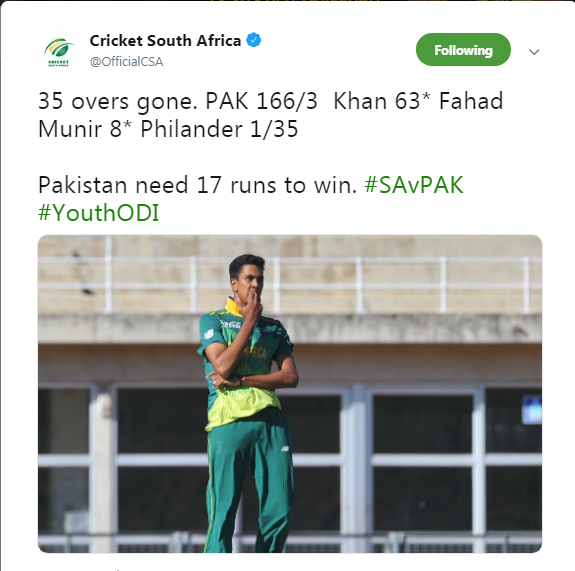 Haris Khan remain not out on 69 as he struck 8 fours and 1 six in his innings. He was also named Man of the match for his brisk innings.
Pakistan won 7th consecutive match against South Africa to complete a sweep in seven match Youth ODI series.
For more updates keep visiting allsportspk