Claimed to be the one of the greatest player in the world of football, Cristiano Ronaldo is a professional Spanish football player who plays for the Spanish club, Real Madrid. Where his amazing ability to score goals on a consistent basis inspires many footballers and fans alike. And, like his goal scoring skills, his athletic body is also one of the most chiseled bodies in football history.
However, many individuals are not aware of the hard work that Ronaldo puts in everyday to be where he is now.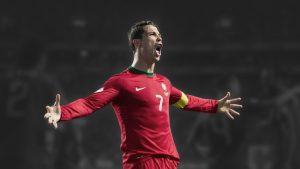 What makes a player like Cristiano Ronaldo?
Dedication and Passion are defining traits of this World-class player as he continues to dominate even at the age of 33 years. Not only does he dominate, his agility and rapid pace combined with his elite ability and power allows him to lead the team whenever he plays.
But, like many he was not born with these traits as his transformation took years of training and nutrition to become one of the hottest properties in football.
So, in this article Allsportspk will share some tips that are taken from Cristiano Ronaldo himself. His training and diet routines are covered comprehensively in this article. Read and get inspired.
Diet
Diet has always come before everything else for Cristiano and it's not a surprise that the athlete takes his diet way too seriously.
According to Ronaldo, a good workout combined with a good diet is mandatory. As, there's no point having most expensive and nicest car if you're not going to equip it with the right fuel.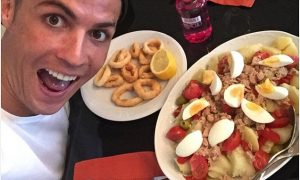 Emphasis on Protein
The 33-year-old puts a high focus on protein as it is the building block of a human body.  The foods that he gets his protein from is fish which he is also very fond of.
Other protein sources that the superstar includes are scrambled eggs, mixture of cod and steaks that he often orders from restaurants.
Carbs and Fat
Carbs and Fat are always going to necessary for a footballer. To fulfill their requirements, Cristiano eats lots of wholegrain carbs, fruits, vegetables, sliced potatoes and salad.
Foods to avoid
Ronaldo is not a huge fan of sugary foods and alcohol and normally stays away from these foods as consuming them hinders his performance on the field.
Food Advice: Eat Regularly and Hydrate
Ronaldo is a great fan of dividing his meals throughout the day. The footballer believes that if you train regularly you should be able to put food in your body at regular intervals.
This is why Ronaldo eats six meals in a day that helps him to stay full of energy almost all day. Hydration is also a key factor that Cristiano does not overlook, as he keeps his body hydrated to avoid performance issues on the field.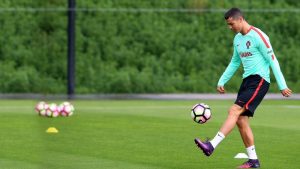 Training
Unsurprisingly, Ronaldo is a fitness freak and the secret behind his amazing physique is his mantra of training that he follows day-in day-out.
Training tips by Ronaldo
Ronaldo follows a warm-up routine before every workout. This is because the risk of injury is drastically reduced during training. The warm-routine includes a few laps of the pitch combined with cardio and stretching exercises.
Mix it up
Cristiano Ronaldo is quite intelligent when it comes to training as he is fully aware that training can become boring at some times.
The solution that he advices for it is to mix up your training by incorporating running, rowing and weight training in a single workout. This keeps things interesting and exciting throughout your training.
Focused Training
Not every form of training is essential for a footballer and that is why Ronaldo does very sport-specific training. Increasing his speed, strength and stamina are three things that Cristiano focuses on most of the time.
High-intensity drills are the most important part of Ronaldo's training as it develops his physique to an extreme level and makes him match ready at all times.
Cristiano Ronaldo: The Champions League Boss
 Constantly adding and improving your training
Ronaldo firmly believes that staying stagnant in your training will have an effect on your performance. So, Ronaldo always adds something to his training in an effort to better the workout that he did before.
The Secret Behind the Amazing Six Packs
Many want to possess a six-pack like Cristiano who doesn't leave any moment where he doesn't flaunt them to the world after he scores an important goal.
However, there is really no secret behind them as Ronaldo himself says that he often does an ab workout in his bedroom after he wakes up or when he goes to bed. This routine has allowed him to make it a habit to be in shape all year long.
Some more tips
Ronaldo believes that healthy living is not something that dedicate a few hours of your day to, rather it is a complete way of life that has to be adhered to at all times.
Mental Strength and Discipline
Mental Strength and clear goals are the secret behind Ronaldo's current status in the world. And, the discipline to act on them is equally vital to keep going.
Relaxed Lifestyle and Proper Sleep
Despite, being over-cautious about his training and diet Ronaldo still leads a relaxed lifestyle as he believes it to be the key factor behind his mental health.
Another factor that adds to this trait is the proper sleep that Ronaldo gets before every match that helps him to perform to his fullest in every match that he plays.
For updates regularly visit: Allsportspk