CWC19 Match 39: Sri Lanka VS West Indies
Match Basics
CWC 19- Match 39: Sri Lanka Vs West West Indies
Date: 1st July 2019
Venue: Chester-le-Street
Umpires: Bruce Oxendford, Paul Reiffel
Toss Won by: West Indies, elected to field first
Scorecard Summary
Sri Lanka's Innings: 338/6 (50 Overs, RR: 6.76)
Performers:
Batting: WIA Fernando 104 off 103 balls, MDKJ Perera 64 79 off 51 balls, HDRL 45 off 33 balls.
Bowling: Jason Holder 2/59 in 10 overs, FA Allen 1/44 in 8 overs, O Thomas 1/58 in 10 overs.
West Indies Innings: 315/9 (50 Overs, RR: 6.3)
Performers:
Batting: Nicholas Pooran 118 off 103 balls, FA Allen 51 off 32 balls, 35 off 48 balls.
Bowling: Lasith Malinga 3/55 in 10 overs, Angelo Mathews 1/6 in 2 overs, JDF Karunaratne 1/50 in 7 overs.
Highlights &Analysis
Sri Lanka's Innings
Sri Lanka after winning against England were feeling more confident against a lesser opponent of the tournament.
West Indies after losing all hopes of progressing further in the tournament still looked to end their journey with couple of victories.
West Indies chose to field first after winning toss, to take the advantage of early movement, though the pitch was a tailor made for the batsmen.
Sri Lankan openers FDM Karunaratne and MDKJ Perera started the proceedings, while West Indies opted for pacers SS Cottrell and O Thomas for opening spells.
It was a conscious start from Sri Lanka as both batsmen kept it simple and played more dot balls and tried to rotate strike.
After couple of overs, wicket keeper batsman MDKJ Perera took charge and started playing aggressive shots.
Parera kept finding boundaries at both sides of wickets, while Captain Karunaratne remain focused on rotating strike.
Strong start from Sri Lanka put West Indies under a lot of pressure, as they were desperate to take first wicket.
Finally West Indies found a ray of hope, as captain Karunaratne was caught behind off Holder's ball after scoring 32.
Newcomer WIA Fernando joined opener at the crease, as Perera kept hitting boundaries regularly.
Sri Lanka crossed 100 run mark, Perera misjudged and was run out after scoring a brisk 64 in 51 balls.
Sri Lankan batsmen kept the aggressive mode, scored boundaries in mid overs, Fernando hit a six Allen and moved to 50 runs mark.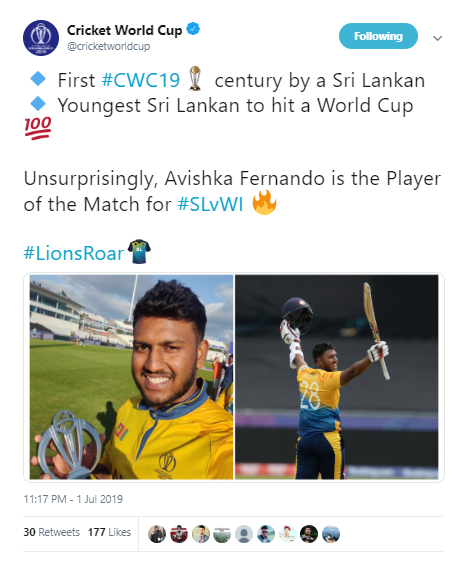 West Indies was brilliant in the field, stop certain boundaries and prevented singles but could not take regular wickets.
Another Six to Cottrell and couple of boundaries, as Fernando reached to his Hundred. It was first century of any Sri Lankan batsman in this World Cup.
After losing Fernando and Mendis in quick span of time, senior players Angelo Mathews and HDRL Thirmanne jointly sailed the ship further.
Thirmanne being the aggressor partner hit 4 fours, and scored 45 at a strike rate of 136. Sri Lanka finished their innings at 338 for 6 in 50 overs.
300+ totals can always be difficult to chase, but Sri Lanka knew an explosive West Indies batting side can chase any total on their day.
West Indies's Innings
West Indies openers Chris Gayle and Sunil Ambris were on the crease to face Lasith Malinga and DM de Silva of Sri Lanka.
West Indies was hoping for a bright start against a formidable total, but experienced Malinga decieved Sunil Ambris in his second over to get him caught behind.
Shai Hope joined Chris Gayle but became another victim of Malinga soon, as West Indies were facing disastrous start in their innings.
Gyale and Hetmyer tried to take on Sri Lankan bowlers but failed fell after hitting couple of boundaries, leaving their side hanging at 4/84 in 18 overs.
N Pooran and captain Jason Holder paired up to take West Indies innings further, as both batsmen played according to the situation and capitalized on opportunities.
Pooran insured West Indies stay close to the required run rate, as he hit couple of sixes and fours against both spinners and medium pacers.
Partnership between Pooran Holder proved worthy, West Indies felt they could win this game if stay on track.
Two quick wickets fell, and West Indies once again lost track in the game. Pooran being the lone soldier fought hard but needed a partner on other hand.
It was FA Allen who gave the required support, as both players slogged hard against Sri Lankan bowlers to find boundaries.
A fifty run partnership between Pooran and Allen off just 34 balls insured West Indies had a real chance of winning it.
FA Allen fell just after scoring 50 runs, putting all the pressure back on West Indies and N Pooran, who now had to take the game forward on his own.
West Indies needed 47 in 30 balls, with 3 wickets in hand a single specialist batsman, looked like a peak to climb up.
It was Angelo Mqthews who grabbed wicket of N Pooran and ended his marvelous innings at 118 to seal the win for Sri Lanka.
West Indies finished their innings at 315 for the lost of 9 wickets in 50 overs, as Sri Lanka won the game by 23 runs.
Teams
Sri Lanka West Indies
FDM Karunaratne (C) CH Gayle
MDKJ Perera (WK)                          Sunil Ambris
WIA Fernando                                Shai Hope (WK)
BKG Mendis                                 SO Hetmer
Angelo Methews                            N Pooran
HDRL Thirmanne                            Jason Holder (C)
I Udana                                    Carlos Brathwaite
DM de Silva                                FA Allen
JDF Vandersay SS Cottrel
CAK Rajiha ST Gabriel
SK Malinga O Thomas
For more update keep visiting Allsportspk