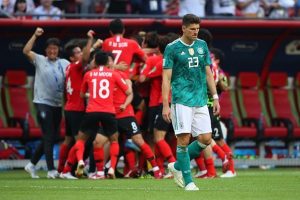 World Cup 2018: Two Reasons For Germany Being KO
A deadly silence was witnessed in the dressing room as as Son Heung-min scored the 2nd goal of the match to eliminate the defending champions out of the World Cup 2018.
Everyone from football experts to millions of German fans in Russia and back home were shocked. And, as the dust settled and the match came to an end, people started looking for the millions of reasons behind Germany's elimination.
Allsportspk presents you the top 5 reasons that led to Germany's elimination.
Absence of Leaders
"Fuhrungsspieler" is a German term which basically means "the loss of leaders". This is exactly what happened to Germany as they lost not one but three potential leaders after World Cup 2014.
Firstly, their captain Phillip Lahm and a key figure in German dressing room retired. However, the major retirement after the World Cup was of Miroslav Klose who is still the all-time World Cup top scorer played a major role in winning the World Cup for Germany.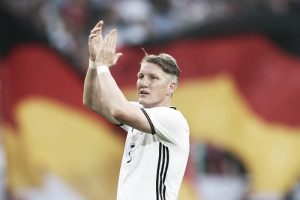 This was not the end of the story as another legendary player, Bastian Schweinsteiger also retired in 2016. Germany couldn't find a replacement for any of them which lead to their demise in this World Cup 2018.
Selection Issues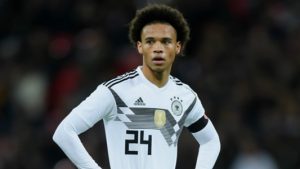 While, many would argue that Germany should have included Manchester City's Leroy Sane in their squad who was in top notch form. However, the story goes much deeper than that as it was the individual match selections that cost the Germans another possible World Cup victory.
Speed and Precision. These are the two factors that the current German side lacked in their World Cup 2018 squad. And it also was the reason as to why they were unable to deter or break down any of the sides they played with.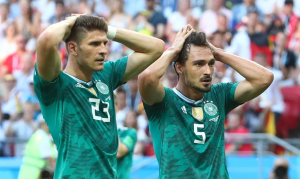 This was a result of the unjustifiable selections that were made by the German side in all of the three matches that they played in this miserable World Cup campaign. Some of them are as follows:
Not dropping Sami Khedira for Sebastian Rudy in the match against Mexico.
5 changes in the last match against South Korea including the exclusion of Thomas Muller; Germany's most senior player and top scorer.
Including Leon Goretzka who is a mid-fielder instead of a striker to get in the lead in a must win match against South Korea.
After this incident happened FIFA World Cup 2018 media rating sky rocketed and social media erupted with millions of reactions.
Sane watching Germany being knocked out of the World Cup without him. #Ger pic.twitter.com/6hPYvVc8K2

— Football Videos (@FootballVideos) June 27, 2018
The last time Germany were knocked out of the World Cup at the group stage was in 1938.

Lets hope they dont take it as badly this time!

— Cock Jokes (@CockJokes) June 27, 2018
Neuer: "We lacked commitment. Even if we would've gone through, in the next round or the round afterward we would've been knocked out. We deserved to be eliminated. We didn't convince in any game. This was not the Germany we all know. Pathetic."

— Andrew Thompson (@AFCBvB1410) June 28, 2018
Just thought I'd let you know. Germany are the only team that has knocked out Messi in the World Cups. [2006, 2010, 2014].

— Fiaz Hamzath (@fiazhamzath) June 27, 2018
1938: #GER knocked out in group stages.
1939: World War II starts

2018: #GER knocked out in group stages.
2019: ❓❓❓???#Worldcup #Rusia2018 #KOR #KORGER #WetheReds #DieMannschaft #Neuer #Germany pic.twitter.com/Fn0QzoAV5h

— 442stat.com (@442stat) June 27, 2018
#WorldCup: Media mocks, ratings soar as Germany knocked out https://t.co/fvkt7rxx61 pic.twitter.com/VZO0AQzrYK

— Hollywood Reporter (@THR) June 28, 2018
The financial loss when a country like Germany gets knocked out early is in the millions of dollars. Television Sponsors that paid massive amounts of money for Broadcast Rights. Replica Jersey sales down. Empty Sports Bars. And the list goes on. The economy surely suffers.

— Tom Byer汤姆.拜尔•トムバイヤー (@tomsan106) June 28, 2018
England fans reaction to Germany being knocked out is exactly the same as the reaction Dundee fans have when Dundee United suffer a defeat, total wee man syndrome.

— Grumpy Dundonian (@TheDalaiRammer) June 28, 2018
2006-Italy won. 2010-Italy knocked out in group stage.
2010-Spain won. 2014-Spain knocked out in group stage.
2014-Germany won.2018-Germany knocked out in group stage..
2018-???? pic.twitter.com/fNpTBVARZD

— Messi (@DallierOaf) June 28, 2018
The last 48 hours have ben one hell of a ride in the BEST way, Messi scored, the late goal by Rojo, Paulinho & Coutinho masterclass, Germany knocked out & Mexico making it rightfully through, Sweden getting justice for the uncalled pen vs Germany. Football can be so beautiful!

— Goal Digger (@GoalDiggerFCB) June 28, 2018
Was Sitting in standstill traffic on the motorway earlier… windows down, suddenly loads of cars + lorry's start sounding their horns and a few hands punching the air out of their windows… I look to the car next to me confused.. guy says 'Germany have been knocked out' ?

— Harry Forrester (@harry_forrester) June 27, 2018
What are your thoughts on Germany's elimination? Do you think another major reason as to why the defending champions were knocked out of the World Cup?
Comment below and let us know!
For more updates on the ongoing FIFA World Cup 2018 keep visiting allsportspk