FC Polo Team clinched the second consecutive title when defeated Diamond Paints/Sheikhoo Steel 9-8 in the main final of the Gobi's Paints Polo Cup 2 played at Jinnah Polo Fields.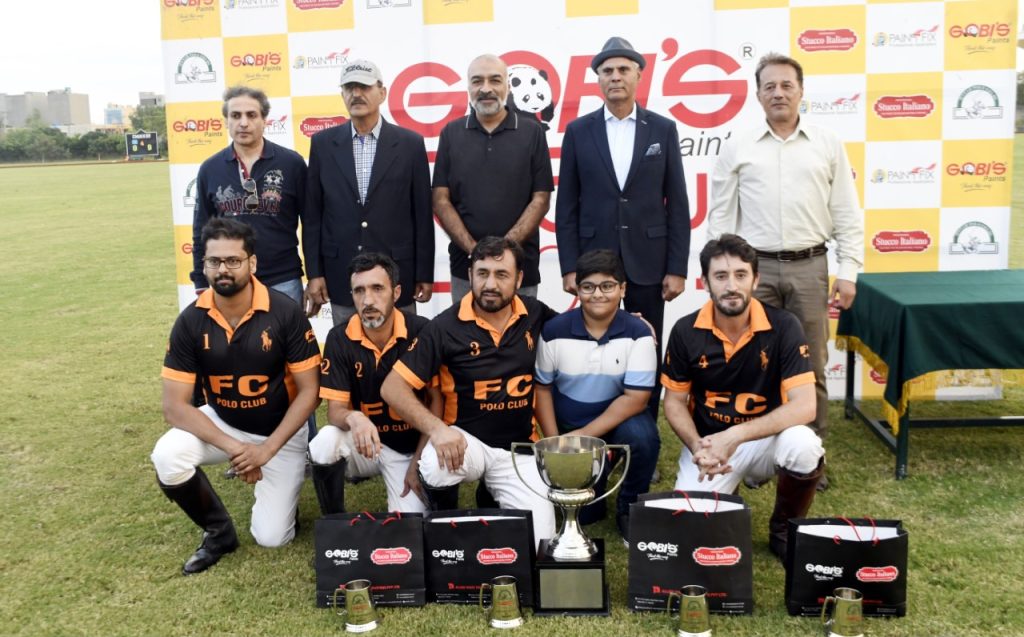 Last Sunday, FC Polo Team claimed the Gobi's Paints title after beating the same opponents, Diamond Paints/Sheikhoo Steel, by 9-7 in the main final. This Sunday, the main final proved to be a thrilling one and in the dying moments of the final, FC Polo Team successfully converted the match-winning goal to win the final and trophy by 9-8. From FC Polo Team, which had two goals handicap advantage, Hav Shahzad Ahmad once again excelled with stick and horse as he displayed outstanding polo skills and techniques and fired in fabulous five goals while the remaining contribution came from NS Israr Wali and Captain Arslan (one goal each).
T20 World Cup 2021 – Latest Points Table
From the runners-up team, Saqib Khan Khakwani also played superbly and fired in fantastic five goals and Mir Shoaib banged in a brace and Aleem Yar Tiwana struck one.
Earlier in the subsidiary final, 4 Corps beat Diamond Paints by 5.5-3. From 4 Corps, which had a half goal handicap advantage, Ahmad Bilal Riaz hammered a hat-trick and Lt Col Omer Minhas banged in a brace. From Diamond Paints, Mir Huzaifa Ahmad struck twice and Raja Jalal Arslan once.
T20 World Cup 2021 Complete Schedule
Athletics Federation of Pakistan, President Maj. Gen. (R) Muhammad Akram Sahi as chief guest distributed prizes and trophies among the winners.
لاہور (سپورٹس رپورٹر) جناح پولو فیلڈز کے زیراہتمام گوبیز پینٹس پولو کپ 2021ء کا فائنل ٹیم ایف سی پولو نے ڈائمنڈ پینٹس /شیخو سٹیل کو 9-8 سے ہرا کر مسلسل دوسرا گوبیز پینٹس پولو کپ 2021ء جیت لیا۔ ایف سی پولو ٹیم نے پچھلی اتوار پہلا گوبیز پینٹس پولو کپ جیتا تھا۔ ادھر سب سڈری فائنل میں چار کورپس کی ٹیم نے ڈائمنڈ پینٹس کو 5.5-3 سے ہرا دیا۔ اس موقع پر مہمان خصوصی صدر ایتھلیٹکس فیڈریشن میجر جنرل (ر) اکرم ساہی، گوبیز پینٹس کے سی ای او عمر آصف، صدر کلب لیفٹیننٹ کرنل شعیب آفتاب، سیکرٹری میجر (ر) بابر محبوب اعوان اور تماشائیوں کی ایک بڑی تعداد موجود تھی۔ مین فائنل میں ایف سی پولو ٹیم اور ڈائمنڈ پینٹس /شیخو کے درمیان کافی دلچسپ مقابلہ ہوا جو ایف سی پولو ٹیم نے آخری لمحات میں گول کرکے 9-8 سے جیتا۔ ایف سی کی طرف سے حوالدر شہزاد احمد نے پانچ، نائب صوبیدار اسرار ولی اور کیپٹن ارسلان نے ایک ایک گول سکور کیاجبکہ دو گول انہیں ہینڈی کیپ ایڈوانٹیج حاصل تھا۔ ڈائمنڈ پینٹس /شیخو سٹیل کی طرف سے ثاقب خان خاکوانی نے پانچ، میر شعیب احمد نے دو جبکہ علیم یار ٹوانہ نے ایک گول سکور کیا۔ قبل ازیں سب سڈری فائنل میں چار کورپس کی ٹیم نے ڈائمنڈ پینٹس کو 5-5.3 سے ہرا دیا۔ چار کورپس کی طرف سے احمد بلال ریاض نے تین، لیفٹیننٹ کرنل عمر منہاس نے دو گول سکور کیے جبکہ آدھا گول انہیں ہینڈی کیپ ایڈوانٹیج حاصل تھا۔ ڈائمنڈ پینٹس کی طرف سے میر حذیفہ احمد نے دو، جبکہ راجہ جلال ارسلان نے ایک گول سکور کیا۔ اختتامی تقریب میں میجر جنرل (ر) اکرم ساہی نے گوبیز پینٹس کے سی ای او عمر آصف کے ہمراہ انعامات تقسیم کیے۔