IBSF U16 World Snooker C'ship 2019: Commences 19th August In Russia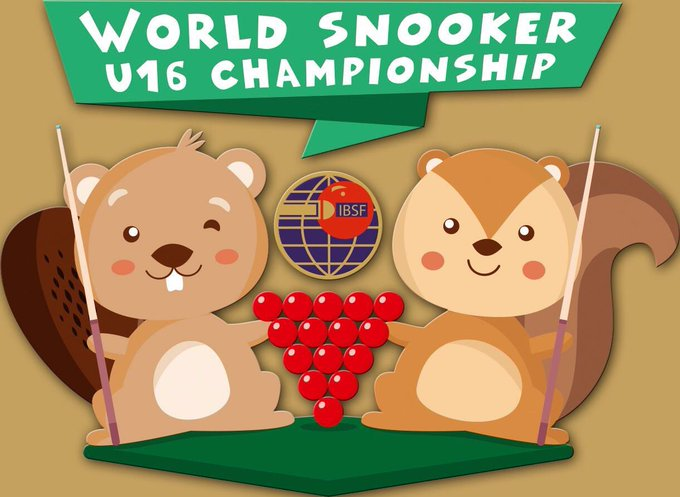 The IBSF U16 World Snooker Championship 2019 is a junior level non-professional snooker tournament which is annually organised by FBSR – Federation of Billiard Sports of Russia. An international event it was held in 2017 for the first time in Saint Petersburg, Russia. The second event event was also held in Saint Petersburg. However, the 2019 edition is being organised from 19th – 24th August in Tyumen, Russia.
There are 42 player from 11 countries participating in the tournament this year. 

U16 Player List
Denzel Nicholson
Australia
Joshua Thrift
Australia
Xavier Daw
Australia
Cody Unkovich
Australia
Thor Van De Voorde
Belgium
Mina Awad
Egypt
Michael Robert Joyce
England
Kaif Shazad
England
Bulcsú Révész
Hungary
Ranveer Duggal
India
Dhruv Patel
India
Priyansh Jain
India
Shreyansh Deshlahara
India
Abhinav Mahanta
India
Umer Ul Islam
India
Ryan McGuirk
Ireland
Leone Crowley
Ireland
Jack Newman
Ireland
Lewis Casserly
Ireland
Ronan McGuirk
Ireland
Nurdaulet Maiten
Kazakhstan
Umar Khan
Pakistan
Muhammad Hamza Ilyas
Pakistan
Antoni Kowalski
Poland
Artem Istomin
Russia
Vladimir Gorokhov
Russia
Andrei Karasov
Russia
Maksim Kurin
Russia
Grigorii Pakhomov
Russia
Kirill Zhizduk
Russia
Semen Kuznetsov
Russia
Aidar Kharisov
Russia
Valentin Terentjev
Russia
Artem Demyshev
Russia
Danil Demyshev
Russia
Stanislav Grigorjev
Russia
Dmitrii Kulakov
Russia
Mikhail Poletaikin
Russia
Iosif Sagaidachnyi
Russia
Aleksandr Torchinskii
Russia
Nikita Glebov
Russia
Artem Zhogin
Russia
The players have been divide into 8 Groups as follows: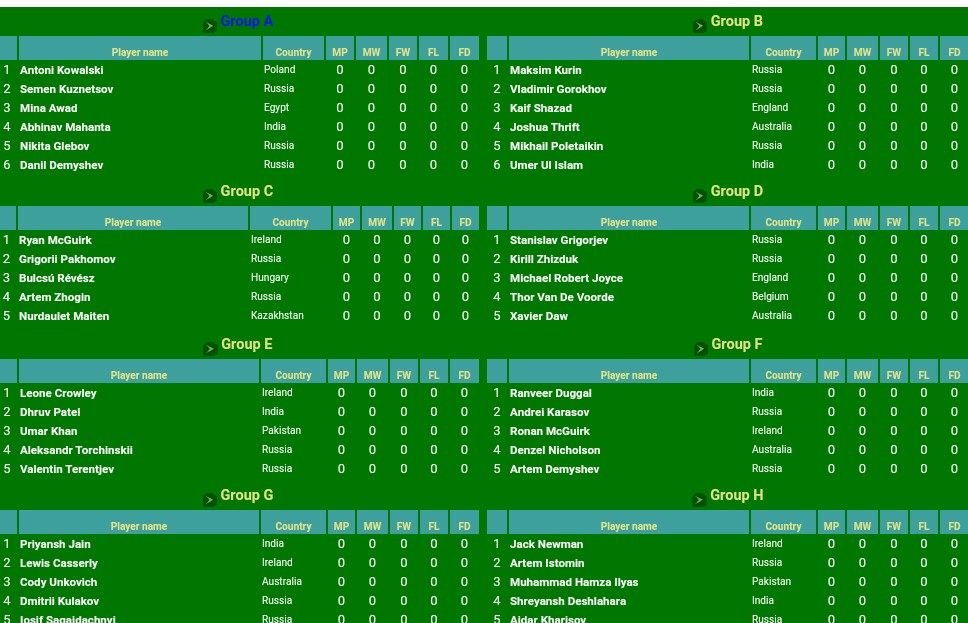 After the League round matches, the top 3 players will qualify for the Knockout round. All 8 Group winners will qualify for directly the Pre-quarter stage and the Group 2nd and 3rd will qualify for last 24 Round.
According to PBSF the League matches schedule of the Pakistan players is as follows: 20/8/19
10:00 am
Artem Istomin (Russia) v Hamza Ilyas (PaK)
Dhruv Patel (India) v Muhammad Umar Khan (PaK)
2:00 pm
Leone Crowley (Ireland) v Muhammad Umar Khan (PaK)
4:00 pm
Jack Newman (Ireland) v Hamza Ilyas (PaK)
21/8/19
12:00 pm
Muhammad Umar Khan (PaK) v Valentin Terentjev (Russia)
2:00 pm
Hamza Ilyas (PaK) v Aidar Kharisov (Russia)
22/8/19
10:00 am
Muhammad Umar Khan (PaK) v Aleksandr Torchinskii (Russia)
Hamza Ilyas (PaK) v Shreyansh Deshlahara (India)
For more updates keep visiting allsportspk