BAHAWALPUR: The Final of National Bank of Pakistan T-20 Blind Cricket Trophy – Grade-1, at Dring Stadium, Bahawalpur.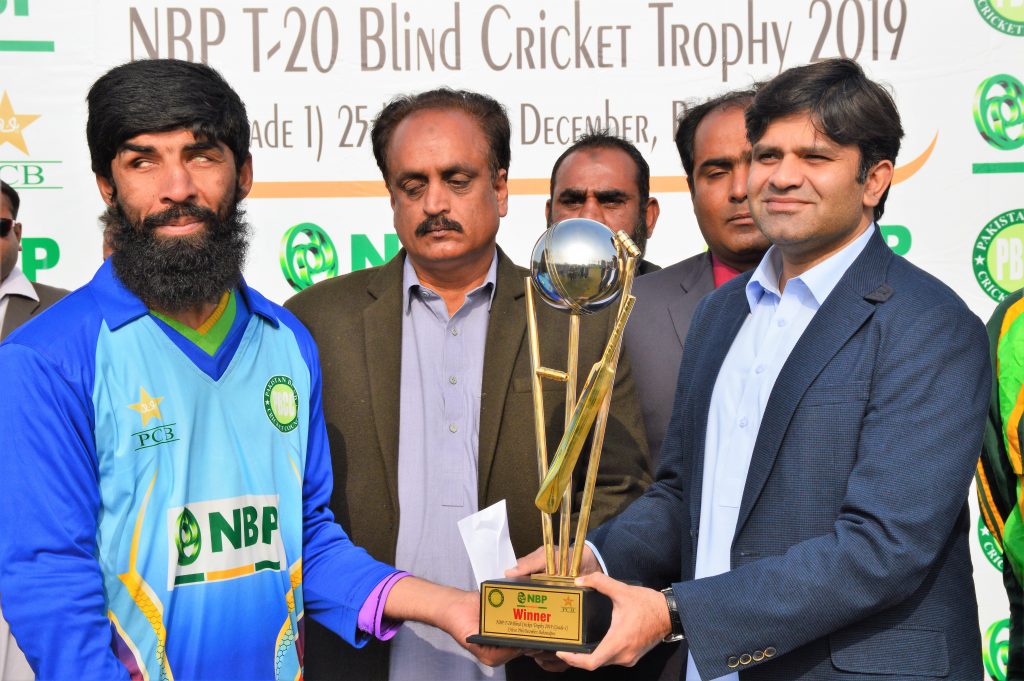 Bahawalpur the local team lifted the 2019 Trophy and also set a record of winning it for 3 years consecutively.
The Overview of the Final is as follows:
Bahawalpur won the toss and opted to bowl first. Sanaullah and Haroon Khan opened the innings for Peshawar. Peshawar made a brisk start and made 66 runs in first 6 overs, Sanaullah played-on a ball which hit on his face and his aggressiveness with the bat dwindled. He got out after scoring 57 runs off 37 balls. Haroon Khan got retired hurt after scoring 55 runs. Peshawar scored 197 runs in 20 overs for the loss of 4 wickets. Shahzaib and Ijaz shared one wicket each.
Bahawalpur in reply chased the target 198 in 17.1 overs for the loss of 3 wickets.
Moeen Aslam again shined with the bat and made sparkling unbeaten 126* off 56
balls featuring 11 boundaries and 4 sixes. Rahid Ullah and Mohsin Khan claimed 1
wicket each.
Result: Bahawalpur won by 7 wickets Man of the Match: Moeen Aslam

Player of the Tournament:
B1: Tehseen (AJK)
B2: Matiullah Khan (Lahore)
B3: Iftikhar Tiger (Okara)
Best Wicket Keeper: Muhammad Waseem (Peshawar)
Event Overview:
Eight (8) Teams named Karachi, Islamabad, Lahore, Okara, Gujranwala, AJK,
Peshawar and Bahawalpur participated in the event that was played from 25th to 29th December at Bahawalpur. Islamabad, AJK, Peshawar and Bahawalpur were the 4 semifinalists. While the Final was played between Peshawar and Bahawalpur and
Bahawalpur clinched the trophy.
Mr. Shozeb Saeed, Deputy Commissioner Bahawalpur, Syed Sultan Shah, Chairman
Pakistan Blind Cricket Council, and Mr. Dawood Mehmood Malik Regional Chief National Bank of Pakistan distributed prizes amongst the players.