U-18 Baseball World Cup 2019 Korea: Netherlands, Spain To Represent Europe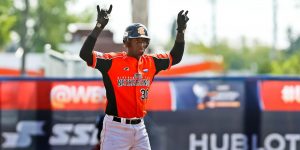 ITALY: The Netherlands and Spain are the first nations to qualify for the WBSC U-18 Baseball World Cup® 2019, which will be staged at Gijang-Hyundai Dream Ballpark in Gijang, Republic of Korea.
World No. 9 Netherlands beat No. 25 Spain, 6-3, on Sunday in the Final of the U-18 European Baseball Championship 2018 in Grosseto, where the top two European nations earned a place in the XXIX U-18 Baseball World Cup 2019, one of the most elite youth World Championships in all of sports.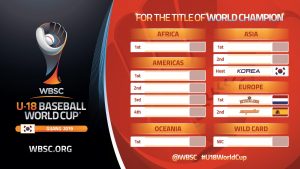 Ten nations competed in the continental championship in Grosseto, including No. 9 Netherlands, No. 15 Italy, No. 18 Czech Republic, No. 21 Germany, No. 23 France, No. 25 Spain, No. 33 Lithuania, No. 34 Great Britain, No. 38 Ukraine and No. 54 Ireland. Czech Republic defeated Italy, 4-3, in the bronze medal match.
"The Road to Gijang 2019 has gotten off to an exciting start with the Netherlands and Spain claiming the first two spots in the U-18 Baseball World Cup," said WBSC President Riccardo Fraccari. "The strong European youth championship in Grosseto shows the baseball world is constantly evolving and that the distance between the rankings is narrowing. Congratulations to the players and federations of the Netherlands and Spain for being the best in Europe."
It is the first time since 2006 that Spain will compete For the Title of World Champion in the U-18 category, while the Netherlands finished in 8th place at last year's U-18 Baseball World Cup in Thunder Bay, Canada.
Through the continental championships/qualifiers, the composition of the U-18 Baseball World Cup is as follows:
| | |
| --- | --- |
| Continent |   No. of Representatives |
| Africa | 1 |
| Americas | 4 |
| Asia | 3 |
| Europe | 2 |
| Oceania | 1 |
| Wild Card | 1 |
USA Baseball has assembled and featured the best U-18 team on the planet since 2012, winning the world title four consecutive times (U-18 Baseball World Cup 2012, 2013, 2015 and 2017).
The U-18 Baseball World Cups, along with its continental qualifiers, have consistently featured players who have gone on to become some of the biggest names in the sport, such as Japan's Yu Darvish and Shohei Ohtani; Korea's Shin-soo Choo; Cuba's Yasiel Puig and Aroldis Chapman; and USA's Clayton Kershaw, Bryce Harper, Manny Machado and Buster Posey.
U-18 European Baseball Championship 2018 final standings:
1. Netherlands
2. Spain
3. Czech Republic
4. Italy
5. France
6. Ireland
7. Germany
8. Lithuania
9. Great Britain
10. Ukraine
For more updates keep visiting allsportspk