Pakistan SSB Wheel Chair Tennis: Trial Camp Held In Karachi
The Pakistan Tennis Federation (PTF) announced that SSB Wheel Chair Tennis Trials were successfully held at Union Club, Karachi on 10th March, 2019 under the supervision of Mr. Khalid Rehmani, Special VP PTF for Wheel Chair Tennis.
The aim of this trial camp and thereby the coaching camp is to prepare the players for international competitions and a team will be selected after conclusion of the camp. The team will represent Pakistan in International Wheel Chair Competitions in future.
On conclusion of the trials players were selected for SSB Wheel Chair Tennis Coaching Camp. In total, 5 players were selected out of seven 7 participants. The successful candidates will take part in the coaching camp which will commence from 16th March, 2019 at Union Club, Karachi. The camp will be held on weekends – Saturday and Sunday, for two months under the supervision of the coach Mr. Aqeel Shabbir.
Mr. Salim Saifullah Khan, President PTF appreciated the efforts of Mr. Khalid Rehmani and his team for promoting Wheel Chair Tennis and holding activities for special persons. The PTF President said that such activities will not only motivate special persons to participate in sports events but also advance the PTF vision for promotion of this discipline of Tennis as envisaged by the PTF Management.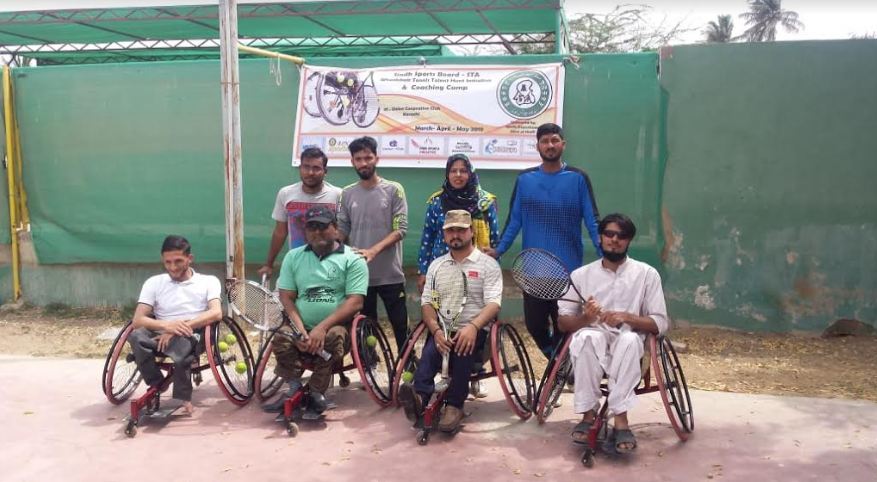 It is pertinent to mention that the PTF imported four 4 special sports wheel chairs in 2018 which were donated to the Wheel Chair Tennis department to promote wheel chair tennis in Pakistan.
History
Develop in 1976 by Brad Parks from USA, the Wheelchair tennis during the last 3 decades has been the most existing and rapidly growing international sports for the disabled persons. As the sports developed from a fun activity into a professional sport, thereby, the IWTF – International Wheelchair Tennis Federation was established in 1988 to manage the sport on worldwide basis.
Having original eight founding member nations, the membership increased to over fifty countries and presently it is expected that wheelchair tennis is played in more than a hundred countries.
On 1st January 1998, the IWTF was fully incorporated into the ITF – International Tennis Federation, thereby, becoming the first special people sport to achieve such a recognition at the international level.
For updates regularly visit: allsportspk