Cricket: Pakistan Vs South Africa 1st Test Day 3: Proteas Produce A Dominating Win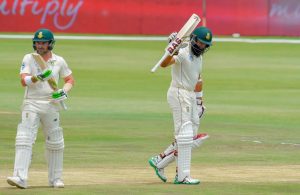 South Africa's top order did not flinch against a strong Pakistan bowling attack, as fifties from Dean Elgar and Hashim Amla helped them win the match by 6 wickets. This win constitutes a 1-0 lead in the three match Test series.
Pakistan's seamers tried their best to get back into the game, however 149 runs were not enough to defend against the likes of Elgar and Amla, as the latter remained unbeaten throughout his innings.
Pakistan's 1st Innings: 181 all out (47 Overs, RR: 3.85, 223 minutes)
South Africa's 1st Innings: 223 all out (60 Overs, RR: 3.71, 284 minutes)
Pakistan's 2nd Innings: 190 all out (56 Overs, RR: 3.39, 265 minutes)
South Africa's 1st Innings: 151/4 (50.4 Overs, RR: 2.98, 230 minutes)
Result: South Africa won by 6 wickets
Social Media Reactions:
Sarfaraz Ahmed in 1st and 2nd innings: 0 and 0
Faf du Plessis in 1st and 2nd innings: – 0 and 0
First time in the history of cricket, both captains have bagged PAIR in the same Test. Meanwhile, South Africa have beaten Pakistan by 6 wickets in the first Test. pic.twitter.com/RnBbOWnkKt

— Umar Bilal (@UmarBilal37) December 28, 2018
1st Test:#Pakistan 181 and 190; #South Africa 223 and 151/4 (50.4 ov, target: 149)#SouthAfrica won by 6 wickets #SAvPAK pic.twitter.com/p8WAAhLWSy

— #SAvPAK #SAvPAK #SAvPAK #PSLT20 (@PCBLive_PK) December 28, 2018
#SAvPAK! First Test
South Africa won by 6 wickets
Supurb knock by Hashim Amla 63 not out
?? Pakistan 181 & 190
?? South Africa 223 & 151/4
Proteas 1-0 up in series#Cricket pic.twitter.com/5asN4PyDou

— #CrickeTweets!? (@asadjaved609) December 28, 2018
A friendly suggestion: Stop acting as if Pakistan lost a Test for the first time in South Africa since 1947.

Anyways, this Team has the ability to do wonders. All the best to Team Pakistan for next test. Pakistan Zindabad ??

— PSL Memes (@PSLMemesWalay) December 28, 2018
For more updates about Pakistan vs South Africa keep visiting allsportspk