Premier League '18-19 – Highlights: City's Win Keeps Liverpool In Check At The Top
These are the last two matches of the Premier League, Match Day 24 of 38. The match highlights and the top 10 teams points table is included.
Premier League '18-19 – Highlights: Manchester City Continue To Dominate
Points Table – Premier League '18-19
| | | | | | |
| --- | --- | --- | --- | --- | --- |
| Rank | Name | Won | Draw | Lost | Points |
| 1 | Liverpool | 19 | 3 | 1 | 60 |
| 2 | Manchester City | 18 | 2 | 3 | 56 |
| 3 | Tottenham | 17 | 0 | 6 | 51 |
| 4 | Chelsea | 14 | 5 | 4 | 47 |
| 5 | Arsenal | 13 | 5 | 5 | 44 |
| 6 | Manchester United | 13 | 5 | 5 | 44 |
| 7 | Watford | 9 | 6 | 8 | 33 |
| 8 | Wolves | 9 | 5 | 9 | 32 |
| 9 | Leicester City | 9 | 4 | 10 | 31 |
| 10 | West Ham | 9 | 4 | 10 | 31 |
For Complete Premier League 2018-19 team rankings, click here
English Premier League 2018-19 – Full Schedule
Match 9 of 10: Huddersfield vs Manchester City
Result:  0 – 3
Goal Scorers:
Manchester City: Danilo 18′, Raheem Sterling 54′, Leroy Sane 56′
Match Statistics:
| | | |
| --- | --- | --- |
| Huddersfield | Team Stats | Manchester City |
| 5 | Shots | 12 |
| 2 | Shots On Target | 4 |
| 32% | Possession | 68% |
| 345 | Passes | 734 |
| 71% | Pass Accuracy | 87% |
| 10 | Fouls | 9 |
| 2 | Yellow Cards | 2 |
| 0 | Red Cards | 0 |
| 2 | Offsides | 2 |
| 1 | Corners | 4 |
Highlights:
For a group with Manchester City's aspirations, Huddersfield were obliging adversaries. Get up and go Guardiola's men appropriately exploited a side whose toes appear to be labeled for the transfer funeral home and, simultaneously, reestablished their danger in a title race that still offers them a wide range of potential outcomes.
The hole at the highest point of the table has returned to four and the message for Liverpool is noisy and clear: it will be a hell of an occupation to shake off the present victors.
Not this was the most destroying execution to be seen from City this season. For sure, they may mirror that on a superior day it would have been a prime chance to add considerably more sheen to the extraordinary goal distinction in the best division.
TEAM NEWS with @ViessmannUK:

Caretaker Head Coach @M_Hudson5 has made six changes to the #htafc line-up for today's @premierleague game against @ManCity.

➡️ Smith, Kongolo, Bacuna, Diakhaby, Löwe & Mbenza
⬅️ Billing, Pritchard, Mounié, Zanka, Hadergjonaj & Durm#HUDMCI (AT) pic.twitter.com/Ifrk3wPgfF

— Huddersfield Town (@htafcdotcom) January 20, 2019
However it was hard to be too basic when City were as yet fit for winning with something to save notwithstanding an execution, by all accounts, that only occasionally infringed over six out of 10.
Their opening goal here, when Danilo got fortunate with a 20-yard shot that flew in off Christopher Schindler, was City's 100th this season in all the different rivalries, and they immediately included two more from Raheem Sterling and Leroy Sané amid the opening phases of the second half.
It is 386 minutes, coordinate insightful, since Roberto Firmino turned into the last player to score against City and in that time Guardiola's players have now scored multiple times without a solitary one going the other way.
Manchester City barely got out of second gear as they easily beat bottom club Huddersfield Town to close the gap on Premier League leaders Liverpool to four points on Sunday. https://t.co/MCMFHLXzYN pic.twitter.com/EvTgtMqeeY

— Carl Fountain (@cfountain07) January 20, 2019
It works out at an goal, all things considered, like clockwork and, in the event that anything, it was presumably an unexpected they did not include any more daily that affirmed why Huddersfield's director in-pausing, Jan Siewert, may as of now be arranging ahead of time for the Championship.
City were likewise denied a reasonable penalty, with the amusement goalless, when the official, Andre Marriner, missed Terence Kongolo's foul on Raheem Sterling and, to Guardiola's disturbance, they may even have enabled a dash of smugness to sneak in once they had opened the scoring against the side set up together by Mark Hudson, Huddersfield's overseer chief.
8 – Since the start of last season, Leroy Sané has both scored and assisted in eight @premierleague games for Manchester City, at least three more times than any other player at the club (Sterling and Agüero 5). Spectrum. #HUDMCI pic.twitter.com/xdYnBcAwpQ

— OptaJoe (@OptaJoe) January 20, 2019
Perhaps it was unreasonably direct for the away group. Excessively simple, even. Maybe it was an immediate outcome of neither David Silva nor Bernardo Silva beginning the match.
However City had Kevin De Bruyne and Ilkay Gündogan in that pompous purple and orange unit – two hues that should not be seen together on a football pitch – and it would have been sensible to think Sergio Agüero's center may have been honed by the reality he had been chosen in front of Gabriel Jesus, the scorer of seven goals in his last three matches.
Whatever the reason, it was absolutely surprising to see City lead the pack, at that point drop their beat instead of pouring forward once more, in the manner in which that is anticipated from such a group. For the rest of the principal half, at any rate.
Pep Guardiola insists he does not care whether Manchester City play before or after Liverpool.

FWIW, City's next Premier League game (at Newcastle a week on Tuesday) comes 24 hours before Liverpool host Leicester. pic.twitter.com/cpa1FC5Smr

— Omnisport (@OmnisportNews) January 20, 2019
Huddersfield were applauded off toward the end and their supporters, as usual, appeared to be energetic about the group's endeavors. At last, however, it was clear why the home side had overseen just 13 alliance goals  all season, flawlessly embodied by the last kick of the match being a stupendous miss from the substitute Steve Mounié.
Mounie was in the six-yard region yet at the same time figured out how to put his shot wide, adjusting off an evening for Huddersfield that did not so much enhance from the occasion, before commencement, when they attempted to play a goodbye message from David Wagner on the extra large screen. The sound fizzled and the general population commentator needed to ask the group to lip-read.
Give at least 35% of your effort that you give for @ManCity when you play for @CBF_Futebol and we will be golden when it comes to our midfield #JustSaying

— Conrad Rebello (@ConradRebello) January 20, 2019
Huddersfield did in any event put that comfortable time, bringing about an overwhelming applause for the as of late withdrawn administrator, yet it was most likely farfetched to think the association's twentieth put club would recoup against a City agree with such massive assets that Guardiola could not discover a place in his squad for Riyad Mahrez.
Sané, the match's  exceptional entertainer, set up Sterling to twofold the lead with a jumping header inside the six-yard territory. Sané had been insignificantly offside in the development yet Hudson did not whine in his post-coordinate meetings, maybe aware of the penalty that ought to have been granted in the primary half, and there was no contention about the third goal. This time it was Sané going through the center, locking on to Agüero's flick-on, to slip his shot past Jonas Lössl.
If Y'all win the league and Liverpool doesn't I will consider becoming a fan since I don't have a favorite premier league team I'm in between @ManUtd @ManCity or @ChelseaFC

Sincerely, yours truly Francis

— ?Francis? (@flvco17_) January 20, 2019
Right off the bat, City had resembled a side in a rush and Huddersfield were looking bothered even before that minute, 17 minutes in, when Danilo focused and Schindler accidentally occupied the shot into his very own net with a stooping header.
Siewert, a 36-year-old who has been selected from Borussia Dortmund Under-23s, was chosen by the TV cameras in the blink of an eye a while later in the Huddersfield chiefs' case. But it turned out it was a doppelganger – rather peculiarly, the football specialist John Morris, whose customers incorporate Wagner.
You know we just cant lose when I score a header ?? great job on a difficult pitch well done lads @mancity !!! pic.twitter.com/DzOIslbuXJ

— Raheem Sterling (@sterling7) January 20, 2019
The new manager ought to be reported soon yet Huddersfield look needing a football supernatural occurrence and, at the last whistle, their supporters more likely than not thought about to what extent it may be before City visit this place once more.
******************
Match 10 of 10: Fulham vs Tottenham Hotspur
Result:  1- 2
Goal Scorers:
Fulham: Fernando Llorente 17′ (OG)
Tottenham Hotspur: Dele Alli 51′, Harry Winks 90+3′
Match Statistics:
| | | |
| --- | --- | --- |
| Fulham | Team Stats | Tottenham Hotspur |
| 12 | Shots | 14 |
| 4 | Shots On Target | 5 |
| 27% | Possession | 73% |
| 250 | Passes | 681 |
| 68% | Pass Accuracy | 84% |
| 10 | Fouls | 8 |
| 2 | Yellow Cards | 3 |
| 0 | Red Cards | 0 |
| 7 | Offsides | 1 |
| 7 | Corners | 10 |
Highlights: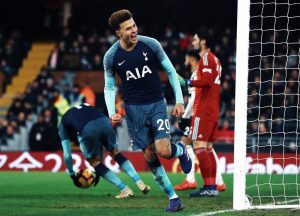 Who needs Harry Kane when you have Harry Winks? The beginning of Tottenham's period with their magic focus forward and, undoubtedly, Son Heung-min, as well, looked set to finish in tears as Fernando Llorente – the player given the gesture at the sharp end of the arrangement – persevered through a nightmarish evening.
Llorente scored an own goal toward one side and botched two clear opportunities at the other. Dele Alli had adjusted for Spurs toward the beginning of the second half yet he would be constrained off with what resembled hamstring damage towards the end, as Mauricio Pochettino's alternatives were additionally restricted.
Enter the far-fetched friend in need. All things considered two of them. Winks had not scored since November 2016 while the exchange recorded Georges-Kévin Nkoudou had just played once all season – as a 64th-minute substitute at West Ham in the Carabao Cup.
To all these Tottenham fans wanking over beating Fulham we put 5 past them at their place so please stop acting like you've just won the premier league ffs

— arsenal lady (@arsenal_25) January 20, 2019
Be that as it may, on for Alli, Nkoudou uncovered an incredible cross in the last moment of stoppage-time and, all of a sudden, there was Winks, taking in to head home and break Fulham's hearts.
It was a harsh pill for Claudio Ranieri and his players. They were the better group in the main half, when they drove through Llorente's own goal, and they were not excessively extended in the second time frame. In any case, they could not clutch what might have been an assurance boosting point and they stay seven points off fourth-from-base Newcastle.
Tottenham had seen Arsenal and Manchester United close up on them with wins on Saturday and dropped points were not a piece of their reasoning. Because of Winks, they could record an eleventh away Premier League win in 13 coordinates this season.
This was Llorente's second alliance begin in year and a half as a Spurs player. In the first, at Swansea last January, he had scored from the get-go in a 2-0 win and he was on the check again in the opening stages here – only not in the way that he would have needed.
03/14 – @SpursOfficial have won a Premier League game without Harry Kane or Son Heung-Min featuring for the first time since March 2014 (3-2 v Southampton). Winksy. pic.twitter.com/dkGVmsA8Zo

— OptaJoe (@OptaJoe) January 20, 2019
Llorente was in solitude inside the Spurs penalty territory when Jean Michael Seri's corner contacted him and the freedom looked schedule. However he didn't respond rapidly enough and, with his feet set inaccurately, he hit at the ball and, regrettably, occupied it the incorrect route past Hugo Lloris.
Fulham's home frame has not been excessively terrible – it is out and about where they have slumped – and they may have led the pack significantly before, having started with the bit between their teeth.
Ranieri played Ryan Babel, who touched base on Tuesday from Besitkas on a six-month bargain, as the left-sided forward in his 3-4-3 framework and the Netherlands global utilized his capacity and development to great impact – beginning in the twelfth moment.
Since his debut in August 2015, Dele has been directly involved in 47% of Tottenham goals in the Premier League when Harry Kane has been absent. pic.twitter.com/vg6r8L2Zjj

— Jules Bevis (@julesbevis) January 20, 2019
Babel outmuscled Davinson Sánchez as he pursued Aleksandar Mitrovic's flicked header, which is no mean accomplishment and, when he got his body before the Spurs focus back inside the region, he shot for the close corner. Lloris responded sublimely to tip the ball behind.
Spurs were one-paced and ailing in thoughts in the principal half, as Fulham kept men behind the ball and packed the space, in spite of the fact that Llorente should have evened out on 23 minutes following Jan Vertonghen's cross. He had the situation on Tim Ream however he confused his header, the ball flying goalwards off his shoulder. Sergio Rico made a critical spare.
Fulham were amazing before the interim, playing some fast and direct stuff and they may have scored once more. Babel rose to meet Cyrus Christie's cross just to head high while Mitrovic had the ball in the net after Lloris had kept out André Schürrle's splendid volley – he was accurately pulled back for offside. Babel was additionally placed off by a last-discard Vertonghen challenge after Calum Chambers' magnificent backheel.
Fernando Llorente has now scored as many Premier League goals for Fulham as he has for Tottenham (1)#FULTOT #COYS pic.twitter.com/3YlO6WwyOd

— bwin (@bwin) January 20, 2019
Spurs had made the most of their first clear midweek since the November worldwide break and it likewise implied more opportunity to harp on last Sunday's 1-0 misfortune to United at Wembley. Another turn around was unimaginable so it was basic that they stirred themselves in the second half.
The equalizer came in the 52nd moment and it started from an awful Ream air-kick as he endeavored to clear. Christian Eriksen seized free to move around at will ball and when he crossed, Alli softened into space behind the level footed Denis Odoi. He was never going to miss the short proximity header.
Tottenham midfielder Dele Alli gets the ball under control with his left foot as Fulham's Denis Odoi tries to close him down
Fulham winger Andre Schurrle gets a shot off on goal as the Premier League strugglers look for an opening pic.twitter.com/I3J96r5tzS

— Lilian Chan (@bestgug) January 20, 2019
It was anything but difficult to feel that Alli's goal would be the incite for Spurs to lay attack to the Fulham goal, especially when Maxime Le Marchand needed to dedicate himself completely to a shut to keep out an Eriksen shot and Danny Rose, who might later be cruelly reserved for jumping, viewed an exertion flick off Odoi and hit the crossbar.
Be that as it may, it did not emerge. Spurs attempted to make obvious possibilities and when Llorente did not get enough on a 82nd-minute header from Rose's free-kick – another plated edged miss – they looked set for a harming draw. Winks had different thoughts.
Visit allsportspk, on 30th January for the first matches of Match Day 24 of 38; Premier League 2018-19.