Premier League '18-19 – Highlights: Spurs Destroy Everton In An Eight Goal Fest
This is the last match of the Premier League, Match Day 18 of 38. The match highlights and the top 10 teams points table is included.
Premier League '18-19 – Highlights: Manchester City Continue To Dominate
Points Table – Premier League '18-19
| | | | | | |
| --- | --- | --- | --- | --- | --- |
| Rank | Name | Won | Draw | Lost | Points |
| 1 | Liverpool | 15 | 3 | 0 | 48 |
| 2 | Manchester City | 14 | 2 | 2 | 44 |
| 3 | Tottenham | 14 | 0 | 4 | 42 |
| 4 | Chelsea | 11 | 4 | 3 | 37 |
| 5 | Arsenal | 11 | 4 | 3 | 37 |
| 6 | Manchester United | 8 | 5 | 5 | 29 |
| 7 | Watford | 8 | 3 | 7 | 27 |
| 8 | Bournemouth | 8 | 2 | 8 | 26 |
| 9 | Leicester City | 7 | 4 | 7 | 25 |
| 10 | Wolves | 7 | 4 | 7 | 25 |
For Complete Premier League 2018-19 team rankings, click here
English Premier League 2018-19 – Full Schedule
Match 10 of 10: Everton vs Tottenham
Result: 2 – 6
Goal Scorers:
Everton: Theo Walcott 21′, Gylfi Sigurdsson 51′
Tottenham: Son-Heung-min 27′, 61′, Dele Alli 35′, Harry Kane 42′, 74′, Christian Eriksen 48′
Match Statistics:
| | | |
| --- | --- | --- |
| Everton | Team Stats | Tottenham |
| 10 | Shots | 17 |
| 3 | Shots On Target | 8 |
| 41% | Possession | 59% |
| 412 | Passes | 603 |
| 75% | Pass Accuracy | 83% |
| 13 | Fouls | 9 |
| 0 | Yellow Cards | 2 |
| 0 | Red Cards | 0 |
| 4 | Offsides | 2 |
| 2 | Corners | 1 |
Highlights: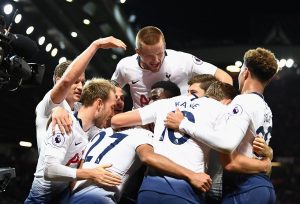 Tottenham conveyed an announcement on the pitch and their glad supporters made erratic it. "He's Tottenham, you know," they sang of Mauricio Pochettino in the wake of mortifying Everton in their very own back yard. Their pined for administrator reacted with a grasped clench hand salute. Imminent employment offers from Manchester United can pause. He may have a title test to think about first on this shape.
Pochettino's engaged group were exceptional as they incurred the heaviest thrashing of Marco Silva's Everton rule to move inside two of Manchester City in second. Their response to the diversion of Old Trafford, both here and at Arsenal in midweek, has been faultless. It could pull them into the title race should it proceed.
Tottenham have equalled a Premier League record by having the joint-longest start to a Premier League season without drawing a single game.

• 18 games
• 14 wins
• 4 defeats
• 0 draws

Adding an emphatic W today. ? pic.twitter.com/VU1zBPaG0W

— Squawka Football (@Squawka) December 23, 2018
Son Heung-min and Harry Kane both scored twice and drove a far reaching pounding that saw Everton bulldozed. Silva's side are without a success in five matches and have gathered one point less than at a similar phase of last season. Spurs, on the other hand, are looking upwards and building a case for their administrator to oppose the foreseen advances from Old Trafford next summer.
It was an overlooked memory when Kane guided the guests' 6th goal past the exhausted and battling Jordan Pickford that the two groups at first added to an open and convincing challenge.
The sheer nature of Spurs' assaulting play was a key contrast all through, in any case. Everton were seen separated every now and again by the pace and wise development of Son, possessed by the power and nature of Kane and had no response to Dele Alli's capacity to wreak ruin in the space he found behind their focal midfield. Another expensive error from Pickford and the choice to forbid a Dominic Calvert-Lewin header added to the house side's hopeless evening.
Tottenham Hotspur attacker Heung-Min Son is the most underrated player in the Premier League if not in the whole of Europe.

Only Spurs supporters can recognise just the class of the player.

He's the kind of attacker which any team would dream to have and he's ours!#THFC #COYS pic.twitter.com/11kqjalZpc

— Ricky Sacks ? (@RickSpur) December 23, 2018
The guests made three great openings previously falling behind to Theo Walcott's first Premier League goal since August. Gylfi Sigurdsson, who gave Everton's most splendid minutes, discharged Calvert-Lewin clear of the Spurs protection with a wonderful backheel. He chose the previous Arsenal winger, who delighted in his short proximity complete past Hugo Lloris.
Calvert-Lewin and Walcott joined again minutes after the fact for what Silva asserted was a key minute in the diversion. The England Under-21 forward guided a great header into the best corner however was decreed to have pushed Davinson Sánchez by the official, Paul Tierney. Spurs took full preferred standpoint of the respite. The speed of their going, of Son, and their responsibility to assault, pulverized Everton's lead and their protective self-control. So, they were talented the path back by Pickford and Zouma.
Tottenham moved to within two points of second-placed Manchester City in the Premier League after a big away win at Everton.

Report: https://t.co/OsMVcaLdMv pic.twitter.com/HYQGfxceNa

— BBC Sport (@BBCSport) December 23, 2018
A first-time ball over the best by Kane sent Son on a confident pursue. Zouma had the threat secured yet Pickford chose to race out of his territory and succeeded just in spreading perplexity. The match impacted and from a troublesome point, Son glided a brilliant finish into the empty net. The South Korea forward was a class separated all diversion. Evertonians even participate with the commendation when he was substituted late on.
The guests' picked up the lead when slick, one-contact going from Ben Davies, Moussa Sissoko and Alli discharged Son on the left. Pickford spared the striker's low shot with a solid left hand however the ball fell enticingly for Alli to penetrate the bounce back home. It was three preceding Everton could regroup at the interim. Son was again included, winning a free-kick that Kieran Trippier whipped against Pickford's left-hand post from 25 yards. The bounce back fell Spurs' direction yet again and Kane thankfully changed over with the goalkeeper grounded.
"When you play that way you must be very proud .That gives us an unbelievable feeling"

– @SpursOfficial's Mauricio Pochettino#EVETOT pic.twitter.com/yNKBpdJjDI

— Premier League (@premierleague) December 23, 2018
Pickford was to a great degree blessed to escape discipline for a rash test on Alli that prompted his England colleague's takeoff at half-time with hamstring damage. Alli had been given offside when the attendant submitted the foul.
Christian Eriksen cleared an excellent half-volley past Pickford close to the restart, pounding any expectation the home side engaged of a recuperation. Trippier discharged Kane down the right, as in the main half, and however Séamus Coleman headed the striker's cross clear he was weak to prevent the arrival from the Danish midfielder, a controlled, exact complete that flew into the base corner.
Sigurdsson diminished the deficiency with his very own fine complete, gathering a go from Richarlison and sidestepping four feeble difficulties in a mazy keep running over the territory before decreasing past Lloris. Be that as it may, there was never any prospect of an Everton recuperation.
"We were unlucky to go 1-0 down but showed our character and mentality to come back and score six goals"

– @SpursOfficial's Son Heung-Min#EVETOT pic.twitter.com/ietk2gOYd9

— Premier League (@premierleague) December 23, 2018
Spurs asserted their fifth when Érik Lamela, Alli's substitution, dismembered the home guard with a puncturing pass that sent Son clean through on goal while Everton advanced futile for offside. The striker shot through the legs of Pickford and after that conveyed the help for Kane's second of the match with a low cross from the left. Kane opened his body and redirected a course book complete wide of the uncovered Pickford. The defeat was finished.
Visit allsportspk, on 26th December for the first matches of Match Day 19 of 38; Premier League 2018-19.