Latest Premier League schedule was supposed to be a mild affair with major clubs projected to win comfortably but it could not go anyway different as league underdogs put up spectacular fights and slowly but steadily bled the tournament favorites.

Manchester City was the first causality as Pep Guardiola's side failed to secure a lead against Roy Hodgson's Crystal Palace ending the match in 2-2 draw resulting in an overall points loss for the City. In fact, they were saved from a humiliating defeat only by Sergio Aguero's 2 strikes in the final 10 minutes.

Chelsea, on the other hand, wished that they could manage a draw against New Castle and were on the verge of securing it but Matt Ritchie scored on Corner penalty in the fourth minute of stoppage. This meant that Frank Lampard was among the two top managers that suffered defeat in recent clashes.

Arsenal were already in the trouble due to a diminished firepower as Pierre-Emerick Aubameyang had been suspended but still managed to pull off a draw against Sheffield as John Fleck and Gabriel Martinelli scored one each for their respective sides.

Tottenham were the undoubtedly the most stung side by their 0-0 draw against Watford. The draw meant that the last season's finalists are now furthest away from qualifying for the next round dashing all their hopes of any chance at the same feat again.

Premier League Points Table After Latest Results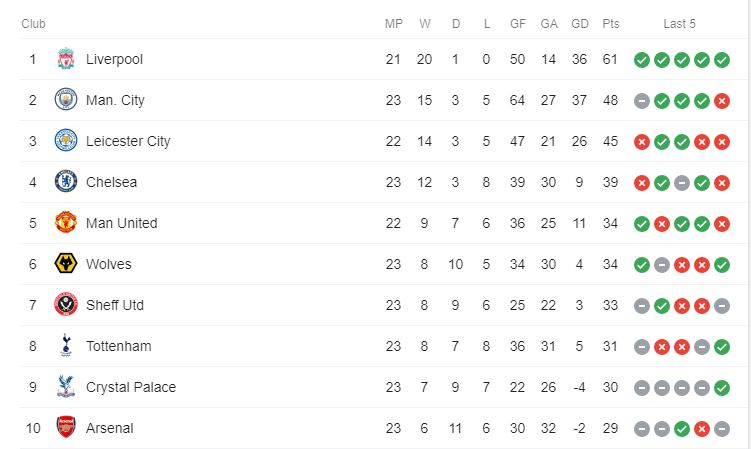 Read Allsportspk's Weekly Sports News Roundup
For regular updates keep visiting: Allsportspk