Punjab Junior Badminton Championship '18: Commences; 175 Youngsters Participating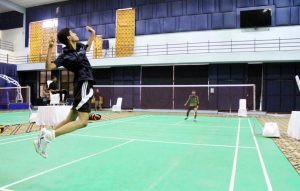 Punjab Junior Badminton Championships started today at Nishtar Park Gymnasium Hall Sports Board Punjab, Lahore. According to information from organizers, 175 young Badminton Player male and female are participating in this championships from all over Punjab.
The results of matches played on 7th October, till this report was filed are as under:
The results of remaining matches of the Junior Badminton Championships will be published in next report.
Dubai Junior International Series Badminton Tournament: QFs Day
Boys U-14 Singles
M. Huzaifa (Jhang) beat Fasih Ur Rehman (Lhr) by 18-21, 21-12, 21-15
Anayat Fareed (Swl) beat M. Ayan (Okara) by 21-15, 17-21, 22-20
Ali Raza (Hzd) beat M. Nadeem (Swl) by 21-11, 21-10
Burhan Ahmed Lodhi (DG Khan) beat Faizan Maqbool (Lhr) by 21-12, 21-7
Bilal Shabbir (Bwn) beat M. Qasim Ul Noor (Swl) by 21-12, 21-17
Ahmed Niazi (Bhakar) beat Shah Husain (Bwn) by 20-22, 21-18,21-16
M. Ahmed Malhi (Lhr) beat Fahad (Bhakar) by 22-21, 21-14
M. Usman (Okara) beat Ahmed Sheikh (Jehlum) by 21-10, 21-15
Amir Hassan Janjua (Rwl) beat M. Ahmad Khan (Muzafargarh) by 21-7, 21-9
M Areeb (Okara) bear Hashim Umar Bhatti (Jehlum) by 21-16, 21-12
Faizan Butt (Sialkot) beat Hashim Irfan (Swl) by 21-18, 21-11
Ahmed Niazi ( Bhakar) beat M Ibrahim (Multan) by 19-21, 21-11, 21-19
M. Rehan (Lhr) beat M Hassan (Lhr) by 21-11, 21-13
M. Kamal Jawad (Rwl) beat M. Ahmed Malhi (Lhr) 21-18, 21-12
Boys U-16 Singles
Usaid Khan (Lhr) beat M Huzaifa (Muzafargarh) by 21-6, 21-4
M. Haneef (Jhang) beat Sheryar Ali (TT Singh) by 21-9, 21-10
Talha Younas (Vihari) beat Abdullah Awan (Rajanpur) by 21-9, 21-8
Haseeb Ur Rehman (Chiniot) beat Shahzaib Gul Hassan (Lhr) by 21-16, 21-17
Adbdul Rehman (Swl) beat Usman Niazi (Bhakar) by 21-16, 21-19
Haseeb Ahmed (Hzd) beat Abu Bhakar (Silakot) by 21-4, 21-6
M Bin Rafay (Rwl) beat Mahid Ahmed (Lhr) by 21-5, 21-12
Anas Muavia (Jhang) beat Abdullah Shahid (Lhr) by 17-21, 21-13, 21-14
Ahmed Rayan (Swl) beat M. Ibrahim (Fsd) by 21-17, 23-21
Ubaid Khalid (Jhelum) beat Saraam Farooq (Rajanpur) by 21-5, 21-2
M. Umair (Bwn) beat M. Tawab (Muzafargarh) by 18-21, 21-14, 21-14
Zunain Kabeer (Chiniot) beat Abdul Malik (Fsd) by 21-17, 21-15
Mens U-18 Singles
Raja Zulqarnain Haider (Hzd) beat Adeel Tahir (Vehari) by 21-10, 21-13
Hanzala (Lhr) beat Asad Ali (Bhakar) by 15-21, 22-20, 21-15
Hasnain Khuram (Lhr) beat Noman Farooq (Muzafargarh) by 21-16, 23-25, 21-14
Hanzala (Lhr) beat Khubaib (TT Singh) by 21-7, 21-16
Ahmed qbal (Sialkot) beat Mobeen Imtiaz (Rajanpur) 21-3, 21-1
M. Adnan (Layyah) beat Muzamil (Lhr) by 21-18, 21-12
Tahseen Shahzad (Jhelum) beat Mubariz Bin Rafay (Rwl) 21-19, 24-22
Ahmad Iqbal (Lhr) beat Awais Akbar (Hzd) by 21-16, 21-23
Schedule of the Junior Badminton Championships to be played from 7th to 10th October, 2018 is appended below:
7-10-2018 Schedule
Scrutiny at Gymnasium Hall
Event – Round Matches – Time
Men's Single U-18
Preliminary & P + 32 (64)
8:30 am
Boys Single U-16
First Round 22(64)
8:30 am
Boys Single U-14
First Round 13 (64)
8:30 am
Boys Single U-16
Second Round 16(32)
Followed By
Boys Single U-14
Second Round 16 (32)
Followed By
Men's Double U-18
8-10-2018 Schedule
Men's Single U-18
Second Round 16 (32)
8:30 am
Boys Single U-16
Pre Quarter 8 (16)
8:30 am
Boys Single U-14
Pre Quarter 8 (16)
8:30 am
Men's Double U-18
Girls Single U-16
First Round 10 (32)
1:30 pm
Girls Single U-16
9-10-2018 Schedule
Men's Single U-18
Women's Single U-18
Girls Single U-16
Boys Single U-16
Boys Single U-14
Men's Double U-18
Men's Single U-18
Women's Single U-18
Boys Single U-16
Girls Single U-16
Boys Single U-14
Men's Double U-18
Women's Double U-18
Semi Final
10-10-2018 Schedule
Men's Single U-18
Women's Single U-18
Boys Single U-16
Girls Single U-16
Boys Single U-14
Men's Double U-18
Women's Double U-18
For more updates keep visiting allsportspk