Newage Cables/Master Paints clinched the historic Ittehad Punjab Polo Cup after beating Barry's 3-2 in the thrilling final at the jam-packed Lahore Polo Club.
Final – Newage Cables/Master Paints Vs Barry's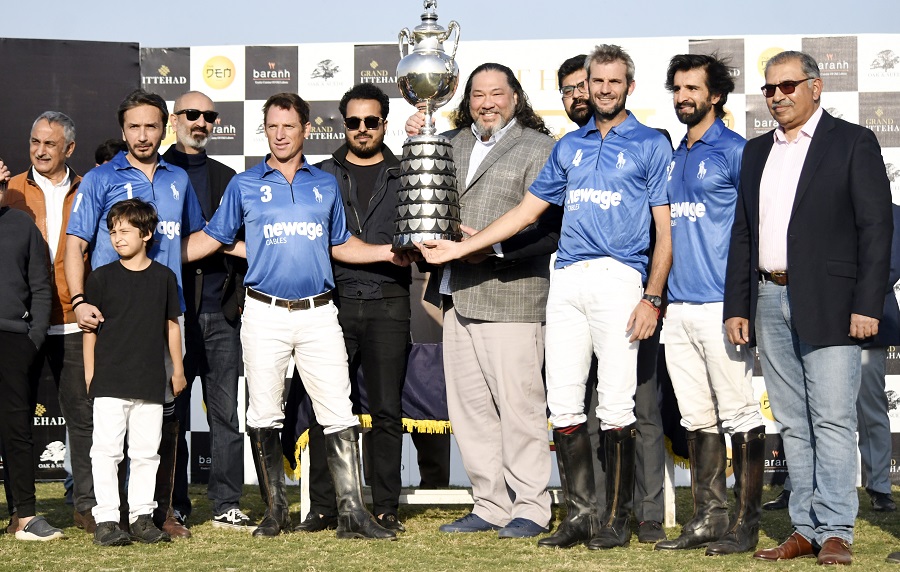 The enthralling match began with both the sides giving tough time to each other and scoring one goal each to end the first chukker at 1-1. Newage Cables/Master Paints played better polo in the second chukker and converted a field goal to take 2-1 lead. They added one more goal in the their tally in the third chukker to enhanced their lead to 3-1. Barry's though bounced back well and converted a 40-yard successfully to reduce the margin to 3-2, thus clinched the coveted historic trophy.
Gonzalo Deltour was named the best player of the final while the best pony of the event was Bumba, owned by Master Paints' Sufi Muhammad Farooq.
Vieri Antinori emerged as hero of the final as he displayed outstanding polo skills and techniques and amused the jam-packed spectators with marvelous mallet and pony work. He contributed with a beautiful brace from the winning side. The entire team played their key role in their team's title triumph while Gonzalo Deltour also converted one goal. From team Barry's, both the goals were scored by Ernesto Trotz.
Talking to media after winning the final, Director Newage Cables and winning team captain Adnan Jalil Azam said: "We have worked and trained hard for the high-goal season with the aim of winning prestigious  events. I am very delighted to win historic Punjab Polo Cup and looking forward to win more titles in the remaining high-goal events."
Deltour said he is very happy to come and play in Pakistan. "We played the final well by giving our best that helped us win the glittering trophy."
Subsidiary Final
HN Polo outpaced Remounts  by 9-6. Juan Maria Ruiz emerged as star of the day from the winning side, as he smashed in superb seven goals while his teammates Hilario Ruiz and Raja Sami Ullah contributed with one goal each. From team Remounts, Nico Roberts cracked a quartet while Simon Prado banged in a brace.
Sheikh Nazim, CEO of Ittehad, along with William Makaneole, American Consul General, distributed the prizes and awards.

 لاہور پولو کلب کے زیراہتمام تاریخی اتحاد پنجاب پولو کپ 2022ء  ٹیم نیوایج کیبلز /ماسٹر پینٹس نے جیت لیا۔ فائنل میں دلچسپ مقابلے کے بعد ٹیم باڑیز کو 3-2 سے شکست کا سامنا کرنا پڑا۔ادھرسب سڈری فائنل ٹیم ایچ این پولو نے جیت لیا۔ تفصیلات کے مطابق لاہور پولو کلب میں تاریخی اتحاد پنجاب کپ کا فائنل دیکھنے کیلئے تماشائیوں کی ایک بہت بڑی تعداد موجود تھی۔ اس موقع پر مہمان خصوصی امریکن قونصل جنرل ولیم مکانول، اتحاد ٹیکسٹائل کے سی ای او شیخ ناظم، لاہور پولو کلب کے صدر عمر صادق، سیکرٹری آغا مرتضیٰ علی خان، ایگزیکٹو کمیٹی ممبرز اور پولو کھلاڑیوں کی ایک بہت بڑی تعداد بھی موجود تھی۔ نیوایج کیبلز /ماسٹر پینٹس کی ٹیم نے شاندار کھیل پیش کیا اور پہلے چکر سے ہی میچ میں اپنی برتری برقرار رکھی اور تاریخی پنجاب کپ 3-2 سے جیتا۔ نیوایج کیبلز کی طرف سے ویری انٹورینو نے دو اور گونزالو ڈیلٹور نے ایک گول سکور کیا جبکہ ٹیم باڑیز کی طرف سے دونوں گول ارینسٹو ٹروٹز نے سکور کیے۔ قبل ازیں سب سڈری فائنل میں ٹیم ایچ این پولو نے دلچسپ مقابلے کے بعد ری ماؤنٹس کی ٹیم کو 9-6 سے ہرایا۔ ٹیم ایچ این پولو کی طرف سے خوان ماریا رئیوز نے سات، ہیلریو رئیوز اور راجہ سمیع اللہ نے ایک ایک گول سکور کیا۔ ری ماؤنٹس کی طرف سے نکورابٹس نے چار اور صائمن پراڈا نے دو گول سکور کیے۔ اختتامی تقریب میں امریکن قونصل جنرل ولیم میکانول اور سی ای او اتحاد شیخ ناظم نے کھلاڑیوں میں انعامات تقسیم کیے۔ اس موقع میچ کے بہترین کھلاڑی کا ایوارڈ نیوایج کیبلز کے گونزالو ڈیلٹور کو دیا گیا جبکہ میچ کی بہترین گھوڑی ماسٹر پینٹس کے صوفی محمد فاروق کی گھوڑی بمبا کو دیا گیا۔ میڈیا سے گفتگو کرتے ہوئے عدنان جلیل اعظم ڈائریکٹر نیوایج کیبلز اور ٹیم کپتان کا کہنا تھا کہ ٹیم نے سخت محنت کی اور زندہ دلان لاہور کو بہترین میچ دیکھنے کو ملا۔ پاکستان کا ہائی گول سیزن پوری دنیا میں انتہائی دلچسپی سے دیکھا جا سکتا ہے۔ ڈیلٹور کا کہنا تھا کہ لاہور میں آکر یہاں کھیل کر بہت اچھا لگتا ہے۔ ٹیم نیوایج کیبلز/ماسٹر پینٹس کی ٹیم نے زبردست مقابلے کے بعد ٹیم باڑیز کو ہرایا۔