Scrabble – WESPA Youth Cup Qualifying Tournament: Syed Imaad Wins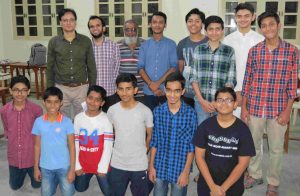 Syed Imaad Ali won the qualifying tournament for the selection of the Pakistan team for the WESPA Youth Cup (WYC) scrabble at BVS Parsi School. Imaad also won a free return ticket to participate in the WYC.
Pakistan is attempting to become the only country in history to win all the four major youth scrabble events.
The WYC event takes place every year in a different venues of the world. During 2018 it will be held in Dubai, United Arab Emirates from Thursday 13th – 15th December 2018.
About 80 players took part in the qualifying tournament. The players were divided into two divisions.
World Scrabble Championship 2018: Niel Keeps Lead; Div. B Pakistan Dominated
In the Dvision A – Syed Imaad won 13 of the 18 matches and maintained a spread of 1379 to take the first position
Ali Rashid Khan also won 13 matches but stood 2nd with a spread of 365. Hasham Hadi was the 3rd with 12 wins and a spread of 533.
The top ten players who got selected from Division A are:
Syed Imaad Ali
Ali Rashid Khan
Hasham Hadi Khan
Hamza naeem
Monis Hussain Khan
Usman Shaukat
Sohaib Sanaullah
Mirza Taha Hasan
Basil Ali Khan
M. Saim Usmani
The players that qualified for the team from Division B are:
Ali Wasif
Afham Imtiaz
Ahmed Atta Khatri
Syed Hammad Hamid
Amna Khushnood
Momina Riazuddin
Menaal Basit
Eshaal Basit
Rishit Kumar
Hamza Baber
The WESPA Youth cup is the premier youth event and one of the four major youth scrabble events in the world. Pakistan has already won the other three namely Junior World Scrabble Championship, Princess Cup International, Causeway Challenge International.
For more updates about WESPA Youth Cup keep visiting allsportspk