Shoe Planet Polo Cup 2017: Final Day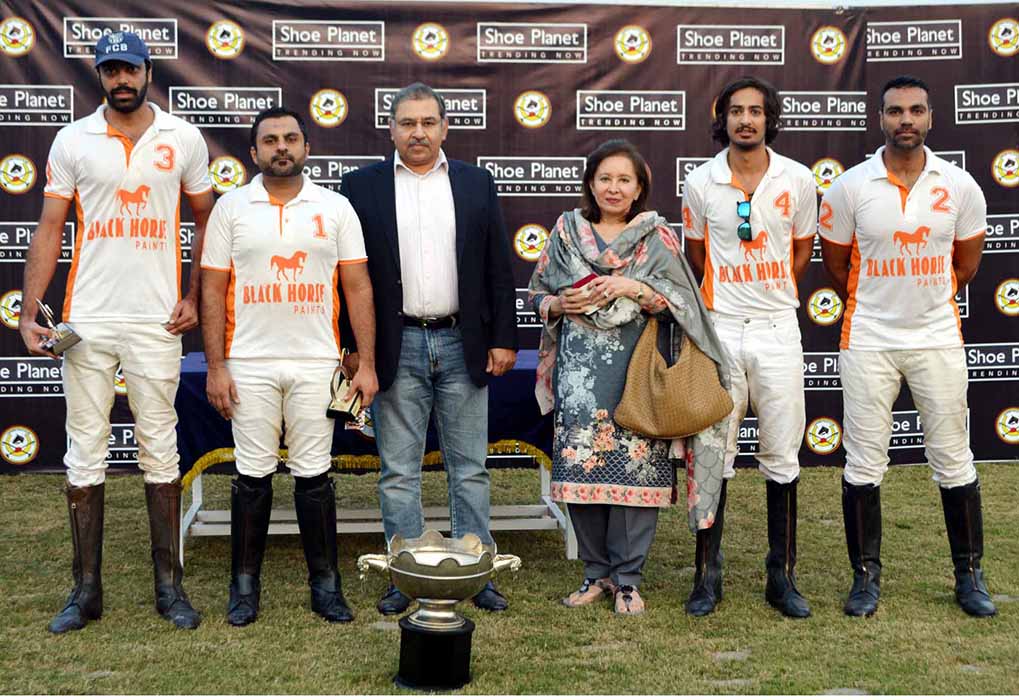 LPC LAHORE: Black Horse Paints/Artema Medical outsmarted Honda Chenab by 10-6 in the final to annex the Shoe Planet Polo Cup here at the Lahore Polo Club (LPC) ground on Sunday.
Hamza Mawaz Khan stole the show as he displayed quality polo with pony and mallot and smashed in sterling seven goals for the winning side, which had two goals handicap advantage, while Abubakar Siddique hit one to complete the tally for the victors. From the losing side, Bilal Haye and Ahmed Ali Tiwana hammered a hat-trick each but their efforts couldn't save Honda Chenab from facing defeat.
Honda Chenab started the match in great style and thwarted three tremendous goals to take 3-0 lead, Black Horse, which had two goals handicap advantage, struck one to level the score 3-3 before the end of the first chukker. Black Horse stamped their authority in the second chukker by pumping in all the three goals to take impressive 6-3 lead.
They also started the third chukker by adding one more to enhance their lead to 7-3 but Honda Chenab made a good comeback by banging in a beautiful brace to reduce the deficit to 7-5 but strong defence of Black Horse denied them of scoring more goals in the third chukker. The fourth and last chukker was once again dominated by Black Horse, who slammed in a superb hat-trick to take unassailable 10-5 lead and in the dying moments of the last chukker, Honda Chenab converted one to finish the final at 10-6, with Black Horse emerging as title winners.
Saqib Khan Khakwani steered Elan to 6-4½ victory over Dawood Group in the subsidiary final. Saqib was top scorer for the winning side as he hammered an impressive hat-trick while Agha Musa struck two and Emran Khan contributed one. From the losing side, which had half goal handicap advantage, Raja Arslan Najeeb thwarted three while Mir Huzaifa hit one.
In the end, Mrs Neelam Mawaz gave away trophies and shields to the winners. Lahore Polo Club executive committee member Omar Sadiq, Saqib Khan Khakwani, members families and polo lovers were also present on the occasion. Omar Sadiq lauded the winners for winning the final and also appreciated the sponsors for supporting this game of kings and knights.
For updates regularly visit: Allsportspk