Tennis – Aftermath Of Serena Williams Rant With Chair Umpire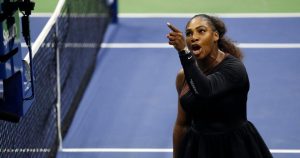 Serena Williams' surprising rant with umpire Carlos Ramos at the US Open 2018 final, dominated the achievement of Naomi Osaka who won her maiden Grand Slam title.
Having received a code violation for coaching and a further penalty for racquet smashing, Williams erupted, after which she called the chair umpire, Ramos a "liar" and a "thief". This earned her the right to get a game penalty and later, she was charged with a $17,000 fine.
Tennis – US Open '18 Final: Naomi Osaka Stuns Serena; Lifts The Title
Serena Williams alleged that she was being dealt with discrimination, as compared to her male counterparts.
Was Serena's Defeat The Major Reason Of Outburst?
The American was totally outflanked from the primary serve to the title winning point under the lights at Arthur Ashe Stadium. Osaka played the best match of her tennis career, as she won the final by 6-2 6-4.
Not long ago, Osaka rehashed a similar execution over the 23 time Grand Slam victor at the Miami Masters, by vanquishing her in straight sets.
Social Media Reactions
Tennis fans appeared to be indifferent about this controversy. While many of them sided with Serena, some believed that it was 23-time Grand Slam champion who was wrong in losing her cool and ranting against the chair umpire.
"Serena Williams was wrong. Somebody has to say it, so I will. "

— @stephenasmith pic.twitter.com/UuRvu5ME7P

— First Take (@FirstTake) 10 September 2018
Australian newspaper accused of racism over Serena Williams cartoon https://t.co/JooOQs8EeJ pic.twitter.com/qNgHyuRrhx

— The Hill (@thehill) 10 September 2018
There was lots of noise/opinions about the women's final between @Naomi_Osaka_ @serenawilliams from people who never been to a final ( let alone never played the game on any level…)

— Boris Becker (@TheBorisBecker) 10 September 2018
2009 – Serena Williams to female lineswoman after a foot fault: "I swear to God, I'm going to take this f***ing ball and shove it down your f***ing throat."

2011 – Williams to female umpire after a hindrance call: "I truly despise you. You're a hater and unattractive inside."

— Stuart Fraser (@stu_fraser) 10 September 2018
Serena Williams brilliantly took down the sexist double standards at the U.S. Open in her must-see post-match interview pic.twitter.com/Qx40sEJARb

— NowThis (@nowthisnews) 10 September 2018
For more updates keep visiting allsportspk