Test Cricket: 11 High Performers Of Current Era
In every era, cricket uncovers legends that leave fans and cricket savants in awe. In a time where T20 culture has emerged like mushrooms, there have been a substantial amount of cricketers who still pride themselves in sharpening their abilities at the Test level.
From batsmen with immaculate skill and flawless personality to bowler's bouncing off the batsmen with their trickiness and panache, each Test team has had its share of Test champions.
Same goes for the current generation, in which Test cricket has continued to churn out perfectionists both with the bat and ball. With that being said, Allsportspk presents you a list of the best Test XI of the current era.
#1 David Warner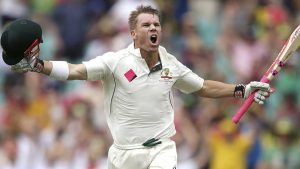 Popularly known as the pocket-sized dynamo by cricketing legends, Warner made his debut for Australia and became the first cricketer since 1877 play test cricket without participating in first class cricket. He had a magic effect in his T20I debut where he destroyed the Proteas by thumping 89 runs off 43 balls.
Following this and several other performances, he was given a chance at ODI level and then finally inducted in the Australian test XI.
Warner stamped his authority in test cricket when the aggressive opener smashed a hundred from 78 balls even before the conclusion of the first session. With this feat he became the first batsman since Pakistan's Majid Khan to plunder a century before lunch.
His records as an opener in this format speak volumes of his capability. In a total of 74 matches, Warner has 21 hundreds and 29 fifties with an average of 48.20 and a staggering strike rate of 74.50.
But what makes him really special is his ball hitting ability and adaptive batting skills. And, due to this factor, he finds an unquestioned place as an opener in the contemporary Test XI.
At present, Warner is out of Test cricket for a year or so, due to the ball-altering incident. However, it is hard to envision a Test XI without the explosive Australian as atop order batsman.
#2 Alastair Cook
Australia and England have always been cricketing rivals. However, in this best Test XI, David Warner cannot find a better partner other than the English opener, Alastair Cook.
Age poses no limit on talent. Cook proved the aforementioned statement to be true as he became the youngest player to cross the 10,000 run milestone in Test cricket. This stat alone is enough for making him a part of this squad, however, he has far more records to his name than this one.
Alastair Cook made his debut in 2006 and instantly influenced his presence when he carved a mind blowing hundred against India. After this wondrous knock, the voyage of runs continued as Cook defined himself to be a top notch test opener.
His greatest achievement to this date still remains his run scoring record against Australia in the Ashes series. In five matches, the English opener scored 766 runs and played a clinical role in England's win over Australia by 3-1.
At the opening position, Alastair has over seven 150+ scores and two double centuries to his name. The batsman has now scored 12145 runs from 156 matches with a sublime average of 45.73 with 32 hundreds and 56 fifties.
For #3 and #4 move on to the next page!