Thai Footballer Boys Cave Rescue: 8 Boys Freed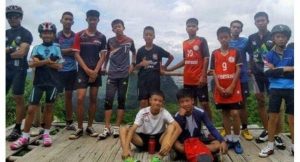 After two days of rescue operation, Narongsak Osatanakorn, the head of the joint command centre announced that the operation has rescued 8 members out of 12. The Thailand's Wild Boars football club remain to be rescued.
The rescue operation has been called off for today. The Thai navy seals Facebook update suggested that it is sticking to a plan of rescuing four Thai footballer boys per day.
Thai Footballer Boys Cave Rescue: The Backstory
In an attempt to explore a cave after their practise game, the boys aged between 11 to 16 and their twenty five year old coach were left stranded, unable to find their way back.
The main reason was the Monsoon flooding that prevented them and afterwards, trained rescuers from getting a single clue of their location.
The Danger of Monsoon Rains
Authorities have pointed out the fact that water levels in the monsoon season may rise at a significant rate and oxygen levels may also fall in the enclosed cave.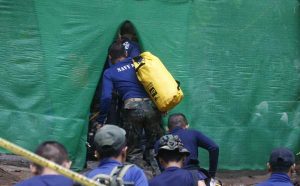 The danger is so high that a former Thai Navy seal has been confirmed as dead while he was making the dive earlier this week.
Here is a picture explaining why it is taking so long for the divers to reach the footballer boys.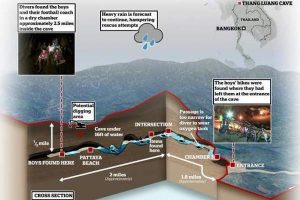 This incident of the Thai Footballer Boys Cave Rescue took very little time to get viral and has now become a global incident. Media from all over the world is gathered outside the cave where the Cave Rescue mission of the Thai Footballer Boys underway.
Meanwhile, people are also expressing their views on social media regarding this incident.
I hope these footballers win. No, not the WC, but the far more thrilling exercise of the Thai team stuck in the cave. That would really be an achievement if that team wins from the cave!

— Ky Fegte #FBPE (@bulshdetector) 9 July 2018
I'm revising an earlier tweet: One of the best sights would be seeing these 13 Thai footballers trapped in a cave cheering at the World Cup Final in Qatar in 2022. FIFA's unrealistic Moscow offer should roll over to next tournament. Time to prepare & plan. #thaicaverescue

— Andrew Clark (@qandrew) 9 July 2018
This is what the Thai Navy SEALs have posted on their Facebook page about two hours ago: "We, the Thai team and the international team will bring the Wild Boars home." That's the team name of the young footballers in the #ThamLuang cave as the extraction is under way. pic.twitter.com/vlT2CDarmw

— Saksith Saiyasombut (@SaksithCNA) 8 July 2018
#ThaiCaveRescue: 8th boy emerges from cave after rescue operations resume https://t.co/w3XzQq1SAD pic.twitter.com/ctfQYrlMjg

— The Straits Times (@STcom) 9 July 2018
Rolling news is so boring:

Davis resigns and PM is staring into the abyss

Russia murders British citizen on UK soil, says Govt

Young Thai footballers rescued from a cave

Trump on his way for a four day visit.

England in a World Cup semi-final

Yup, my job is sooooo boring

— Kay Burley (@KayBurley) 9 July 2018
For more updates keep visiting allsportspk