World Cup 2018 – Match 2: Uruguay Vs Egypt 1-0
Highlights:
WC '18 – Match 2: Uruguay Vs Egypt
Result: 1 – 0
Goal Scorers:
Uruguay: Jose Giminez 90′
Highlights:
Uruguay started off their FIFA World Cup campaign with a win as Jose Giminez led them to victory by scoring a goal at the 90th minute.
The 1st half of the match was evenly poised with both teams trying to score the opening goal of the match.
Several chances were missed by Luis Suarez as Egypt's defenders fended off his attacks.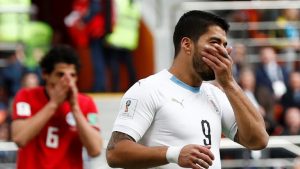 On the other hand, Egypt also had their chances but couldn't convert them into an opening goal.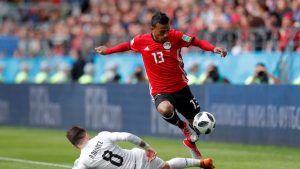 The 1st half ended with the score being 0-0. After the break, the 2nd half went underway as both teams made substitutions in hopes of getting a goal.
Uruguay were looking keen in their approach to score a goal but were constantly being intercepted by Egypt's defenders.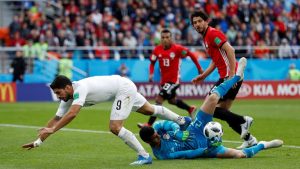 The match was coming to an end as it was headed to an inevitable draw. But, a free kick from Uruguay was converted into a goal as Uruguay's defender, Jiminez headed the ball into the nets.
A dramatic win for Uruguay over Egypt!!! Jose Gimenez's late winner is even better with Titanic music!!!

⚽?? pic.twitter.com/Ece1OQ0VFk

— ???TITANIC HOOPS??? (@TitanicHoops) June 15, 2018
After 7 minutes of 2nd half injury time, referee blew the whistle and the match came to an end, as Uruguay claimed their 1st win of the World Cup 2018.
WC '18 – Match 1: Russia beats S. Arabia 5-0
Egypt fought hard fought excellently. Hegazi , Elshanawy in the goal were like rock. But couldn't held on in the dying moments of the match when Jose Maria Jiminez won it with a fine header for Uruguay.

— Gourav Chakraborti (@gourav13) June 15, 2018
FT: Egypt 0-1 Uruguay

?? First #WorldCup in 28 Years
? Evenly matched game
? Concede from a set-piece in the 89th minute

No Salah, No Party ? pic.twitter.com/jvIZHKIE5N

— 8Fact Football WC ? (@8Fact_Footballl) June 15, 2018
"Egypt is helpless without its superstar" yeah well Uruguay is helpless with its two superstars xx

— jannah???? (@tutankhara) June 15, 2018
Sad for Egypt. They played a smart and spirited match, had it taken from them at the death. Hope we see Salah against Russia!

Uruguay did look sluggish (esp Suarez) but they aren't trying to blow teams away. They are trying to win 1-0 or 2-0, which they did. Onward.

— Elliott Lusztig (@ezlusztig) June 15, 2018
Rodrigo Bentancur became the player with the most touches (104) and most completed passes (81) of any Uruguay player at the World Cup since 1966.

Quite impressive for a 20-year-old making his World Cup debut. pic.twitter.com/y9TOLTgUj2

— Warriors of Uruguay (@UruguayanHeroes) June 15, 2018
Uruguay saved their asses today because of a set piece. Scouse bastard Suarez is finished though.

— McTominay's pocket (@Lindelof_FC) June 15, 2018
#WorldCup: Mo Salah remains unused sub as Uruguay seal late win against Egypt https://t.co/SxOlDaMulR pic.twitter.com/9u922Ck3Gk

— Al Jazeera English (@AJEnglish) June 15, 2018
Woke up early to watch Uruguay vs Egypt…that game was crying out for Mo Salah. Such a shame he didn't play.

World Cup not over for Egypt, but path forward is hard.

— DSC Smurf (@Smurfhawk31) June 15, 2018
Join allsportspk for the next match between Morocco and Iran.