Today a total of 3 matches were held of the ongoing FIFA World Cup 2018.The match wise highlights are appended below.
World Cup 2018: Day 2 – Matches – Summary & Highlights
FIFA World Cup 2018 – M5: France Vs Australia 2-1
Highlights:
WC '18 – Match 5: France Vs Australia
Result: 2 – 1
Goal Scorers:
Australia: Mike Jedinak 62′ (P)
France: Antoine Griezmann 58′ (P), Paul Pogba 80′
Highlights:
Despite completing over twice as many passes as their opponents, France couldn't manage to score in the 1st half. And, neither could Australia as the 1st half ended with the scores 0-0.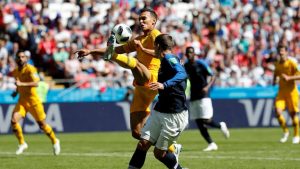 Australia had done a great job in keeping the Frenchmen at bay as both teams looked to make a comeback in the 2nd half.
In the 2nd half, luck favoured France as Risdon was given a yellow card for his challenge on Griezmann.
A penalty was awarded and Griezmann converted it into a goal showing complete confidence in his skills.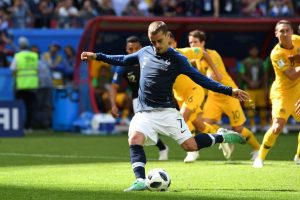 But, Australia were quick to follow through as Australia's mid-fielder Mile Jedinak scored at the 62nd minute to equalise the scoreboard.
The two teams continued to play and look for a tie-breaking goal. And, with only 10 minutes remaining in the 2nd half, Paul Pogba scored for France to put his team in the lead.
This goal proved to be more than enough for a win as France won the match by 2-1.
?⚽ Mile Jedinak after ?? defeat: "If we maintain that form, discipline, structure and concentration throughout, let's see where it takes us. The boys put an almighty effort in. I can't fault them."#WorldCup #WorldCup2018 pic.twitter.com/oMseXdGj9Q

— Aston Villa FC (@AVFCOfficial) 16 June 2018
Ronaldo, Costa, Griezmann, Aguero. All scored by Day Three. Shaping up to be a good World Cup.

— Simon Stone (@sistoney67) 16 June 2018
The fact opinion is divided on the Griezmann VAR penalty decision suggests that even if it probably was a penalty the decision should not have been changed.

— Gary Lineker (@GaryLineker) 16 June 2018
what did Mile Jedinak said to his midfielder???

"MOOY!"

Frickin dude looks like Kratos with hair pic.twitter.com/eML7K1Cn2h

— The Kenn Leandre (@kennleandre) 16 June 2018
Paul Pogba awarded with the official Man of the Match award vs. Australia. ? pic.twitter.com/m3zqhkJzHV

— Red Devil Bible (@RedDevilBible) 16 June 2018
Mark Lawrenson when that Paul Pogba goal was given… pic.twitter.com/JxziGhnHXV

— Full Time DEVILS (@FullTimeDEVILS) 16 June 2018
FIFA World Cup 2018 – M6: Argentina Vs Iceland 1-1
Highlights:
WC '18 – Match 6: Argentina Vs Iceland
Result: 1 – 1
Goal Scorers:
Argentina: Sergio Aguero 19′
Iceland: Alfreo Finnbogason 23′
Highlights:
Argentina were quick in their approach to land a goal at the 19th minute; courtesy Sergio Aguero.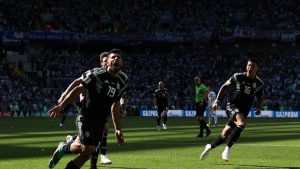 The pressure was now on Iceland, but they didn't falter one as 4 minutes later Alfreo Finnbogason scored the equaliser to make it 1-1.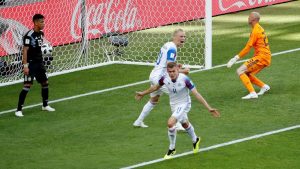 No further goals were scored in the 1st half as it end with the score being 1-1.
In the 2nd half, Argentina were given a chance to be in the front as they were awarded a penalty at the 64th minute.
It was given to Lionel Messi, but surprisingly Iceland's goalkeeper Hannes Halldorsson stopped the penalty to stun Argentinian fans.
Another chance came in the form of a free kick but this too wasn't converted by Lionel Messi.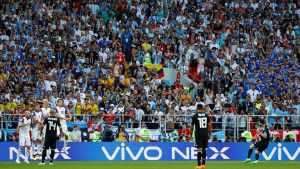 No team managed to score a tie-breaker and the match ended in a draw.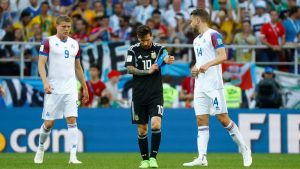 Sergio Aguero at the #WorldCup:

2010: ❌
2014: ❌
2018: ⚽

His first ever goal on the big stage. pic.twitter.com/T5QtyKzylK

— Squawka Football (@Squawka) 16 June 2018
A week ago, 33-year-old Birkir Saevarsson worked as a part time salt-packer at a warehouse in the industrial zone of Reykjavik. Today, he's just secured a 1-1 draw for Iceland against an attacking trio of Angel Di Maria, Sergio Aguero and Lionel Messi.

— R™ ??????? (@RealTalkMUFC) 16 June 2018
Daaaaamn Sergio Aguero w the goal!!!

— KP (@hxaiasi) 16 June 2018
CONGRATULATIONS | Well done to Alfreð Finnbogason, a former youth player at @hutchie_vale, on his World Cup goal against Argentina. From Saughton Park to Spartak Stadium! pic.twitter.com/fUFkzM047G

— YFS (@yfst) 16 June 2018
First shot on target at a World Cup, first goal at a World Cup.

Alfred Finnbogason will remember that moment forever!

Live: https://t.co/mmmjVO83nR#ARGISL #WorldCup #bbcworldcup #ARG vs #ISL pic.twitter.com/1TGGKyykOJ

— Match of the Day (@BBCMOTD) 16 June 2018
TFW a Messi free kick misses your head by inches ? pic.twitter.com/yxVVbBbBl9

— ESPN (@espn) 16 June 2018
Iceland's goalkeeper Hannes Halldorsson said it was a 'dream come true' to save Messi's penalty. #ISL #WorldCup

More: https://t.co/3YenBg6ZeQ pic.twitter.com/0u4pmHAacw

— NBC Sports (@NBCSports) 16 June 2018
Argentina are the biggest chokers on the international stage

— ダロン (@dnahabed) 16 June 2018
Just Incase you missed Argentina – Iceland pic.twitter.com/tjCr4L3pqi

— FIFA World Cup ? (@Matt_Boluwaji) 16 June 2018
FIFA World Cup 2018 – M7: Denmark Vs Peru 1-0
Highlights:
WC '18 – Match 7: Denmark Vs Peru
Result: 1 – 0
Goal Scorers:
Denmark: Yousaf Poulsen 59′
Highlights:
Denmark had a chance to score a goal in the 1st half but Christian Cueva missed a penalty in the injury time of the 1st half.
Apart from that several chances were taken by Denmark but none of them were converted into a goal.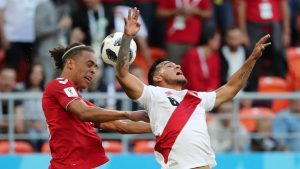 Peru also couldn't score any goals in the 1st half as it ended with the final score being 0-0.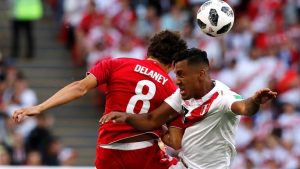 The 2nd half started and Yousaf Poulsen finally provided his team with the breakthrough as he netted the ball from 10 yards to put Denmark in front.
Peru were now under-pressure and needed to score an equaliser, but Denmark defenders stood like a wall as the Danish team won their opening match of the FIFA World Cup 2018.
Denmark gets the most undeserved win of the day vs Peru who outplayed them

— crazy jamaican (@krazyjcan) 16 June 2018
Peru deserved better. The thing about this all game over the years is the winning is done by the teams that finish their chances. May not be the better team but you have to bury it. Peru got a PK would have changed the game. So France and Denmark control the group.

— Tommy Smyth (@TommySmythESPN) 16 June 2018
Since Liverpool last won the league:

? Peter Schmeichel won the league 4 times
? Set the record for most consecutive minutes without conceding for Denmark

? Kasper Schmeichel won the league
? Today Kasper has beaten Peter's record of minutes without conceding for Denmark pic.twitter.com/OkcnbKjX9C

— Man Utd Channel (@ManUtdChannel) 16 June 2018
Peru was this close to an equalizer. 17 shots, 6 on goal, but end up with 0 goals and 0 points.

Kasper Schmeichel stands on his head for Denmark to secure the 3 points! #PER 0 – 1 #DEN pic.twitter.com/StACvnqANo

— Full Time Fans (@Full_Time_Fans) 16 June 2018

Join allsportspk tomorrow for the next matches of the ongoing FIFA World Cup 2018.