The final match of the FIFA World Cup 2018 was held today. The match wise highlights are appended below.
Breaking – World Cup 2018: France '2018 Champions'
FIFA World Cup 2018 – M64: France Vs Croatia 4-2
WC '18 – Match 64: France Vs Croatia
Result: 4 – 2
Goal Scorers:
France: Mario Manzukic 18′ (OG), Antoine Griezmann 38′ (P), Paul Pogba 59′, Kylian Mbappe 65′
Croatia: Ivan Perisic 28′, Mario Mandzukic 69′
Match Statistics:
| | | |
| --- | --- | --- |
| France | Team Stats | Croatia |
| 7 | Shots | 14 |
| 6 | Shots On Target | 4 |
| 34% | Possession | 66% |
| 285 | Passes | 529 |
| 68% | Pass Accuracy | 83% |
| 13 | Fouls | 13 |
| 2 | Yellow Cards | 1 |
| 0 | Red Cards | 0 |
| 1 | Offsides | 1 |
| 2 | Corners | 6 |
Highlights:
France were the clear favorites but Croatia also possessed the capability to win the World Cup. This was also France's third World Cup final while Croatia had reached the final for the first time in their World Cup history.
The Frenchmen had a strong attacking line-up while Croatia boasted with a strong midfield.
Play started as both teams looked full of life. France in particular, looked very lively especially in their attacks.
A foul from Croatia handed the French an early free kick. Antoine Griezmann took the shot and unluckily, Mario Mandzukic scored an own goal.
Mario Mandzukic is the first player ever to score an own goal in a men's World Cup final ? pic.twitter.com/qcM6SQdOcw

— B/R Football (@brfootball) July 15, 2018
After facing an early setback, Croatia made a strong comeback as a super strike from Perisic leveled the scoreboard.
The fun was just beginning as just minutes from the half time, France were given a penalty.
France's lead penalty scorer, Antoine Griezmann took the shot and restored the lead.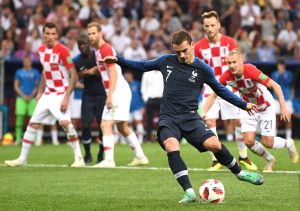 Croatia could not equalize and the first half ended with France in the driving seat.
In the 2nd half, France continued their superb attacking play as Pogba converted some superb passing from the likes of Mbappe & Griezmann to double the lead.
Paul Pogba's outstanding display in the World Cup final

1 goal
86% passing accuracy
7/8 accurate long passes
1 key pass
10 duels won
2/2 dribbles completed
4/4 tackles won

Monster midfielder. pic.twitter.com/oDs9kFyHds

— Red Devil Bible (@RedDevilBible) 15 July 2018
France were not done yet as 6 minutes later the World Cup sensation Kylian Mbappe netted the ball from 25 yards to make it 4 – 1.
Kylian Mbappé is a credit to France who just scored a goal in a World Cup final. He is nineteen years old.

Your most sparkling achievement is managing to wank entirely within the confines of a paper tissue. https://t.co/4oDCGba31h

— Maps (@mpollaud) 15 July 2018
4 minutes later, Mario Mandzukic scored to make it 4 – 2 and gave some hope to Croatia.
2 – Mario Mandzukic is just the second player in World Cup history to score a goal for his side and an own goal in a single game, after Ernie Brandts for the Netherlands versus Italy in 1978. Quirk.#WorldCupFinal #WorldCup #CRO #FRA pic.twitter.com/W1geg7lstV

— OptaJoe (@OptaJoe) July 15, 2018
With 20 minutes left in the play, Croatia needed two more goals to force the match into extra time.
But unfortunately, the French defense proved to be too strong for them as Croatia lost the final to France, who lifted the World Cup trophy for the 2nd time after 1998.
?? Who was France's best player today? ??⭐#UCL #WorldCupFinal pic.twitter.com/ZlrZMbEvUI

— UEFA Champions League (@ChampionsLeague) July 15, 2018
WATCH: Celebrations on the streets of Paris after France ?? beat Croatia ?? 4-2 to win the #WorldCupFinal. pic.twitter.com/GKSL1wFlfb

— MS Dhoni (@MSDhoni7__) July 15, 2018
Congratulations to France, who played extraordinary soccer, on winning the 2018 World Cup. Additionally, congratulations to President Putin and Russia for putting on a truly great World Cup Tournament — one of the best ever!

— Donald J. Trump (@realDonaldTrump) July 15, 2018
Neymar, Ronaldo and Messi watching France lift the World Cup. pic.twitter.com/FefiSSMQ6f

— FootballFunnys (@FootballFunnnys) July 15, 2018
??

The FIFA #WorldCup trophy is going back to France for the first time since 1998. ?? pic.twitter.com/wj1wnauj4R

— FOX Sports (@FOXSports) July 15, 2018
#WorldCupFinal Mbappé won the best youngest player of the tournament and Modric won the Golden ball and hearts #WorldCupFinal #France #Croatia #FRAvCRO pic.twitter.com/DZL7PEMjdB

— Avirendra singh (@avirendrasingh) July 15, 2018
World Cup goes to France pic.twitter.com/pukian8ryw

— Mekadollar (@mekadollar) July 15, 2018
France exploited the spaces left behind by the Croatian fullbacks as they kept coming up the field in search of an equaliser. Pogba's press resistance and ability to pick the correct pass in transitions combined with Mbappe's movement and pace facilitated this#worldcupfinal pic.twitter.com/37s88rY0Aw

— Football Bloody Hell (@fbhfootball) July 15, 2018
Just like to say congratulations to @equipedefrance on winning the pinical of international football, they ran Croatia ragged. What a final we saw. We would also like to congratulate @KMbappe @HKane @thibautcourtois and @lukamodric10 on winning the individual awards too

— The Football Podcast – TFP (@PodcastTFP) July 15, 2018
Congratulations to @samumtiti and @dembouz, new world champions with France in the World Cup in Russia. Well done also to @ivanrakitic, a finalist with Croatia, and @thomasvermaelen, third place with Belgium.

— Josep Maria Bartomeu (@jmbartomeu) July 15, 2018
If someone missed the whole world cup & tuned in to the France celebrations they'd think Mendy has absolutely carried the country by the way he celebrates

— َ (@HazardEdition) July 15, 2018
France it is! #FRACROA #FifaWorldCup2018 @BurjKhalifa @dcgguide #Dubai pic.twitter.com/GXSZNJG6FY

— DUBAI CITY GUIDE by Cyber Gear (@dcgguide) July 15, 2018
"Immigration has been bad for Europe" says the Leader of a country made up of immigrants, who is the direct descendent of an immigrant & is married to an immigrant, & whose 1st wife was one. France has just won the W/Cup with a side made almost entirely of the kids of immigrants!

— Bart Hobson (@BartHobson) July 15, 2018
I'm assuming nobody guessed France would win 4-2 and that an own goal would be scored. If you think you were the closest to winning, send me a screen shot and we'll determine the winner.

— Landon Donovan (@landondonovan) July 15, 2018
World Cup 2018: France Squeeze Into The Final
World Cup 2018: Croatia Stun England
World Cup 2018: Belgium Has The Last Laugh
Keep visiting allsportspk for more football updates.