World Cup 2018 – Q. Finals Predictions: Expected Top 4?
It would not be inaccurate to claim that the World Cup 2018 has been very unpredictable so far. With the likes of Germany, Spain, Portugal and Argentina already out of the World Cup, chances of a minor team winning the World Cup 2018 has become very high.
The tough competition from supposedly smaller teams was so high that the Round of 16 witnessed three penalty shootouts from 8 matches. 8 teams qualified for the quarter finals which include France, Uruguay, Russia, Croatia, Brazil, Belgium, Sweden and England.
Chances of each team in qualifying for the next round will depend on a number of factors. No team can be considered as 'absolute' favourites however, a team with superior stats will hold an certain edge over others.
This is why, Allsportspk expert panel presents you a list of the teams that have an excellent chance to outdo their opposition and cement their place in the semi-finals.
#Match 1: Uruguay Vs France 
Uruguay
Without a doubt, Uruguay has the best possible defense among these eight teams. This not only makes them extremely difficult to beat but also gives them an added advantage over their opponents.
On the other hand, the superb pair of Edinson Cavani and Luis Suarez have bonded quite well and will be be a bigger threat than anyone in Uruguay's attacking line-up. Moreover, if Edison Cavani starts the game rather than being a substitute, then chances are that France will be knocked out of the World Cup 2018.
France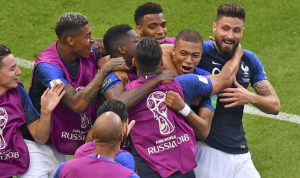 France's road to improvement in this World Cup has been constant and this ability of theirs won them the match against Argentina.
All eyes will be on Kylian Mbappe as the 19 year old played a clinical role in helping France beat Argentina and book their place in the quarter finals. Moreover, the likes of Antoine Griezmann and Paul Pogba are also expected to give their one hundred percent in this do or die encounter.
Prediction: Uruguay 1 – 0 France
According, to allsportspk expert panel it will be a tight match however, Uruguay might just win it because of their strong defense line up.
For the prediction of #Match 2 between Brazil Vs Belgium, move on to the next page.