World Half Marathon: Kenya's Abraham Kiptum Breaks World Record
VALENCIA, SPAIN: Abraham Kiptum of Kenya broke the men's world record at the IAAF Gold Label road race. He timed 58:18 which was five seconds better to the 2010 record set by Eritrea's Zersenay Tadese.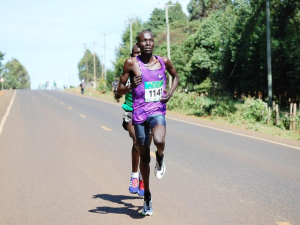 With perfect weather conditions, the race started according to the plan with the main runners crossing the first 5 km in 13:56. After the 10 km distance was covered, only 15 runners crossed the checkpoint in 28:02. After this Kiptum easily went ahead from the rest of the runners and began to extraordinarily cover each kilometre in 2:44.
Having covered 15 km Kiptum was on verge to break his PB of 59:09, which was set one and half month ago in Copenhagen. He was followed with two seconds difference by Ethiopia's Jemal Yimer.
The 20 km was reached by Kiptum in 55:18, which made him closer to breaking the world half marathon of 58:23 in Lisbon. Having covered the second 10-kilometre section in 27:16, Kiptum strode home in 58:18 to bring the world record.
In the womens's race the starting five kilometres were covered in 15:39 with Kenya's Edith Chelimo, being the fastest. Closely followed by the Ethiopian threesome – Helen Bekele Tola, Bekelech Gudeta, and Gelete Burka.
Athletics – Olympic Corruption Inquiry: Kenyan Officials Charged
In the second 5 km section, the race was tougher with one participant Tola dropping out and the coverage time being 31:36. With 15 km race, only Korikwiang, Saeed, Burka and Chelimo, were in the run.
With about 800 metres to the finish line, Burka unleashed her speed, and won in a PB of 1:06:11. Saeed was second with record of 1:06:13, Chelimo who was the favourite ended in third position in 1:06:17.
Detailed Result
Men
1. Abraham Kiptum – Kenya – 58:18
2. Jemal Yimer – Ethiopia – 58:33
3. Abadi Hadis – Ethiopia – 58:44
4. Amdamlak Belihu Berta – Ethiopia – 59:19
5. Stephen Kiprop – Kenya – 59:21
6. Bernard Kipkorir Ngeno – Kenya – 59:22
7. El Hassan Elabassi – Morocco – 59:27
8. Simon Cheprot – Kenya – 59:28
9. Abel Kipchumba – Kenya – 59:29
10. Josphat Boit – Kenya – 59:42
Women
1. Gelete Burka – Ethiopia – 1:06:11
2. Alia Mohammed Saeed (UAE) 1:06:13
3. Edith Chelimo – Kenya – 1:06:18
4. Pauline Korikwiang – Kenya – 1:06:31
5. Diana Chemtai Kipyogei – Kenya – 1:07:07
6. Bekelech Gudeta – Ethiopia – 1:07:48
7. Yeshi Kalayu Chekole – Eritrea – 1:07:58
8. Helen Bekele Tola – Ethiopia – 1:08:39
9. Risper Chebet – Kenya – 1:10:02
10. Karoline Nadolska – Poland – 1:10:43
For more updates keep visiting allsportspk