IBSF World U21 Snooker C'ship 2018 – Day 2: Harsi Scores 142 Points; 2nd Highest Break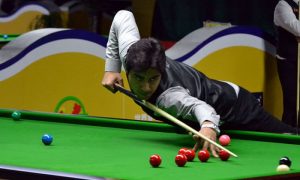 The 2018 IBSF World Under-21 Championship continued on the Day 2, with some outstanding performances.
One of the memorable performance was by Haris Tahir from Pakistan, who scored 142 in the 3rd frame during the match with Sybren Sokolowski of Belgium. This was the the 2nd highest break of the tournament.
Tahir Haris had a rather weak start and lost one frame; won another. At this stage his only option was to score by playing aggressively, which he did and got the unplanned break. Having got the perfect opening he went with the drift and after potting three pink balls; then 10 black ones and finally two more pink balls to achieve his memorable break with 142 points.
Harsi did not have a easy game and lost another frame, however, having entered the final frame with a break of 35 points he won the decider frame to win 3-2. He finished No.1 on top of group Q, with his third consecutive win.
According to PSBA a release the Day 2 match results of Pakistani players were:
Haris Tahir (PaK) bt Kissada Chumjit (Thailand) 3-2
(35-69, 96-0(75), 61-34, 41-67, 93-0(93),)
Muhammad Naseem Akhtar (PaK) 3-2 Sean Devenney (Ire Land)
(78-19(52), 54-59, 56-18, 20-62(55), 83-0)
Yisong Peng (China) bt Umar Khan 3-1
(67-01(67), 51-67(52), 61-40, 91-0(90),)
Haris Tahir (PaK) bt Sybren Sokolowski (Belgium) 3-2
(17-80, 67-59, 142-0(142), 49-74, 63-23)
Yi Ze Wu (China) bt Muhammad Naseem Akhtar (PaK) 3-1
(16-82, 116-0(74), 73-20, 66-21)
Naseem and Haris qualified for Last 32 Round. Umer could not qualify for the next round.
Complete Results: IBSF World U21 Snooker Championship 2018 – Day 2
Remaining Fixtures
8th July 2018
3:00 pm Yu Kiu Chang (H.Kong) v Umar Khan (Pak)
10th July 2018
10:00 am Last 32 Round
12:00 pm Last 32 Round
3:00 pm Last 16 Round
7:30 Pm Quarter Finals
11th July 2018
10:00 am Semi Finals
3:00 pm Final
Day 1st Results of Pakistani Players
Manasawin Phetmalaikul (England) bt Umar Khan (Pak) 3-1
(87-62, 59-58, 62-68, 89-08)
Haris Tahir (Pak) bt Adam Lilley (N.Z) 3-2
(112-06(53,58), 70-35(55), 43-49, 42-81, 58-30)
Muhammad Naseem Akhtar (Pak) bt Loris Lehmann (Ger) 3-0
(80-11(63), 78-05(63), 91-07(83),)
For updates keep visiting allsportspk