UMA CNS Asian Tour Open Golf Championship: Thai Players Dominate; Namchok On Top
KARACHI: During the third day of International UMA CNS Asian Tour Open Golf Championship, being contested at the appealing Karachi Golf Course, the champions with a winning touch and flair and mastery were the Thai players who continue to dominate and command the flow of the happenings.
Namchok is the leader after three rounds and moving into the final phase, with an aggregate score of 204, twelve under par while Jakarphan is one stroke behind at a score of 205, eleven under par and the third one Tirawat is placed at a score of 207, and is not too far behind the leader. In the course of the third round, yesterday, the Thai trio were in no mood to relent at any stage and through precision and impeccability in application of golfing expertise, they demonstrated ample control over the proceedings.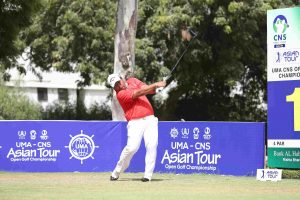 For Pakistan, expectations were that M. Munir who was placed second at the end of the second round would manage a breakthrough, but though he played well and hit the ball with rigor and correctness, he did not succeed in making the required birdies. His effort however, needs to be commended and certainly bordered on excellence, though the Thailand champs were just too good. Munir did pick up two birdies on the second and seventh hole, but these were neutralized through stroke losses on the 4th hole and 17th hole and he had to be content with a third round score of 72.
With an aggregate score of 210, six under par, he is placed in 6th position with barely any hope of capturing the top position on Sunday, although he is likely to improve his overall standing from 6th to being in the top three."I certainly felt confident at the start of the third round ", he said, but then a few vital putts did not drop and gave me a sinking feeling". "Lets hope the final round brings in more luck, as I am hitting well and feel good about my fitness and knowledge of the grand Karachi Golf Course".
For the leader, Namchok Tantipokhakul, the third day was a day of blessings and everything went right", he said. "My focus was infallible and putting unblemished and unerring". "The first birdie on the second hole charged me up and then this was followed by another one on the 6th hole and later the eagle on the 11th hole was a delight. As if that was not enough, a hat trick of birdies followed on holes 12, 13 and 14 and I felt really good". The other two Thailand players Jakraphan and Tirawat were also perfection oriented.
Others in line for top positions are three more Thai players. Pawin is one and he is placed at a three rounds score of 209, seven under par alongwith Suradit Yong Charoenchai. From amongst the other leading Pakistani players, M.Naeem is at a score of 211, five under par, Matloob Ahmed at 212, four under par, and M. Shabbir also at 212, four under par.
Sundat – 14 October, would be the final day. The first tee off is at 7.20 hours, with the concluding cum prize distribution scheduled for 5.00 pm.
Day 3 – Detailed Scores: UMA CNS Open Golf Championship | Asian Tour
Leading results in summary – Asian Tour Open Golf Championship:
204 – Namchok Tantipokhakul (THA) 67, 70, 67
205 – Jakraphan PREMSIRIGORN (THA) 69, 68, 68
207 – Tirawat Kaewsiribandit (THA) 71, 69, 67
209 – Pawin Ingkhapradit (THA) 68, 70, 71
209 – Suradit Yong (THA) 69, 68, 72
210 – Settee Prakongvech (THA) 72, 69, 69
210 – M.Munir(Pakistan) 69, 69, 72
For more updates about Asian Tour Open Golf Championship keep visiting allsportspk