On its readers demand, Allsportspk starts an exclusively overview along with the Points Table of all the Major Football Leagues.
This overview is of EPL – English Premier League's 22nd Week ending. For thereon, a regular EPL Weekly Overview will follow.
During the Week 22 of the EPL, the main highlights were:
The game which received the highest viewership was the one between Liverpool and Tottenham Spurs and rightly so. Liverpool continued to maintain its dominance, thanks to Roberto Firmino who scored the only game of the match, leading Liverpool to outdo Tottenham by 1-0 and maintain the top spot.
Leicester City was upset by Southampton where the Saints thrashed Leicester 2-1 at the King Power Stadium. Leicester also dropped to the third spot after their loss
Elsewhere, Chelsea beat Burnley 3-0 at Stamford Bridge, Manchester United beat Norwich City 4-0 and Manchester City thumped Aston Villa, featuring Sergio Aguero's record breaking 12th hat trick, also enabling City to climb to the second spot,
Week 22 also featured Sheffield United and Everton winning 1-0 over West Ham and Brighton respectively.
Bournemouth was crushed by Watford 0-3.
While the matches between Crystal Palace vs Arsenal and Wolverhampton Wanderers vs New Castle both drew on all the sides scoring one goal apiece.
EPL – Week 22 Points Table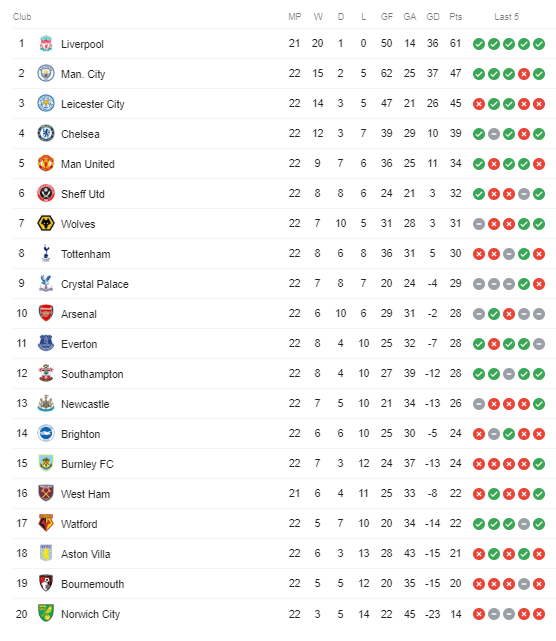 Points Table Overview
Liverpool stand 14 points clear at the top place and are not far away from winning the Premier League again
Leicester and Manchester City keep battling for the second spot where City is now two points over Leicester
Chelsea and Manchester United retain their fourth and fifth spot respectively while Sheffield climbed to the sixth spot after their win
Tottenham and Arsenal continue their poor run and they stand on the eighth and tenth place respectively
That's all from Week 22 of EPL. Keep following Allsportspk for regular EPL, other football Leagues and Sports news.