The PFB-Pakistan Federation Baseball made history by organizing baseball matches in the city of Skardu, which has become the highest point of the world in which Baseball has ever been played.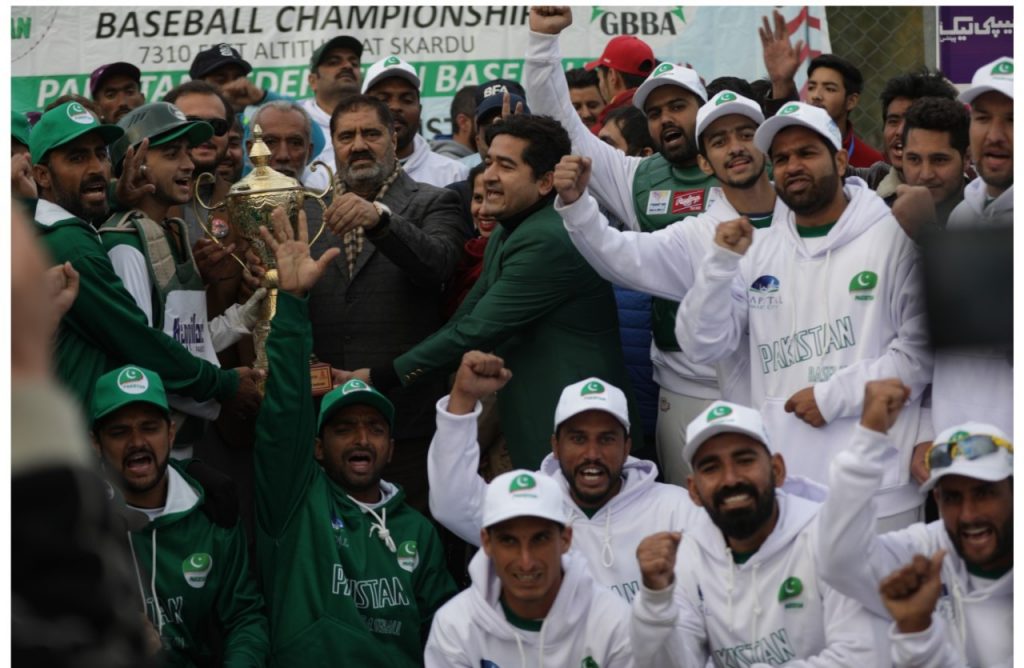 Pakistan Federation Baseball, notified that the Baseball exhibition match between Pakistan Green and Pakistan White teams was played at a baseball ground in Skardu which is located at an elevation of 7.310 feet above sea level. Thus, the Pakistan Federation Baseball set a new record for the highest baseball ground in the world.
Till the record been broken, the city of Denver in USA state of Colorado located at 5,130 feet held the record for the highest baseball playing point.
In the first exhibition match, Pakistan Green defeated Pakistan White 9-3. Muhammad Sumair Zawar scored 2 runs for Pakistan Green, including a home run. Among other players, Faqir Hussain, Asad Ali, Zakir, Muhammad Shah, Muhammad Waseem, Wahid and Nasir Malangi scored one run each. Alamgir Khan, Amin Afridi and Fazal ur Rehman scored one run each for Pakistan White. Muhammad Jamil Kamran was the Chief Umpire of the match.
The second exhibition match will be played on Tuesday at the Gilgit Cricket Ground.
The Chief Guest of this historic match was the CEO of Al-Jalil Garden, Chaudhry Nasrullah Warraich. Syed Fakhar Ali Shah, President PFB, Saleem Abbas President Gilgit-Baltistan Baseball Association and Sheikh Mazhar Ahmed, Secretary General of the PFB were also present.