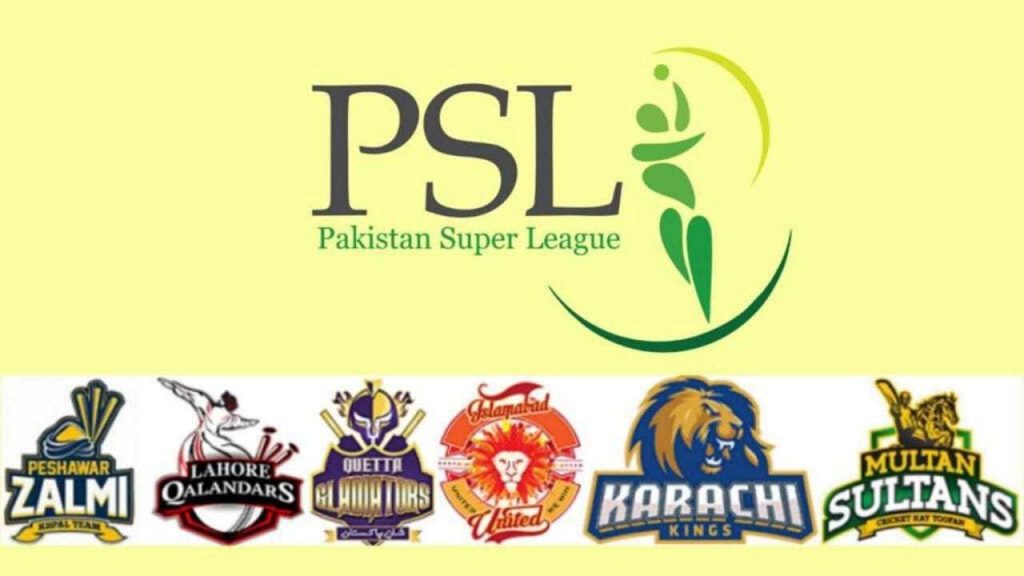 The fifth edition of PSL – Pakistan Super League is set to begin from February 20 to March 22 with all matches being played in Pakistan for this first time in league's history.
According to the PSL 2020 schedule announced by the PCB, the championship will have 34 matches between six teams played across four cities of Pakistan.
National Stadium Karachi will host the opening ceremony and opener bout between defending champions Quetta gladiators and Islamabad United on February 20.
Gaddafi Stadium Lahore will host the final match and closing ceremony on March 22.
PSL 2020 will be featuring 36 international players shortlisted from 425 names who registered themselves for the prestigious event.
PCB chairman Ehsan Mani expressed satisfaction with the arrangements for PSL 2020 and promised the cricket community home and abroad a spectacular and fun-filled championship.
PSL 2020 Schedule:
Feb 20: Opening ceremony to be followed by star Quetta Gladiators vs Islamabad United, National Stadium (start time TBC)
Feb 21: Karachi Kings vs Peshawar Zalmi, National Stadium; (2:00-5:15pm); Lahore Qalandars vs Multan Sultans, Gaddafi Stadium (7:00-10:15pm)
Feb 22: Quetta Gladiators vs Peshawar Zalmi, National Stadium (2:00-5:15pm); Islamabad United vs Multan Sultans, Gaddafi Stadium (7:00-10:15pm)
Feb 23: Karachi Kings vs Quetta Gladiators, National Stadium (2:00-5:15pm); Lahore Qalandars vs Islamabad United, Gaddafi Stadium (7:00-10:15pm)
Feb 26: Multan Sultans vs Peshawar Zalmi, Multan Cricket Stadium (7:00-10:15pm)
Feb 27: Islamabad United vs Quetta Gladiators, Pindi Cricket Stadium (7:00-10:15pm)
Feb 28: Multan Sultans vs Karachi Kings, Multan Cricket Stadium (2:00-5:15pm); Peshawar Zalmi vs Lahore Qalandars, Pindi Cricket Stadium (7:00-10:15pm)
Feb 29: Multan Sultans vs Quetta Gladiators, Multan Cricket Stadium (2:00-5:15pm); Islamabad United vs Peshawar Zalmi, Pindi Cricket Stadium (7:00-10:15pm)
March 1: Islamabad United vs Karachi Kings, Pindi Cricket Stadium (7:00-10:15pm)
March 2: Peshawar Zalmi vs Karachi Kings, Pindi Cricket Stadium (7:00-10:15pm)
March 3: Quetta Gladiators vs Lahore Qalandars, Gaddafi Stadium (7:00-10:15pm)
March 4: Islamabad United vs Lahore Qalandars, Gaddafi Stadium (7:00-10:15pm)
March 5: Peshawar Zalmi vs Quetta Gladiators, Pindi Cricket Stadium (7:00-10:15pm)
March 6: Karachi Kings vs Multan Sultans, Gaddafi Stadium (7:00-10:15pm)
March 7: Peshawar Zalmi vs Islamabad United, Pindi Cricket Stadium (2:00-5:15pm); Lahore Qalandars vs Quetta Gladiators, Gaddafi Stadium (7:00-10:15pm)
March 8: Multan Sultans vs Islamabad United, Pindi Cricket Stadium (2:00-5:15pm); Lahore Qalandars vs Karachi Kings, Gaddafi Stadium (7:00-10:15pm)
March 10: Lahore Qalandars vs Peshawar Zalmi, Gaddafi Stadium (7:00-10:15pm)
March 11: Quetta Gladiators vs Multan Sultans, Gaddafi Stadium (7:00-10:15pm)
March 12: Karachi Kings vs Lahore Qalandars, National Stadium (7:00-10:15pm)
March 13: Peshawar Zalmi vs Multan Sultans, National Stadium (7:00-10:15pm)
March 14: Karachi Kings vs Islamabad United, National Stadium (7:00-10:15pm)
March 15: Multan Sultans vs Lahore Qalandars, Gaddafi Stadium (2:00-5:15pm); Quetta Gladiators vs Karachi Kings, National Stadium (7:00-10:15pm)
March 17: Qualifier (1 vs 2), National Stadium (7:00-10:15pm)
March 18: Eliminator 1 (3 vs 4), Gaddafi Stadium (7:00-10:15pm)
March 20: Eliminator 2 (Loser Qualifier vs Winner Eliminator 1), Gaddafi Stadium (7:00-10:15pm)
March 22: Final, Gaddafi Stadium (start time TBC)
For regular updates keep visiting: Allsportspk