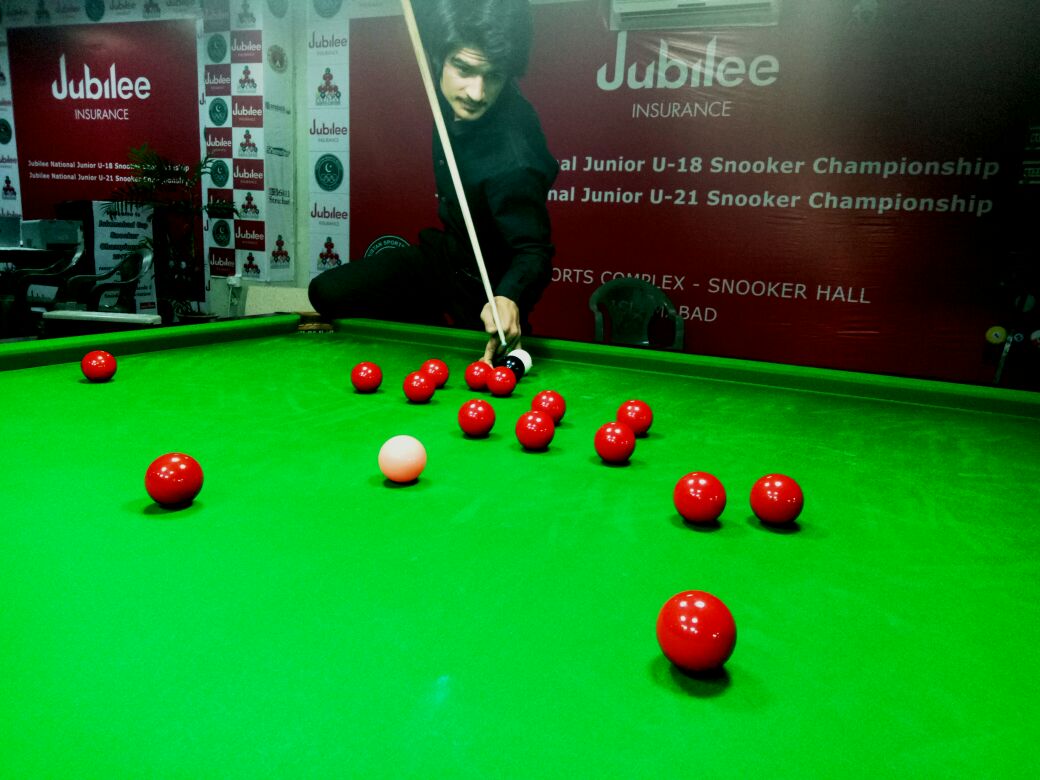 ISLAMABAD: Eight players including defending Champion and IBSF World U-18 Snooker Champion Muhammad Naseem Akhtar of Punjab, last year's runners up Haris Tahir of Punjab and six other players qualified for the quarter finals of Jubilee Insurance 10th National Junior U-21 Snooker Championship 2018 here at PSB Billiards & Snooker Hall, Islamabad on Wednesday.
The quarter finals and semi finals will be played on Thursday (today) at 10.00 am & 2.00 pm respectively.
The others who have qualified for the quarter finals are Sheikh Muhammad Mudassir, Usman Ahmed, Muhammad Shahbaz, Raees Ali Usama, Muhammad Umer Khan all from Punjab and Ali Zaman Khan of Sindh.
On Wednesday, eight matches were decided. The best encounter of the day was between Raees Ali Usama and Ahsan Ramzan of Punjab which ended at the black ball of the decider frame of best of seven match. The score was 29-74, 22-65, 54-43, 23-70, 74-48, 64-16 and 57-52.
Highlight of the day of pre-quarter finals were two big breaks by Muhammad Naseem Akhtar (75) against Fahad Ghaffar of Islamabad, Ali Zaman Khan of Sindh (58) against Usman Khurshid (KPK) and Haris Tahir of Punjab (52) against Hamza Aftab (KPK).
Following are the complete results:
Shaikh M. Mudassir (Pjb) bt Abdul Aziz (Bal) 4-2
(65-24, 49-28, 39-59, 57-31, 36-69, 76-15)
Usman Ahmed (Pjb) bt Rabish Pervaiz (Bal) 4-2
(53-62, 67-40, 51-36, 53-40, 14-69, 66-50)
Muhammad Shahbaz (Pjb) bt Umer Farooq (Pjb) 4-3
(39-52, 64-18, 57-47, 52-31, 29-62, 20-56, 60-41)
Raees Ali Usama (Pjb) bt Ahsan Ramzan (Pjb) 4-3
(29-74, 22-65, 54-43, 23-70, 74-48, 64-16, 57-52)
Muhammad Naseem Akhtar (Pjb) bt Fahad Ghaffar (Isb) 4-1
(70-04, 75-8(75), 11-52, 63-43, 69-10)
Ali Zaman Khan (Sindh) bt Usman Khursid (Kpk) 4-0
(66-06, 56-8, 90-14(58), 50-0)
M. Umar Khan (Pjb) bt Shahzaib Malik (Pjb) 4-1
(80-28, 63-25, 58-26, 50-80, 67-19)
Haris Tahir (Pjb) bt Hamza Aftab (Kpk) 4-0
(74-29, 74-25, 74-19, 74-07)
Thursday Fixtures:
Quarter Finals (Best of Seven) at 10.00 am
Shaikh M. Mudassir (Pjb) v Usman Ahmed (Pjb)
Muhammad Shahbaz (Pjb) v Raees Ali Usama (Pjb)
Muhammad Naseem Akhtar (Pjb) v Ali Zaman Khan (Sindh)
M. Umar Khan (Pjb) v Haris Tahir (Pjb)
Semi Finals ( Best of Nine) at 2.00 pm
For updates regularly visit: Allsportspk