26th Asian Junior Individual Squash '19 – Macau: Commences On 26th June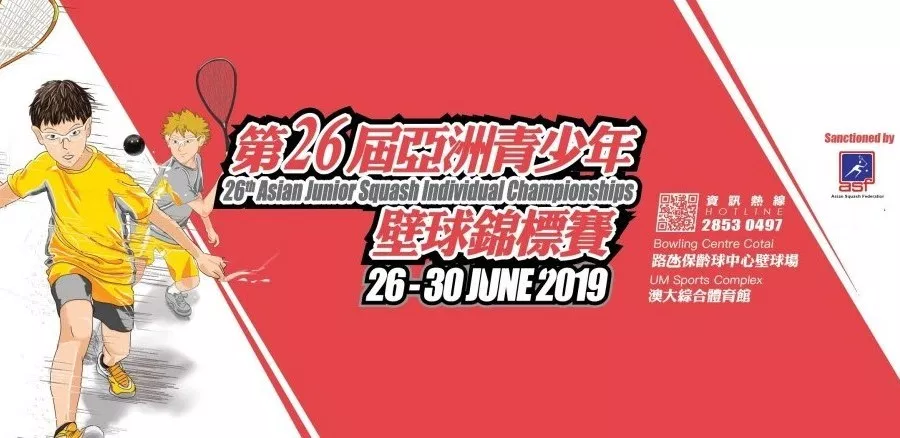 The 26th Asian Junior Individual Squash Championship will be played at Macau from 26 – 30 June, 2019.
Besides Pakistan, the other nations participating are China, Chinese Taipei, Hong Kong, India, Japan, Korea, Kuwait, Macau (Host), Malaysia, Singapore and Sri Lanka.
The 8 players selected by Pakistan Squash Federationfor participation in U-19, U-17, U-15 and U-13 age groups are:
Haris Qasim and Hamza Sharif will play in U-19
Mohammad Farhan Hashmi and Noor Zaman will play in U-17
Mohammad Hamza Khan and Anas Ali Shah will play in U-15
Saboor Khan and Abdullah Nawaz will represent Pakistan in U-13
The team management would consist of:
Mr Fazal Shah would proceed with the contingent as coach.
Mr. Waqas Ahmad of Pakistan Squash Federation will accompany the contingent as Manager.
The seeded team of Malaysia are the favourites of winning the most medals.
The Top seeds include:
FMC International Men Squash C'ship '19: Seeded Tayyab Wins In Dominant Style
Girl Groups:
G19: [1] Chan Yiwen (Mas), [2] Ooi Kah Yan (Mas)
G17: [1] Chan Sin Yuk (Hkg), [2] Jessica Keng (Mas)
G15: [1] Aira Azman (Mas), [2] Tse Yee Lam Toby (Hkg)
G13: [1] Anahat Singh (Ind), [2] Sashmini Chandran (Mas)
Boys Groups:
B19: [1] Siow Yee Xian (Mas), [2] Darryl Gan Zi Kang (Mas)
B17: [1] Muhammad Amirul Azhar (Mas), [2] Nathan Kueh Tze Boing (Mas)
B15: [1] Mohammad Hamza Khan (Pak), [2] Joachim Chuah Han Wen (Mas)
B13: [1] Avalokit Singh (Ind), [2] Airhant Ks (Ind)

For more updates keep visiting allsportspk