5th PTBF National Tenpin Bowling C'ship 2019: Fazil Stuns Champion; Annexes The Title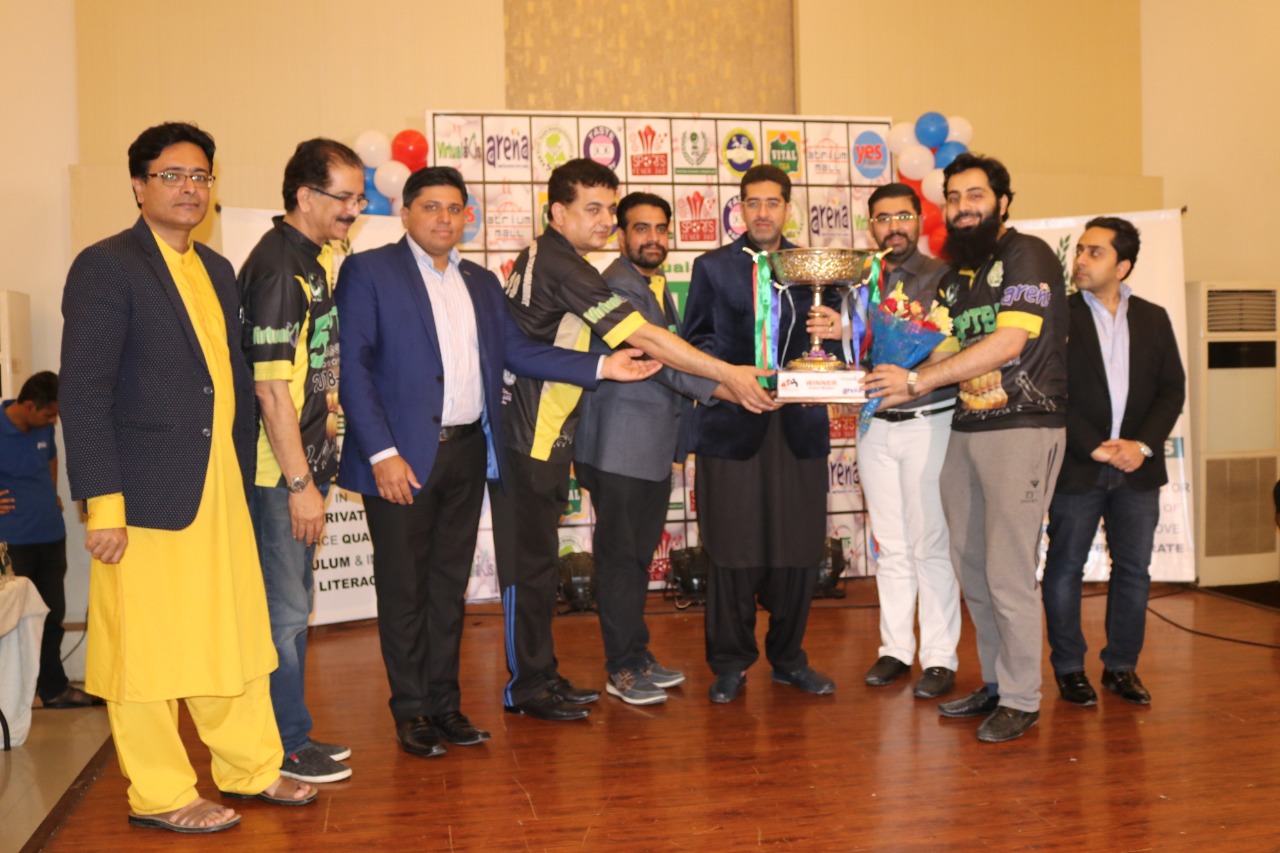 KARACHI: Fazil Maniya stunned national champions to grab his first ever 5th PTBF National Ranking Tenpin Bowling Championship-2019 Masters Singles title here at Arena Bowling Club, Karachi.
The battle royal was on the cards, as after dominating the round of 16, played as per WTA rules, Islamabad bowlers could not perform to expected level and it was Karachi bowlers, who stole the show.
Saleem Baig, topped the round of 16 and managed to sneak a place in the quarterfinals, and so did Ijaz.  The rest of the 6 available places were grabbed by Fazil Maniya, Sajjad, Ali Suria, Shabbir Lashkarwala, Usman Ghani and Farhan Riaz, by virtue of finishing at top in the round of 16.
The Grand Master title was already grabbed by Saleem Baig.
The whole atmosphere was very charged and the arena was filled to its capacity. entire arena was filled to capacity. The  excitement, and cheering kept the bowlers were highly charged and responding to the crowd chanting. The Karachi bowlers enjoyed overwhelming local support,
Each player was allocated 3 games in the last 8. Islamabad had only Saleem Baig and Ijaz to carry title hopes, as both former national champion Muhammad Hussain Chatta and Saqib Shazad failed to secure last 8 place.
Chatta was highly unfortunate as he had number of splits. Despite being known for his master class skills, he was unable to live up to the expectations, after playing 24 games. The main reason was that Chatha had baldy damaged his main fingers and could not hold the ball properly, which hampered him badly. Saqib also failed to perform as expected.
The player performance brief is as follows:
It was Fazil Maniya, who was hitting the strikes almost on every throw, while Ijaz, Shabbir, Saleem, Farhan and Usman Ghani were unable to even hit a single strike.  Soon it was Fazil, who was way ahead of his closest rivals and won his first major title in almost a decade, by making history with a massive score of 629 pins, with an average of 209.67, Fazil scored 236 in the first game, 165 in the second, his worst ever score and he scored 228 in his third and last game,
Sajjad, another unknown and upcoming bowler, who works at Arena secured second spot with total of 569 pins at an average of 189.67, Sajjad scored 194 in the first game, 186 in the second and 189 in the third game,
Ali Suria, another former national champion had to settled for third place with total of 560 pins at an average of 186.67.
Ali scored 186 in the first game, 179 in the second game and 195 in the third game.
Shabbir Lashkarwala, another former champion, one of the most senior and internationally-famed bowler could finish 4th with total of 543 pins, at an average of 181. He scored 188 in the first game, 170 in the second and 185 in the last game,
Pakistan's most successful bowler, Ijaz Ur Rehman could get 5th place with total of 498 pins, at an average of 166, Ijaz scored 171 in the first game, 166 in the second game and 161 in the third game,
Farhan Riaz finished 6th with total of 480 pins, at an average of 160, he scored 148 in the first game, 191 in the second game and 141 in the last game,
Usman Ghani finished 7th with total of 465 pins, with an average of 155, he scored 152 in the first game, 156 in the second game and 157 in the last game.
Saleem Baig had 8th spot with total of 461 pins, at an average of 153.67, he scored 147 in the first game, 150 in the second game and 164 in the last game.
Trios Title
Shabbir Lashkarwala, Usman Ghani and Haroon won the Trios title by scoring 1217 pins in two games with an average of 202.83, Aleem Agha, Ali Saldera and Robert remained runners up with total of 113 pins with an average of 185.50.
Islamabad finally tasted silverware with third place finished, Ijaz Ur Rehman, Saqib and Chatha scored total of 1011 pins at an average of 168.50 pins.
Daniyal Shah, Danish Bakhsi and Mushtaq Bahi finished 4th with total of 1007 pins at an average of 167.83.
Media Singles Title 
Maqsood Ahmed won with total of 120 pins in one game.
Mohsin Raza was second with total of 104 pins.
Zubair Nazir was third with total of 101 pins.
Zahid Ghaffar won the 4th with total of 97 pins.
Arshad was at 5th position with total of 96 pins.
Hamid-ur-Rehman was 6th with total of 94 pins.
Nadeem 7th with total of 86 pins.
Ahmed 8th with total of 85 pins.
Awards & Prizes 
In total, 54 trophies were awarded to position holders, and a total of Rs 400,000 was given as prize money. In addition, trophies, shields, certificates and other valuable prizes and a 125 motorcycle was also awarded to different position holders.
Mr. Taimoor Talpur, Provincial Minister of IT, Environment and Costal Development as chief guest, distributed the trophy and prizes. Mr. Khawaja Ahmed Mustaqeeem, the Tournament Director, Khawaja Fawad, MD SMF, Pakistan Tenpin Bowling Federation Secretary Ijaz Ur Rehman and others were also present on the occasion.
The winners and their respective prizes were:
Fazil Maniya was awarded Rs 50,000 cash and Masters Singles trophy,
Sajjad was awarded Rs 30,000 cash and runners up trophy.
Ali Suria was given Rs 15000 cash and trophy.
Shabbir Lashkarwala trophy and Rs 10,000 cash.
Rs 5000 each were given to top 16.
Trios champions were given trophies and Rs 15,000 and trophies.
Runners up were given Rs 12,000 and trophies.
3rd place were given trophies and Rs 9000 each.
4th place were given trophies and Rs 6000 each.
Media category champion was given trophy and Rs 8000 and trophy.
Runners up trophy and Rs 5000.
Third place Rs 4000 and trophy.
Rs 28,000 was given to other position holders.
For updates regularly visit: allsportspk