Match Basics – Australia's Tour of India-3rd ODI

Date: 19 January 2020
Venue: M. Chinnaswamy Stadium, Bengaluru
Umpires: Michael Gough and Virender Sharma
Toss won by: Australia
Scorecard Summary
Australia's Innings: 286/9 (50 Overs, RR: 6.8)
Performers:
– Batting: Steve Smith 131 off 132 balls and Marnus Labuschagne 54 off 64 balls.
– Bowling: Mohammad Shami 4/63 in 10 overs and Ravidra Jadeja 2/44 in 10 overs
Target: 287 runs from 50 overs
India's Innings: 289/3 (47.3 Overs, RR: 6.08)
Performers:
– Batting: Rohit Sharma 119 off 128 balls, Virat Kohli 89 off 91 and Shreyas Iyer 44 off 35 balls
– Bowling: Ashton Agar 1/38 in 10 overs, Adam Zampa 1/44 in 10 overs and Josh Hazlewood 1/55 in 9.3
Result: India Won by 7 wickets and won the series 2-1
Man of the Match: Rohit Sharma
Highlights
Australia's Innings
⦁ Captained by Aaron Finch, Australia made one changes where Josh Hazlewood came in for Kane Richardson. India, however, were unchanged.
⦁ Australia won an important third consecutive toss and decided to bat first this time in the series decider. The pitch too looked like a batting paradise.
⦁ Australia's openers, Aaron Finch and David Warner started the innings for the away team. India handed the bowl to in form Mohammad Shami and Jasprit Bumrah.
⦁ Shami drew the first blood where he dismissed Warner for a measly score of 3 runs. Australia were 18/1.
⦁ Smith joined Finch and proved to provide a good resistance to the Australian middle order however, Finch too got runout on 46 and Australia were 46/2 now having lost both their openers now.
⦁ Smith was joined by Marnus Labuschagne and these two kept ticking the scoreboard and Australia crossed the 50-run mark in 9 overs.
⦁ Australia were 56/2 after the first powerplay.
⦁ Both too completed the hundred partnership which involved half centuries from both Steve Smith and Marnus Labuschagne. It was Marnus's maiden ODI fifty and he started to show how classy he is for ODI Cricket as well. He, however, fell shortly after a brute of a delivery from Ravindra Jadeja. He made 54 off 64 balls.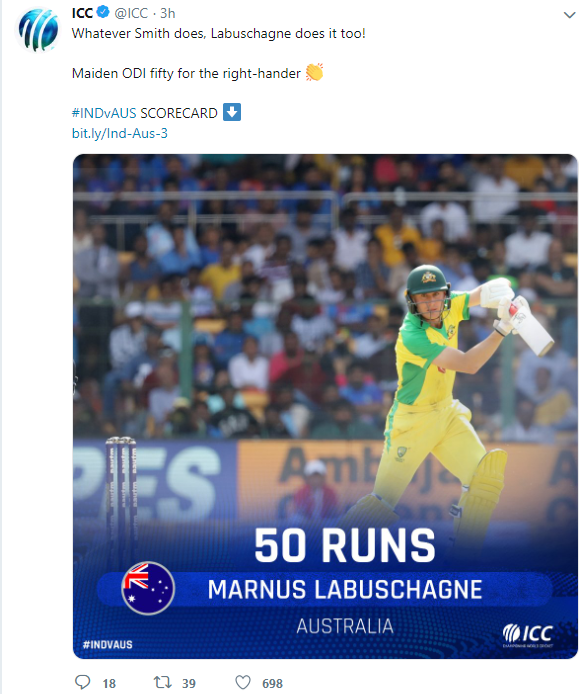 ⦁ Alex Carey then came in at number 6 and joined Smith. Both stood their ground and Australia reached the 200 mark in 37 overs. Both too completed the 50 partnership in just 48 balls as well.
⦁ Alex Carey, however, was too dismissed after scoring 35 off 36 after he was caught at cover.
⦁ Australia were now 231/5 and Turner walked in.
⦁ Turner's innings too proved to be short-lived as he too could just manage 4 runs off 10 balls. He was dismissed by Saini.
⦁ Agar joined Smith and stood till the very end.
⦁ Steve Smith scored his century within 117 balls. This was his 9 th while 3 rd against India.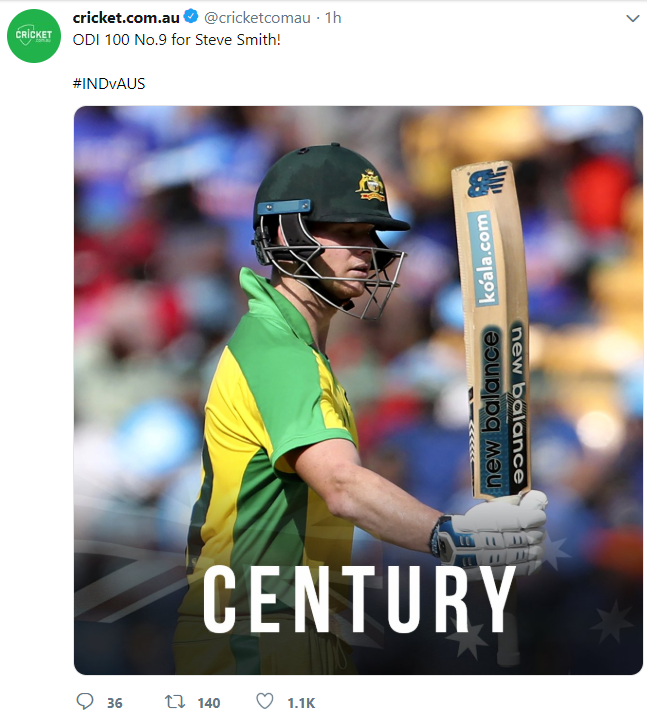 ⦁ Wickets kept tumbling and after hitting the bowlers for a couple of big shots and boundaries, Smith too lost his plot and was dismissed by Mohammad Shami for 131 off 132. An incredible innings came to an end and the entire crowd applauded as Smith departed.
⦁ Wickets kept tumbling for Australia and where Australia seemed to score 300+, it can only manage 286, thanks to the Mohammad Shami for an incredible death bowling and restricting Australia for a rather lower total. Australia finish with 286/9.
The Australia innings terminated with a target of 287 Runs.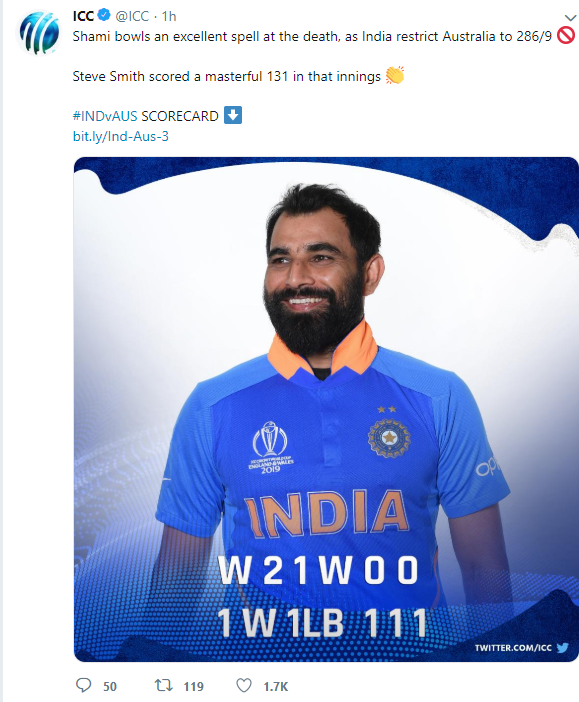 India's Innings
⦁ India's opening duo this time was KL Rahul and Rohit Sharma as Shikhar Dhawan was injured during the game. The duo arrived at the crease to face a reputed Australian bowling pair of Pat Cummins and Mitchell Starc.
⦁ A quick start from Indian players suggested their aggressive mode, as both batsmen hit few boundaries.
⦁ India got the blistering start they needed as they were 61/0 after the first powerplay. Rohit Sharma too completed his 9000 ODI runs for India.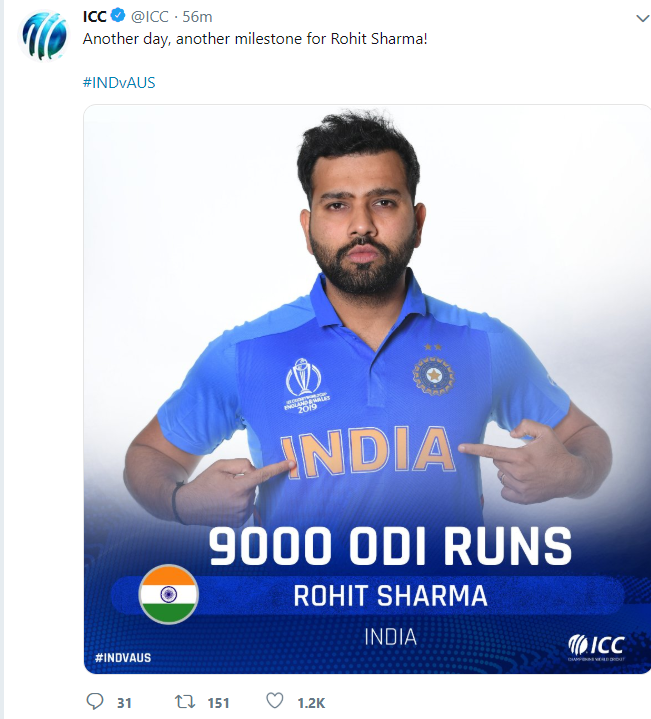 ⦁ Agar was brought into the attack after the powerplay and he got the prized wicket of KL Rahul just when he was starting to look good. The umpire had struck down the Australian appeal but after the DRS Review, Rahul was given out. India were 69/1.
⦁ Rohit was joined with Kohli and both started to stabilize the Indian innings again. Rohit too got back into form by hitting a half century in just 56 balls.
⦁ India pretty much looked to wrap up the game easily just when Rohit completed his 8 th century against Australia. He scored a ton off 110 balls.
⦁ Victory was well in sight as India were just 120 runs away from the victory while Kohli and Rohit completed the 100-run stand for the second wicket as well.
⦁ India crossed the 200-mark in 35.4 overs and the victory was just 87 runs away now.
⦁ Just when India looked to sweep out the Australians, Australia drew the second blood. Rohit Sharma was dismissed by Adam Zampa after he made 119 off 128 balls. The crowd roared as the centurion walked off.
⦁ Shreyas Iyer joined Kohli and both formed a 68-run stand and nearly won it for India. Virat Kohli was later undone by Josh Hazlewood and departed for a great 89 run innings.
⦁ Manish Pandey joined Iyer and wrapped it up for India in what has been a dominating show of one-day cricket by the Indians in the past two ODIs after a heavy defeat in the first game.
⦁ India won the game in the 48th over by 7 wickets, also winning the series 2-1
India win by 7 wickets and win the series 2-1