Cricket – Pak vs Nz: Yasir Shah Creates History By Taking 10 Wickets In A Day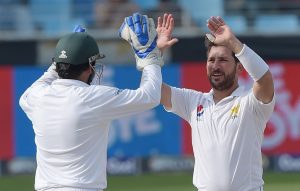 Yasir Shah's capacity to go through batting line-ups in the bowling pitches of the UAE are outstanding and that was in plain view once more today, as he made an enchantment web around New Zealand's batsmen.
The wily leg-spinner grabbed 8 wickets in the principal innings as the Kiwis went from 50/0 to 90 all out. Yasir came back with individual best figures of 8/41 in 12.3 overs as Pakistan earned a 328-run lead over their adversaries.
Yasir Shah's 8/41 in the 1st innings went down as the third bowling figures for a Pakistani in Test cricket behind Abdul Qadir and Sarfraz Nawaz. Also, Yasir became the first bowler in cricket history to take 10 wickets in the UAE.
Scorecard:
New Zealand 1st Innings: 90 all out (35.3 Overs, RR: 2.53)
New Zealand 2nd Innings (continued): 131/2 (f/o) (43 Overs, RR: 3.04)
Social Media Reactions:
Another one for Yasir Shah who is on a roll at Dubai! This one is flighted slightly outside off-stump and it turns back sharply to rattle the stumps! Nicholls goes without troubling the scorers! New Zealand 61/4

Ball-by-ball clips: https://t.co/5S2jCBUCDe #PAKvNZ pic.twitter.com/XnuJBVLVJc

— Cricingif (@_cricingif) November 26, 2018
W0W0W0 – Yasir Shah bowls a triple wicket maiden in Tests. even the score says WOW WOW. @Shah64Y #Cricket

— Daniel Alexander (@daniel86cricket) November 26, 2018
Yasir Shah, take a bow!

He's taken figures of 8/41, the third best by a Pakistani bowler in Test cricket, to help his team bowl New Zealand out for 90.#PAKvNZ LIVE ⬇️https://t.co/sHrmQnbNyn pic.twitter.com/DMhWVP9clo

— ICC (@ICC) November 26, 2018
Yasir Shah is the first bowler to take 10 wickets in a day's play since a legendary legspinner famously did so almost 20 years ago ? pic.twitter.com/zlREPIlU9w

— ESPNcricinfo (@ESPNcricinfo) November 26, 2018
Wow, Yasir Shah with a triple-wicket maiden! Removes Latham, Taylor and Nicholls in alternate balls with some superb bowling just before lunchhttps://t.co/I5KFgXsvIM #PAKvNZ pic.twitter.com/eABBjzmj0J

— ESPNcricinfo (@ESPNcricinfo) November 26, 2018
Seems like a sensational spell from Yasir Shah. Sends New Zealand from 50-0 to 90-9!

— Harsha Bhogle (@bhogleharsha) November 26, 2018
For more updates keep visiting allsportspk