اردو میں پڑھنے کے لیے اس لنک پر کلک کریں۔
FIH Hockey Pro League 2019: Pak Probables Shortlisted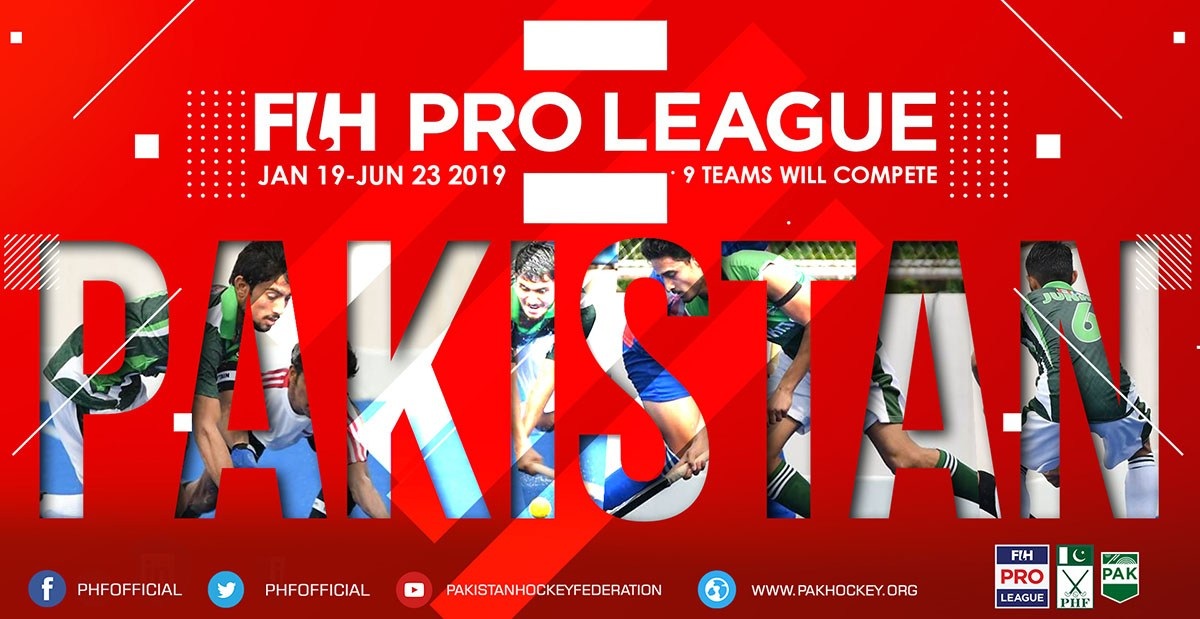 The Pakistan Hockey Federation announced that it has shortlisted 38 probables for Hockey Pro League 2019 scheduled from January 19th 2019. 

Pakistan will play their first 'home' game in Argentina on 2nd February 2019.
The Short Listed Senior Probables are: 

1.    WAQAR
2.    MUNEEB UR REHMAN
3.    WALEED AKHTAR
4.    ALEEM BILAL
5.    MUBASHAR ALI
6.    RIZWAN ALl
7.    AMJAD ALI
8.    ABU BAKAR MAHMOOD
9.    MOIN SHAKEEL
10.  AZFAR YAQOOB
11.  FAISAL QADIR
12.  JUNAID KAMAL
13.  ATIF MUSHTAQ
14.  ASFAND YAR
15.  ALI SHAN
16.  ATIQ ARSHAD
17.  SARAN BIN QAMAR
18.  RANA WAHEED
19.  RANA SUHAIL RIAZ
20.  GHAZANFAR ALl
21.  ALI AZIZ
22.  SUHAIL ANJUM
23.  SAMI ULLAH
24.  SARDAR CHANDIO KHAN
25.  ARSLAN QADIR
26.  SHAN IRSHAD
27.  HAMMADUDIN ANJUM
28.  SALMAN RAZZAQ
29.  JUNAID MANZOOR
30.  ADEEL LATIF
31.  ABDUL NAFEH
32.  REHAN BUTT
33.  AJMAL BUTT
34.  ZAIN
35.  TAIMOOR MALIK
36.  AWAIS UR REHMAN
37.  AKMAL HUSSAIN
38.  AMJAD ALI
What is the Hockey Pro League? 
The Hockey Pro League will kick off in January 2019 – replacing the Champion's Trophy and the World League Semi Final and World League Final. It will provide – for the first time ever – a regular calendar of must‐see hockey events played across the world throughout the year.
When will matches be played?
Matches will be played between January and June each year.
How many teams are taking part?
There will be 9 men's and 9 women's national teams participating.
How many games will there be?
Every team will play 8 home and 8 away matches, equating to 144 Pro League matches played (excluding the finale tournament).
How does the tournament conclude?
Each year there will be an annual Grand Final tournament involving the top 4 teams (both men's and women's) played at a pre-determined location.
What does the Hockey Pro League mean for athletes?
The Hockey Pro League will raise the profile of all the teams involved, building a wider, more committed and loyal fan-base who will have so many more chances than at present to see their team in action at home, and providing opportunities to build the profile of players in their home countries.
For updates regularly visit: allsportspk