Formula 1: Lewis Hamilton Confident On Being Dominant Again In 2019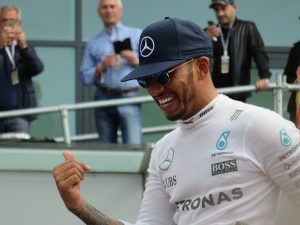 Lewis Hamilton eyes a fifth Formula One drivers' crown in six years and claims that he can improve in 2019 and put up a much dominant performance as compared to 2018.
Hamilton proceeded to command the F1 game in 2018, as he chalked up his fifth title in with Mercedes.
Team principal Toto Wolff has made this year's title the most open title in recent F1 history as he has proposed changes to aerodynamic regulations.
'I'm really looking forward to the next step of our journey together. Let's get it! @LewisHamilton is all ??? up for the new @F1 season! #WelcomeW10 pic.twitter.com/pwwKV98Lsc

— Mercedes-AMG F1 (@MercedesAMGF1) February 13, 2019
However, despite all these changes the top choices to take the distinctions, are still that Mercedes and Hamilton.
Talking at the dispatch of the Silver Arrows' 2019 challenger the W10, Hamilton claimed that he has stayed as persuaded as ever to dominate the competition.
At present, Hamilton is only  two shy of Michael Schumacher's all-time record of seven drivers' crowns.
Formula 1: Alonso Believes Charles Leclerc Can Stop Mercedes' Dominance
In his latest interview, Hamilton said:
"There's a great, great energy in the team. We are hyped and ready to go.
"Everyone wants to take the crown. So every year you have to re-invent yourself and every year you have to change the dynamics of how you train and prepare mentally. This year, l am fighting for a championship and not defending – and that's how l set my mind every year."
"2018 was a great year, but I feel like 2019 can be even better," he said. "I want to achieve more, I want to continue to keep pushing. I feel energised and I'm ready to attack."
"It is literally like meeting someone new and trying to get to know them as quickly as possible."
And he later added: "The talent and sheer skill put into this unbelievable car never ceases to amaze me."
#WelcomeW10 the @LewisHamilton way ??#PETRONASmotorsports @MercedesAMGF1 pic.twitter.com/CevPgbqBT1

— PETRONAS Motorsports (@PET_Motorsports) February 13, 2019
For more updates keep visiting allsportspk