Global Baseball Battle: WBSC Premier 12 – Groups and Locations Unveiled
MEXICO: Disclosure of the groups and locations has been carried out for the second WBSC Premier12, by the World Baseball Softball Confederation (WBSC). The year's top international baseball competition and Tokyo 2020 Olympic Qualifier, is destined to be staged from 2nd Novemeber to 17th November and is privileged to  feature the 12 best Men's National Teams in the world rankings.
Adding charm to the revelation ceremony, Riccardo Fraccari, WBSC President and Andrés Manuel López Obrador, Mexican President, officially presented the trophy of the 2019 WBSC Premier 12 at the Presidential Palace.
The six language official website of the II WBSC Premier12 was also launched. The six languages are: English, Japanese, French,  Korean, Traditional and Chinese Spanish.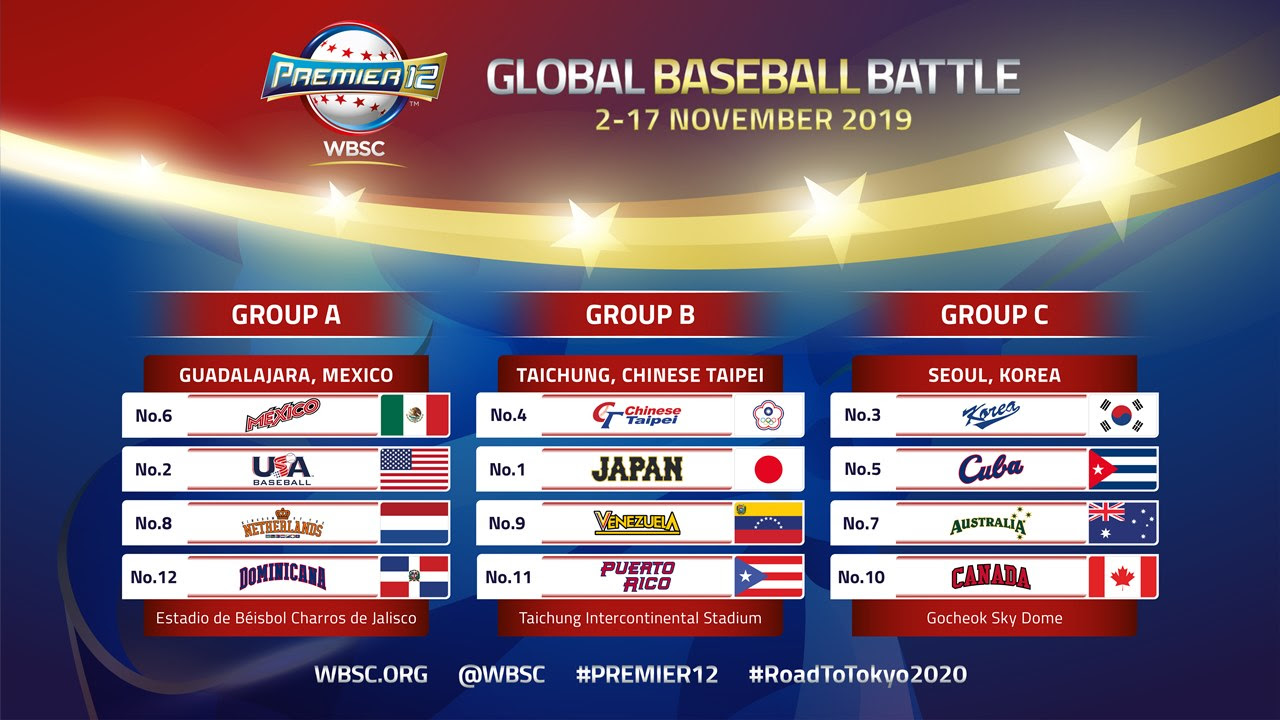 Locations and Groups
Group A
Group Host : Charros.
Featured Teams:  World No. 2 USA, No. 6 Mexico, No.8 Netherlands, No. 12 Dominican Republic.
Venue: Estadio de Beisbol Charros de Jalisco.
Group B
Group Host : Chinese Taipei Baseball Association (CTBA).
Featured Teams:  World No. 1 Japan, No. 4 Chinese Taipei, No. 9 Venezuela, No. 11 Puerto Rico.
Venue: Taichung Intercontinental Stadium.
Group C
Group Host : Chinese Taipei Baseball Association (CTBA).
Featured Teams:  World No.3 Korea, No. 5 Cuba, No. 7 Australia, No. 10 Canada.
Venue: Seoul's Gocheok Sky Dome.
According to the rules, the top two teams of each group shall proceed to the six-team Super Round, to be hosted by Japan's Nippon Professional Baseball league at Chiba's ZOZO Marine Stadium and the iconic Tokyo Dome. This venue has a spectator capacity of 46,000 spectators, in which the championship final will also be played.
The top finisher from the Americas and the top team in the Premier12 final standing from the Asia/Oceania, without going through the qualifier round will gain direct entries into the Tokyo 2020 Games – Baseball event.
WBSC President Riccardo Fraccari expressed his determination to break all previous record of the 2015 Olympic Games.
CTBA President Jeffrey Koo Jr. showed excitement on breaking of previous records of TV numbers and social media volume in Chinese Taipei. He exclaimed that CTBA, is thrilled to be a host again after extensive experience hosting high-profile baseball events and ensured that all participants, officials and fans will have an unforgettable experience.
Charros de Jalisco Chairman Salvador Quirarte Villaseñor proudly remarked on partnering with WBSC to pivot this year's top international baseball tournament to Jalisco, where he assures it is mandatory to deliver an epic global atmosphere.