Martial Arts – UFC: Why Tony Ferguson Deserves To Fight Khabib Nurmagomedov?
Only some days have passed since the madness of UFC 229 has ended, and all the confusion that accompanied it. However, in some way or another, in spite of Khabib Nurmagomedov defeating Conor McGregor in an undoubedtly dominating fashion, there is now gossip going around in the air of a rematch.
Although, one must admit that the rematch is quite reasonable to a degree, as it would guarantee a boat load of cash for the UFC, however from a sports point of view, it does not bode well.
Martial Arts – UFC 229: Conor McGregor Ready For Ferguson If Khabib Pulls Out
Not when Tony Ferguson is holding up in the wings. Feguson proved his mettle by continuing his winning streak, in maybe the most energizing battle of 2018, in which 'El Cucuy' demolished Anthony Pettis, and now standing at a win streak of 11, he is as solid contendor to battle Khabib for the Lightweight Belt.
Khabib has been training his entire life. I don't think going to the mountains will help. Khabib was raised in the mountains. Conor will never catch up. He should fight Tony Ferguson

— Daniel (@dae600rr) October 7, 2018
In this article, Allsportspk presents 5 such reasons as to why Tony Ferguson deserves to fight Khabib Nurmagomedov.
Martial Arts – Conor McGregor: 5 Possible Future Fights
#5 Earned A Fight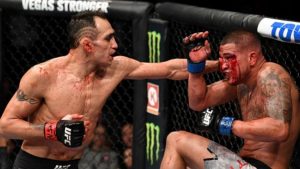 Regardless of whether you overlook the way that last October, Tony Ferguson won the Interim Lightweight title and never lost it in the Octagon, it would be difficult to deny that he has earned a title shot.
'El Cucuy' has won eleven straight UFC battles and has not lost since 2012 – and those eleven battles have come in the shark tank that is the UFC's 155lbs division – typically perceived as the most talent loaded division in the game.
Martial Arts – UFC: Conor McGregor Suspended
Sensibly, Ferguson's win streak is bettered by only one man in the game at the present time, and that is Khabib himself. Moreover, with McGregor beaten, it is quite difficult to deny that Ferguson and Khabib are the best two Lightweights on the planet. So why attempt to deny Ferguson his title shot?
Whats the point of lasting the 5 rounds of mauling without touching the opponent … Khabib will get shit loads of point each round while conor poking a punch or two per round…. Tony Ferguson vs Khabib will do the justice .. Conor vs khabib is done deal ….

— Normie Normie Normie… (@3234240f428245e) October 11, 2018
Alternate alternatives would be a rematch with McGregor – something that the Irishman essentially does not warrant given he was beaten in generally uneven mold by Nurmagomedov – or a battle with the champ of the up and coming Nate Diaz versus Dustin Poirier coordinate, yet neither one of the men's resume approaches the achievements of 'El Cucuy' at the present time.
On the off chance that the UFC has any feeling of favoring a donning approach instead of an absolutely entertaining one – and appointments like Robert Whittaker versus Kelvin Gastelum and Max Holloway versus Brian Ortega propose regardless they do some of the time – at that point Tony Ferguson is the main name that bodes well as Khabib's next battle.
Martial Arts – UFC: 5 Less Known Facts About Daniel Cormier
For the #4 reason as to why Tony Ferguson deserves to fight Khabib Nurmagomedov, move on to the next page!